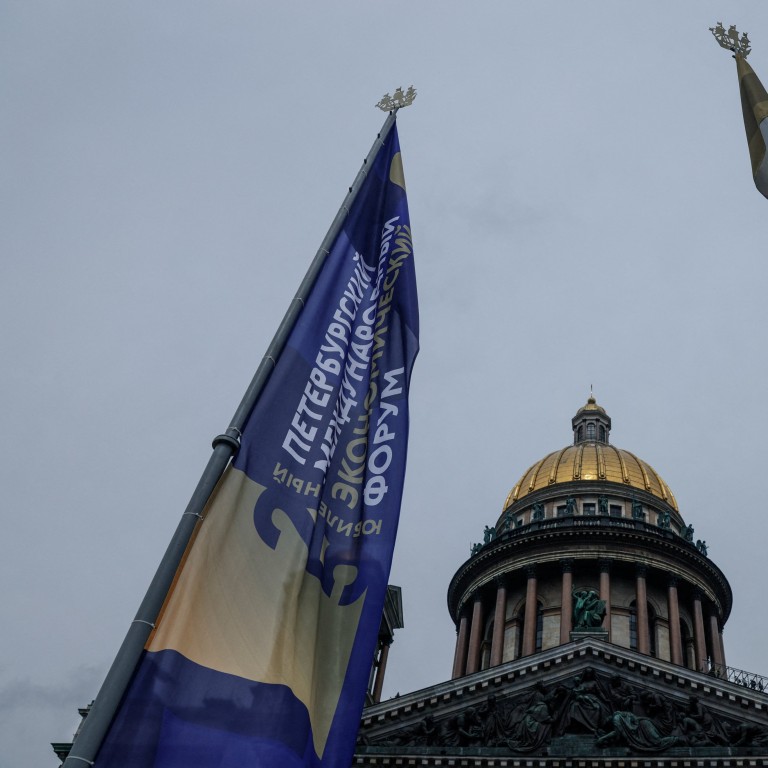 St Petersburg bourse to add Alibaba, Tencent, other Hong Kong stocks from June 20 in trial to widen access for Russian investors
Hong Kong Exchanges and Clearing says it is not involved in the initiative
St Petersburg Exchange to add a dozen Hong Kong-listed stocks including Alibaba, JD.com to broaden access to Russian investors
The St Petersburg Exchange, a Russian bourse operator, will unilaterally add a dozen Hong Kong-listed stocks including Alibaba Group Holding and Tencent Holdings for local investors to trade, expanding a menu of almost 1,800 foreign securities.
Local bourse operator Hong Kong Exchanges and Clearing (HKEX) said that it was not involved in the initiative. "The move is part of SPB's global issuer programme and is not something done in collaboration with HKEX," a spokesman said.
The other companies are JD.com, Meituan, Sands China, billionaire Li Ka-shing's flagship vehicles CK Hutchison and CK Asset Holdings, Country Garden Holdings, Sino Biopharmaceutical, Sunny Optical, WH Group, and Xiaomi Corp. The 12 will add about HK$9.1 trillion (US$1.2 trillion) of capitalisation to the bourse.
"The trial operation format will allow brokers to set up accounting systems related to settlements in the new currency, the Hong Kong dollar, as well as to the calculation and deduction of stamp duty under the conditions of a functioning exchange market," said the St Petersburg Exchange.
The exchange known as SPB expects its participating brokers to provide services to investors to trade these new stocks within one to 1.5 months, it said. It intends to increase the pool of Hong Kong-listed firms to 200 by the end of 2022 and to 1,000 in 2023.
The Russian bourse said it can include global securities and assume responsibility for corporate disclosure without agreements with issuers.
The SPB act represents an expansion of a programme to give local Russian investors wider access to foreign securities listed in New York, London and Frankfurt, including Apple, Amazon and Microsoft. The American depositary receipts of at least five Chinese companies – Aluminium Company of China, China Eastern Airlines, China Southern Airlines, China Life Insurance and PetroChina – are also among 1,760 securities already available for trading, according to exchange data.
The move takes some significance given the stronger Russia-China linkage as the Asian nation strengthens its political ties with the Kremlin amid geopolitical tensions with the US. Russia's invasion of Ukraine has also brought both sides closer because of the
threat of direct and secondary Western sanctions.
Trading of the 12 companies will be settled in Hong Kong dollars, with brokers providing currency conversion services to investors, and a stamp duty equivalent of 0.13 per cent of transactions will be charged to buyers and sellers, SPB said. Trading hours will be from 8am to 6pm Moscow time, and will follow their same tickers in Hong Kong.
The SPB move could add more liquidity to the stocks in Hong Kong, Asia's third-largest market. The Hang Seng Index has rebounded 15 per cent from a six-year low in mid-March, while indices tracking US and global equities slipped into bear territory this week under the pressure of Federal Reserve rate increases.
Russian traders will also be given more options to diversify their investments and hedge against risk stemming from Ukraine war. The incursion led to a trading halt on the Moscow Stock Exchange and a sell-off in Russian companies listed overseas, including aluminium producer Rusal in Hong Kong.