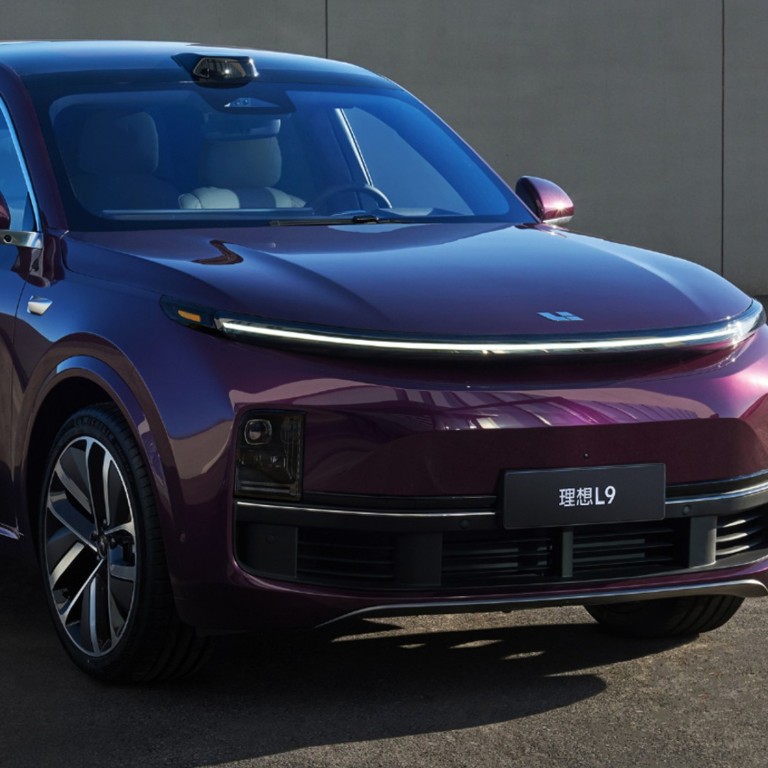 Chinese EV start-up Li Auto launches L9, the 'full-size SUV with no match on the market'
EV will sell for 459,800 yuan (US$68,654) and Li Auto has begun taking orders
Founder's target of 10,000 units per month provides visibility and predictability, which deserves some credit, Morgan Stanley analyst says
The L9, with an extended battery range, will be able to go as far as 1,315km on a single charge. It will be sold at 459,800 yuan (US$68,654) and Li Auto has begun taking orders for the SUV.
"This is a full-size SUV with no match on the market," Li Xiang, Li Auto's co-founder and CEO, told a virtual launch event. "No carmaker has been as meticulous as us in developing and manufacturing an SUV that can cater to all transport demands of a household."
"The positioning for the L9 is super clear, which is as a luxury smart full-size SUV eyeing to be on par with petrol SUVs or mini passenger vans, priced above 400,000 yuan [US$59,719]," said Soochow Securities analyst Huang Xili, who added that the "L9 is likely to be the hottest selling product in the new energy vehicle market in 2022".
BMW's X5 starts at 605,000 yuan in China, while prices for Audi's Q5 range from 400,000 yuan to 500,000 yuan.
Beijing-based Li Auto, Shanghai-headquartered Nio, Guangzhou-based Xpeng are all regarded as Chinese rivals to Tesla, the runaway leader in China's premium EV segment.
Li said that some 1,000 L9s had been produced at its plant in Changzhou, in China's southeastern Jiangsu Province, and that they will ship to its sales centres across 108 cities next month. Those who have bought the SUV can get delivery in August.
"The three-generation family with two children shall be the major target of the L9, and I am confident that by September, monthly deliveries can reach 10,000 cars, as
long as Covid-19 is under control
," Li said. "Will L9 be the best family-use SUV priced under 5 million yuan? Yes."
While investors' views on Li Auto's upcoming L9 model may remain mixed, the founder's upbeat target of 10,000 units per month soon after deliveries start provides visibility and predictability, which deserves some credit amid
rising industry challenges
, Morgan Stanley analyst Tim Hsiao said in a research note on Tuesday.
"Such ramp-up pace would look challenging even under normal circumstances, not to mention amid China's dynamic-zero Covid policy. Li Auto's aggressive goal for the L9 would take superior execution in sourcing, production and delivery," Hsiao said, adding that a monthly run rate of 5,000 to 6,000 units was what investors were looking for.
The carmaker said
deliveries in May
had more than doubled to 11,496 units from a month earlier.