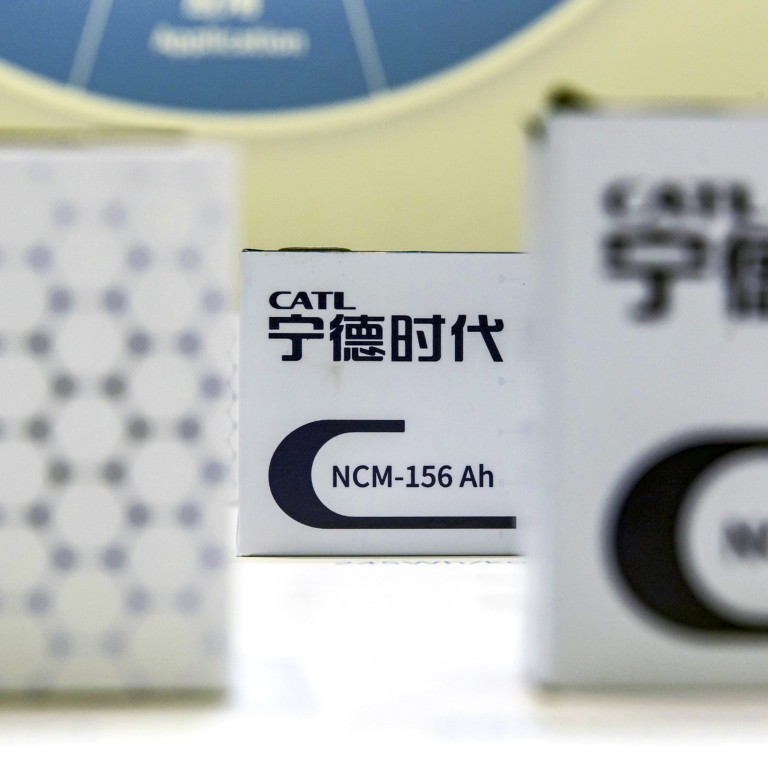 Tesla battery supplier CATL raises US$6.7 billion in Shenzhen stock placement as mainland China's capital market thrives
China's largest electric-vehicle battery maker sold 109.76 million shares at 410 yuan each in a private A-share placement
The share placement underlines the strength of demand in mainland China's capital market as appetite for new offerings in Hong Kong and the US wanes
Contemporary Amperex Technology has raised 45 billion yuan (US$6.7 billion) in a stock placement in Shenzhen, demonstrating the strength of demand in the local capital market as appetite for new offerings from Chinese companies in Hong Kong and the US wanes.
The price represents a 19 per cent discount to CATL's Shenzhen-listed stock, based on its closing price of 507 yuan on Wednesday. It is a 21 per cent premium to the minimum price for the offering, of 339.67 yuan.
China Securities Company was the lead sponsor of the deal.
"The deal confirmed one of the several advantages Chinese manufacturing leaders enjoy: access to the large and liquid A-share market," said Wang Qi, chief executive of MegaTrust Investment (Hong Kong). "The ability to raise large sums of money and invest it in [capital expenditure] should help CATL solidify its global position."
Shanghai and Shenzhen came in first and second place respectively as
the world's top initial public offering venues
in the first half of this year, raising HK$254.3 billion (US$32.4 billion) and HK$121 billion, according to Deloitte. Hong Kong was a long way behind, in ninth place.
The boost in the rankings came as China saw a surge in flotations of some major mainland Chinese companies following their
delisting
in the US. Among last year's notable "homecoming" listings were the 56 billion yuan
flotation of China Mobile
, the world's largest mobile operator by subscribers, and the 32 billion yuan listing of
CNOOC
, the country's biggest offshore driller.
CATL's share sale is this year's second-largest globally, after South Korean battery maker LG Energy Solution raised US$10.7 billion in January, according to data compiled by Bloomberg.
Shares of CATL soared 5.9 per cent to 536.97 yuan on Thursday, adding almost 70 billion yuan of market value in just one day. The company announced on social media in the morning that it would unveil a new battery later in the day that uses third-generation cell-to-pack technology.
The share price marks a recovery of 46 per cent from a one-year low when of 368.50 yuan on May 9. Still, it remains 9 per cent down this year, following a 73 per cent rally in 2021.
China is considering extending tax exemptions on EV purchases to bolster consumption, a potential 200 billion yuan boost to the auto sector that battery makers could benefit from.
The Tesla battery supplier intends to use most of the proceeds from the share placement for the production of lithium-ion batteries in four projects, and the remainder for research and development.
Based in Ningde in eastern Fujian province, CATL reported a 24 per cent drop in earnings in the three months ending March to 1.49 billion yuan, the first decline in two years.