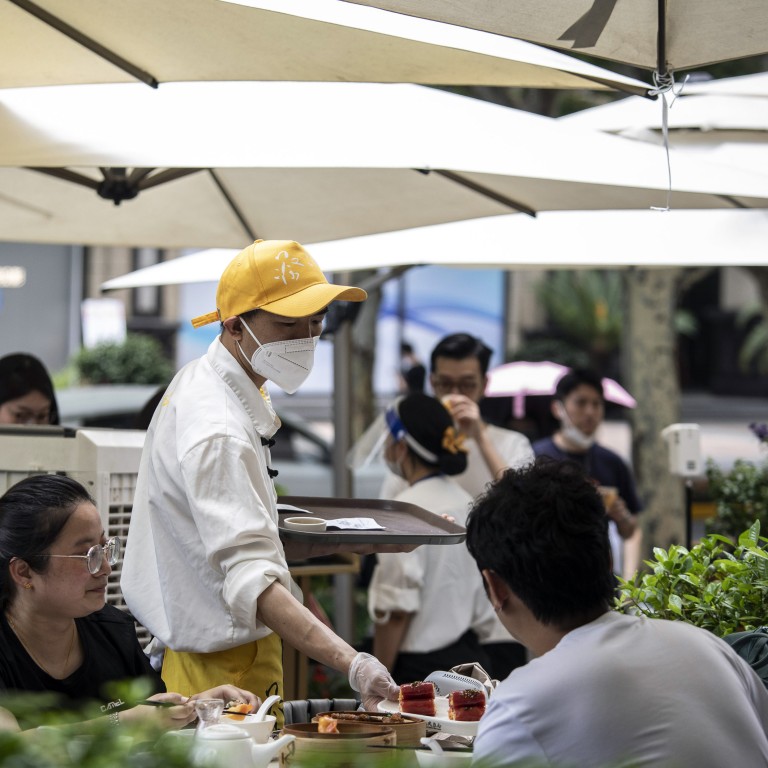 Shanghai reopening: as restaurants restart offering dine-in services, owners say any more lockdowns will be 'a fatal blow'
Did see some 'revenge spending', business will recover if the pandemic curbs are lifted fully, Shanghai restaurant owner says
Companies in the services sectors cannot withstand further turbulence, Fudan University academic says
Restaurants
, coffee shops and tea-houses
in Shanghai
started receiving customers on Wednesday after a three-month hiatus because of the city's Covid-19 outbreak.
Shop owners and employees were, however, keeping their fingers crossed and hoped that no new cases would be detected in their areas.
"We did see some
'revenge spending'
today, and it is a good sign that suggests business will recover if the pandemic curbs are lifted fully," said Wang Xiaoliang, owner of Yimianqian, a fast-food restaurant in Pudong. "But restaurants are vulnerable to any further lockdown measures. We have already lost a lot of money this year."
Shanghai allowed the city's nearly 70,000 food industry outlets to offer dine-in services after declaring a victory over the coronavirus pandemic last weekend.
Restaurants, coffee shops and tea-houses had been offering only takeaway services since June 1, when Shanghai formally ended a two-month citywide lockdown. They can now use up to 70 per cent of their capacity to serve customers.
Thousands of residents flocked to restaurants to get a taste of their favourite food – from applewood-roasted Peking duck to Chinese noodles – on Wednesday afternoon, with some having to queue up for as long as an hour before being allowed inside.
"We have been waiting for the day to come for two weeks," said Fanny Zhang, a local white-collar clerk who spent half an hour at a Chinese restaurant in IAPM Mall on Huaihai Road. "It is not just the food that appeals to us. Having lunch or dinner at restaurants is part of people's lives."
The Shanghai municipality said late last month that business and life in the city of 25 million people would return to full normality by the end of June. But sectors such as entertainment, catering and tourism are far from making a full recovery.
Zhang Yina, director of the consumer market big-data lab at Fudan University, said offline consumer spending in Shanghai currently represents just 50 to 60 per cent of pre-lockdown levels. "It remains a daunting task for Shanghai to get non-manufacturing businesses in the culture and entertainment sectors back on track," Zhang said. "Companies in the services sectors cannot withstand further turbulence."
With revenue trickling down to zero in April and May followed by a suspension of dine-in services, Yimianqian was unlikely to make a profit in 2022, said Wang, its owner.
"We have low expectations for this year. That is, to avoid a loss," he said. "But the zero-Covid policy is still in place. A standstill order amid new Covid-19 infections will deal a fatal blow to us."
Restaurants in "medium-risk zones" are still barred from offering dine-in services, according to Shanghai health authorities.
Xibo, a Xinjiang restaurant with three branches in Shanghai, was operating near full capacity at its 100-seat outlet near Jingan Temple during lunch hours on Wednesday, but Zhang Chuanyi, the manager, said business was weaker than during pre-lockdown workdays, when white-collar professionals working nearby formed long queues outside.
"We recently lost a third of our staff, who were mostly new hires before the lockdown," Zhang said, adding that it had around 20 staff at the location.
Adam Wang, a young professional who has been to the restaurant a few times before the lockdown, said the longer waiting time was "understandable because they may not be that ready on the first day of [the dine-in service restart]".