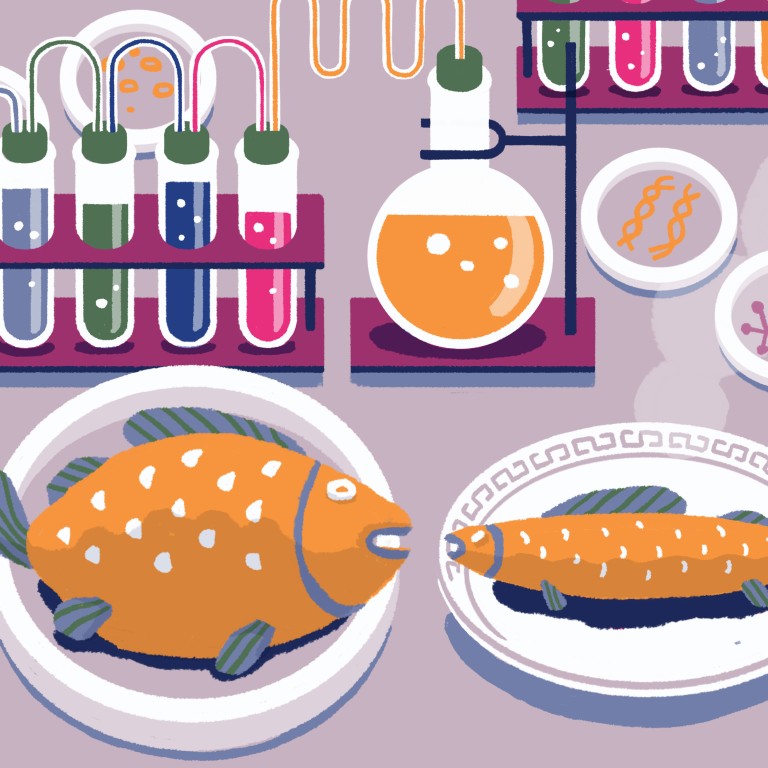 How climate change and overfishing drove this Hong Kong property manager to launch a cell-grown seafood business
Learning how pollution and overfishing are damaging marine ecosystems prompted architect Carrie Chan to launch Avant Meats
Having completed proof-of-concept for its lab-grown fish, the start-up is now setting up a pilot production facility in Singapore
For Carrie Chan Kai-yi, a Hong Kong architect-turned alternative protein entrepreneur, setting up a business in the uncharted and commercially unproven
world of lab-grown seafood
was a calling she could not resist.
The more she learned about the ways climate change and pollution are
damaging marine ecosystems
and how the nascent business of using stem cells to grow meat was gaining traction in Western markets, the more convinced she was about setting up such a venture in Asia.
"The current overfishing and problematic fish farming situation is a kind of 'boiling frog' syndrome," said Chan, who became a vegan for environmental reasons seven years ago. "While we will not suddenly have no seafood to eat, we are finding it increasingly difficult to catch quality seafood due to overfishing.
"We are also seeing reports of
ocean temperature rise
, acidification and plastic pollution, all of which affect how much fish can be grown and how safe they are to consume. That's why we chose to focus on the cell-grown seafood business."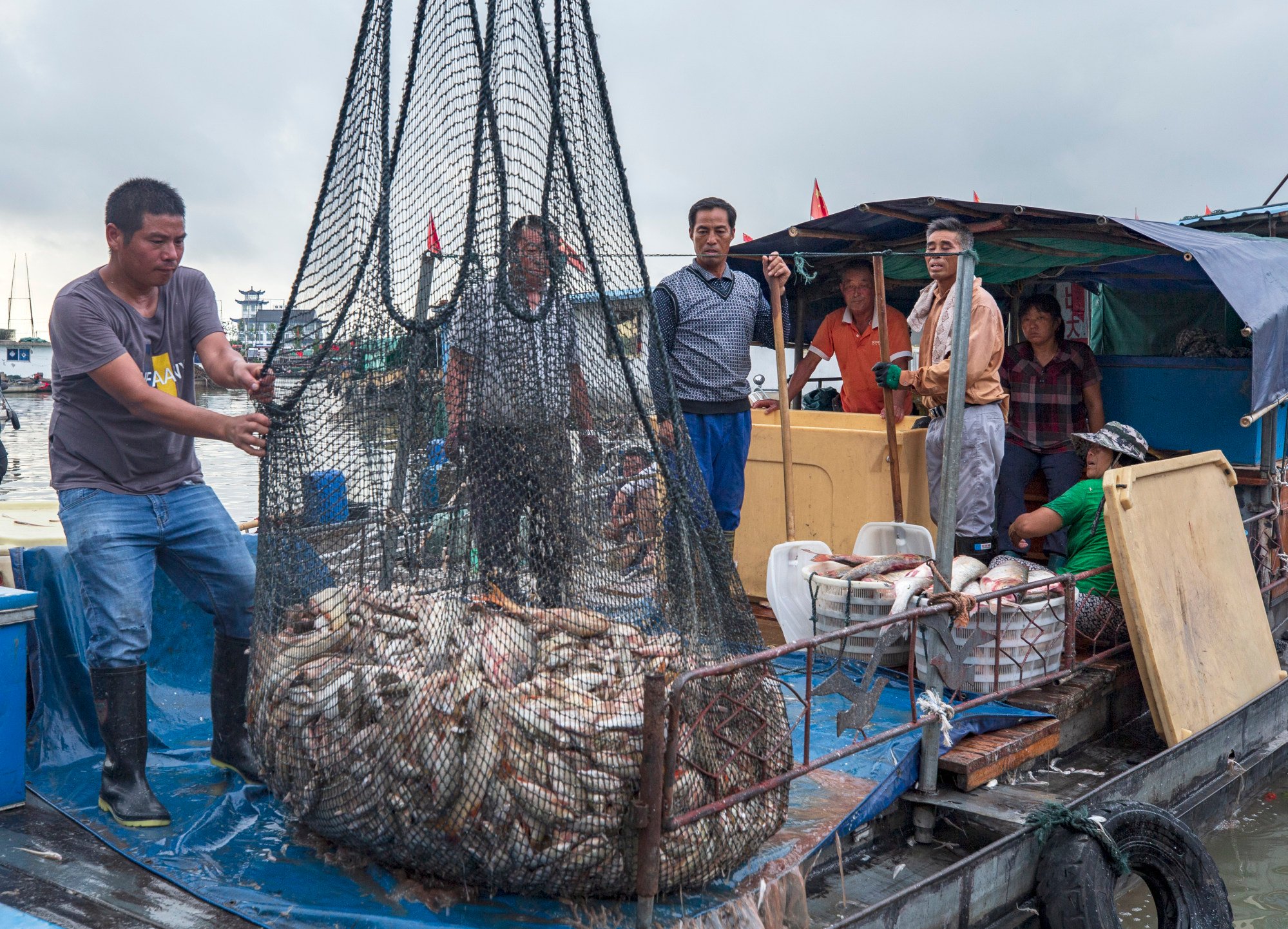 Chan, Avant Meat's CEO, co-founded the company with chief science officer Mario Chin, a biomedical scientist and expert in medical genetics. They set up the start-up's first laboratory in Hong Kong Science and Technology Park to conduct research and development in 2019.
Having completed proof-of-concept for their cell-grown fish, the company is setting up a pilot production facility in Singapore – the first country to allow the
sale of cultured meat for consumption
.
The plant will initially be fitted with a 2,000-litre bioreactor to produce cell-based fish maw – the dried swim bladders of large fish.
"Our bioreactor will be somewhere between what you see in a brewery or yogurt factory and those found in biological drugs plants," Chan said of the planned factory in an as-yet-undisclosed industrial zone designated for food production in the island state.
Avant Meats announced on Thursday that it has raised around US$10.8 million in a fundraising round led by US-based S2G Ventures, following a US$3.1 million seed round in December 2020.
Last year, it struck a partnership with QuaCell, a biological drugs manufacturer based in Zhongshan, in Guangdong province, to scale up lab-grown meat production and cut the cost by 75 per cent.
"Western companies have already done the
proof of concept for cultivated meat
, and in Asia where it is cheaper to do product development and manufacturing, there are still very few companies in the cultivated seafood business," said Chan, who is in her mid-40s. "This means opportunities."
Fundraising by alternative seafood companies 
| | | | |
| --- | --- | --- | --- |
|   | 2021 | 2020 | 2013-2021 |
| Total invested capital (US$ million) | 175 | 91 | 313 |
| Investment deal count | 24 | 20 | 69 |
| Number of investors | 108 | 91 | 215 |
| Series A rounds | 1 | 3 | 6 |
| Series B rounds  | 2 | 1 | 3 |
Source: Good Food Institute
Avant is the third cell-grown meat start-up in Asia, after Japan's IntegriCulture, established in 2015, and Singapore's Shiok Meats in 2018.
Having raised US$16.4 million, IntegriCulture aims to launch lab-grown foie gras this year, after rolling out its cell-cultured skincare ingredient last year. Shiok, which has raised some US$30 million and focuses on lab-grown red meat and crustaceans, aims to commercialise this year.
Scientists have successfully used animals' stem cells, the body's raw materials for generating muscles and organs, to
create cultured meat in laboratories
for some 30 years. The first edible lab-grown sample, a fish fillet grown from goldfish cells, was produced around two decades ago.
Cultivated meat is genuine animal meat grown in bioreactors, where stem cells are fed oxygen and essential nutrients including amino acids, glucose, vitamins and growth-promoting proteins. If mass commercialisation can be achieved, it will reduce the need to raise or capture animals, slaughter and process them into meat.
China is by far the world's largest consumer of seafood, accounting for 38 per cent of the global total, according to Belgium-based global supplier Pittman Seafoods. It also leads the world in both wild-caught and aquaculture production with a combined output of some 67 million tonnes.
However, the industry's long-term sustainability looks worrisome.
About a third of the world's
ocean fish stocks
have already been fished at biologically unsustainable levels, while another 60 per cent were exploited at rates barely considered sustainable, according to the Food and Agriculture Organisation (FAO) of the United Nations.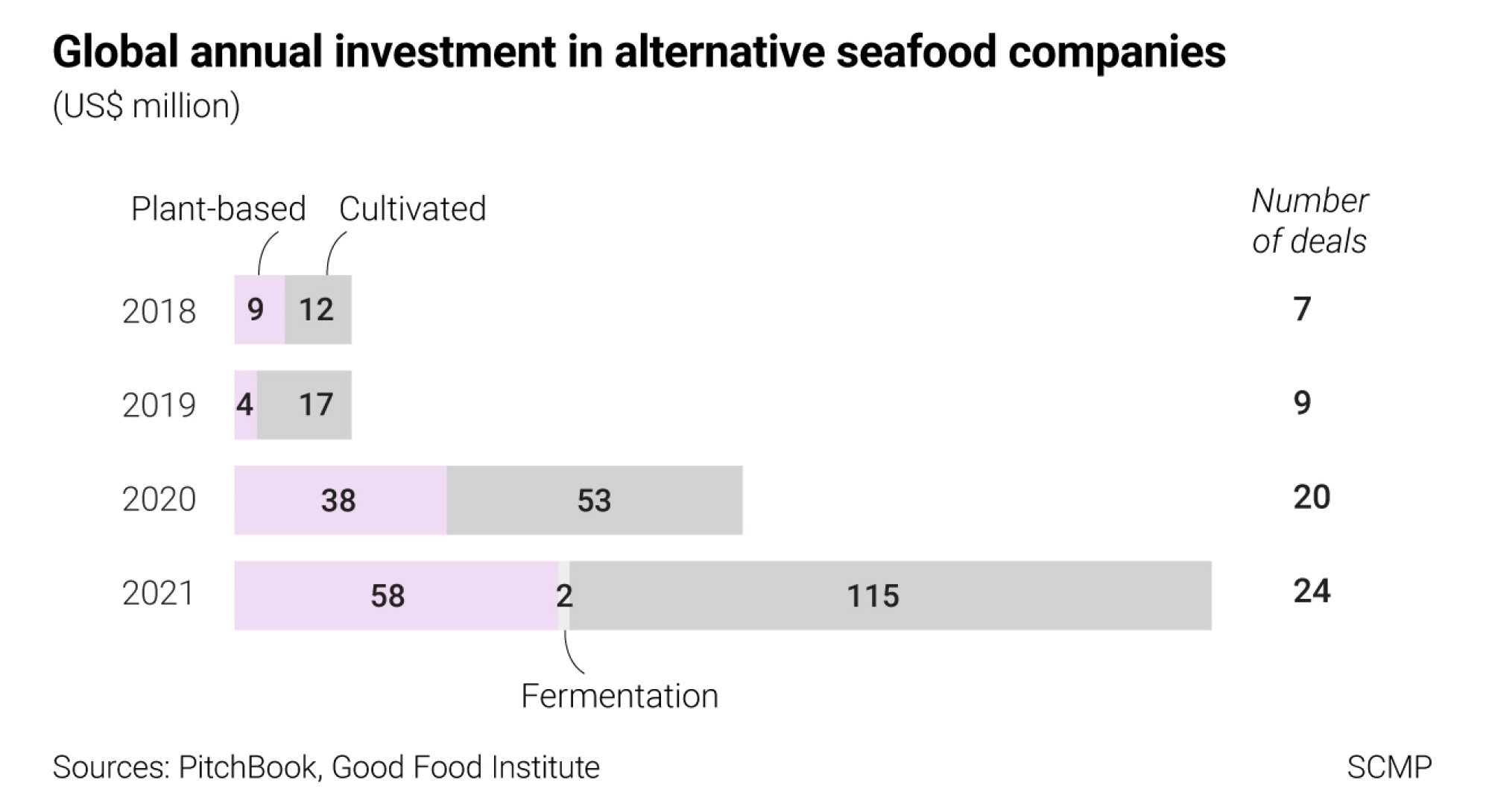 The East and South China Seas, from which US$22.8 billion of seafood was extracted in 2018, have experienced decades of damage from overfishing, warming oceans and
plastic pollution
, according to a research report commissioned by Hong Kong-based ADM Capital Foundation and published last year.
Marine catch in China's domestic waters has also deteriorated over the past few decades, from large volumes of a few highly-valued food species to
small and low-valued species
, according to a study of the catches of over 800 fishing vessels in 2019 featured in the report.
Some 35 per cent of the boats' total catch and half of the trawler catch in China's exclusive economic zone consisted of low-valued "feed-grade fish", which is used as aquaculture feed or as ingredients for fishmeal and fish oil production, it noted.
"The constant removal of juveniles significantly undermines the reproductive capacity of their stocks and jeopardises their long-term sustainability," the report said.
Even under the best-case scenario – with moderate ocean-warming caused by climate change and a 50 per cent decline in fishing activity, the South China Sea is
projected to lose US$6.5 billion of annual catch
by 2100 across the 10 most consumed species in Hong Kong's seafood market.
This is substantial considering the total catch from the sea amounted to US$15.4 billion in 2018. The loss could be as high as US$11.4 billion if a 50 per cent increase in fishing activity is compounded by severe climate change.
As species migrate northwards, the East China Sea could see higher fish biomass by 2100 than it has at present, but only if fishing activity is halved.
A separate study by Shanghai Ocean University researcher Zhang Wenbo and Xiamen University environmental scientist Liu Min also gave a grim assessment.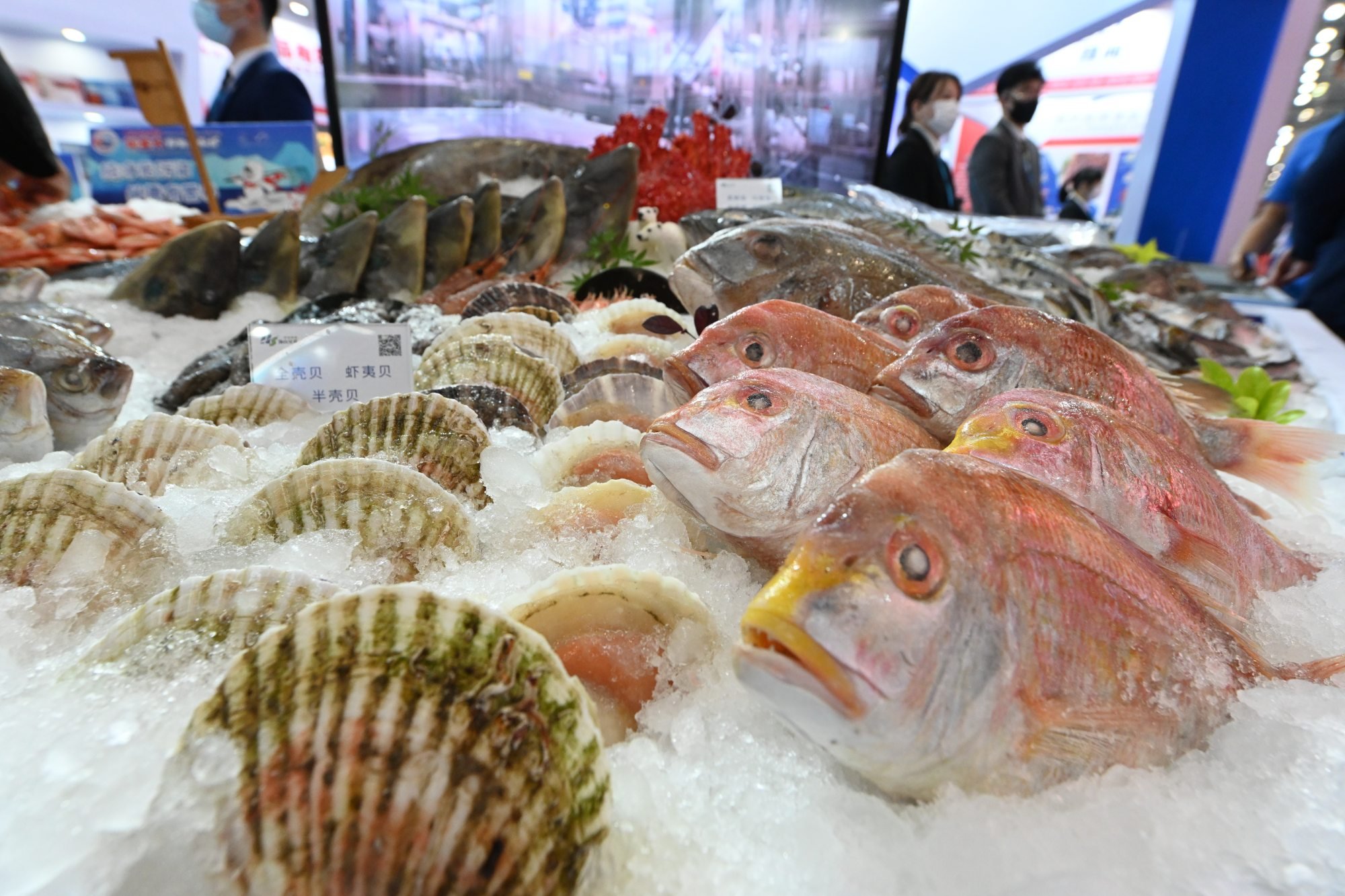 "The unparalleled scale and poor fisheries resource condition of China's domestic marine fisheries, in parallel with
severe overfishing of juveniles
, creates a demand for fundamental changes to fishery management practices," they said in a paper published in the
Fish and Fisheries
journal in 2020.
While apolitical workshops have been held among key players in the region's fishing industry, without a robust multilateral approach to address overfishing and climate change, the
critical source of protein
for millions of people will be at risk, said the ADM Capital Foundation report.
"If current activities are left unchecked, and as stocks decline and prices rise, disputes over these resources are likely to unfold," it said.
As climate change reduces fish stock, overfishing, in turn, has an impact on climate change that creates a vicious cycle, said Callum Roberts, a marine conservation professor at the UK's University of Exeter.
The hunting of tuna, whales and
deep-diving sharks
over the centuries has led to a decline in the capacity of the ocean to absorb carbon dioxide emitted by human activities. This is because the animals' excrement promotes microalgae growth, which requires carbon dioxide.
"We have to make some serious decisions about managing fisheries better and also creating more protected areas," said Roberts.
Bottom trawling, a widespread practice in which heavy nets are dragged along the seabed, stirs up marine sediment and releases a billion tonnes of carbon dioxide every year, said a research paper by 26 marine biologists, climate experts and economists published in
Nature
last year. That is equivalent to 3 per cent of global
emission of the greenhouse gas
.
Besides overfishing, territorial disputes over fishing rights may also endanger the security of fish supplies.
The presence of Chinese fishermen in disputed waters in the South China Sea has been at the centre of maritime conflicts between China and its Southeast Asian neighbours in recent years.
The neighbouring countries have accused the Chinese fleets of acting as a maritime militia to assert China's control of the waters – claims that Beijing denies.
The challenges posed to the fishing industry are expected to push aquaculture's share of China's total fish production up from 76.5 per cent in 2018 to 82 per cent by 2030, the FAO projected. That would compare with a projected increase from 46 per cent to 53 per cent globally over the same period.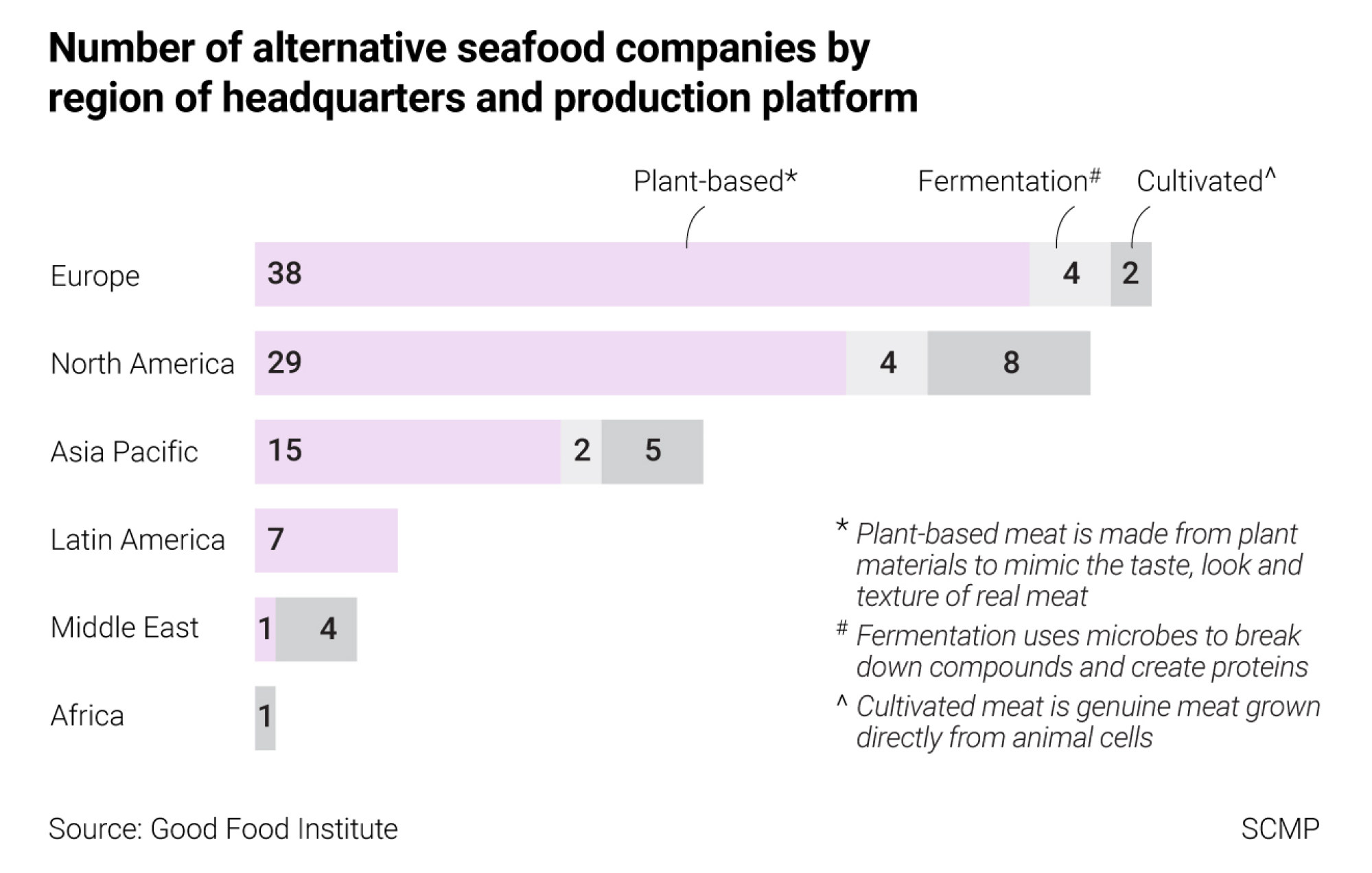 However, the growth in China's aquaculture production has slowed to around 2 per cent in recent years from 5 per cent in most of the past two decades, according to the FAO. Limited availability of inland ponds, saturation of coastal mariculture sites and
stricter environmental protection policies
have been blamed.
Disease is another constant threat hanging over the aquaculture sector, which lacks adequate biosecurity strategies and contingency planning.
"Globally, a trend in aquaculture is that a previously unreported pathogen that causes a new and unknown disease will emerge, spread rapidly, including across national borders, and cause major production losses every three to five years," the FAO said in a report last year.
As part of efforts to promote sustainable seafood, environmental group WWF recently joined forces with the KPMG Foundation to provide incentives for "bankable" and sustainable open-water aquaculture businesses in Hong Kong and nearby Guangdong coastal cities to meet local needs.
Start-ups like Avant Meats are seeking to do away with catching or farming fish altogether.
Cultivated meat
is expected to provide 35 per cent of global meat demand by 2040, while plant-based alternatives will supply 25 per cent, according to a 2019 report by global consultancy AT Kearney. In the longer term, cell-grown products will out-compete plant-based ones, it predicted.
Singapore, the first nation to approve the sale of a cultured meat product, has pursued policies to nurture its nascent "food-tech" industry and attract foreign investment. It set targets for domestic food supply to meet 30 per cent of demand and for the cost of cultured products to match those of conventional meat by 2030.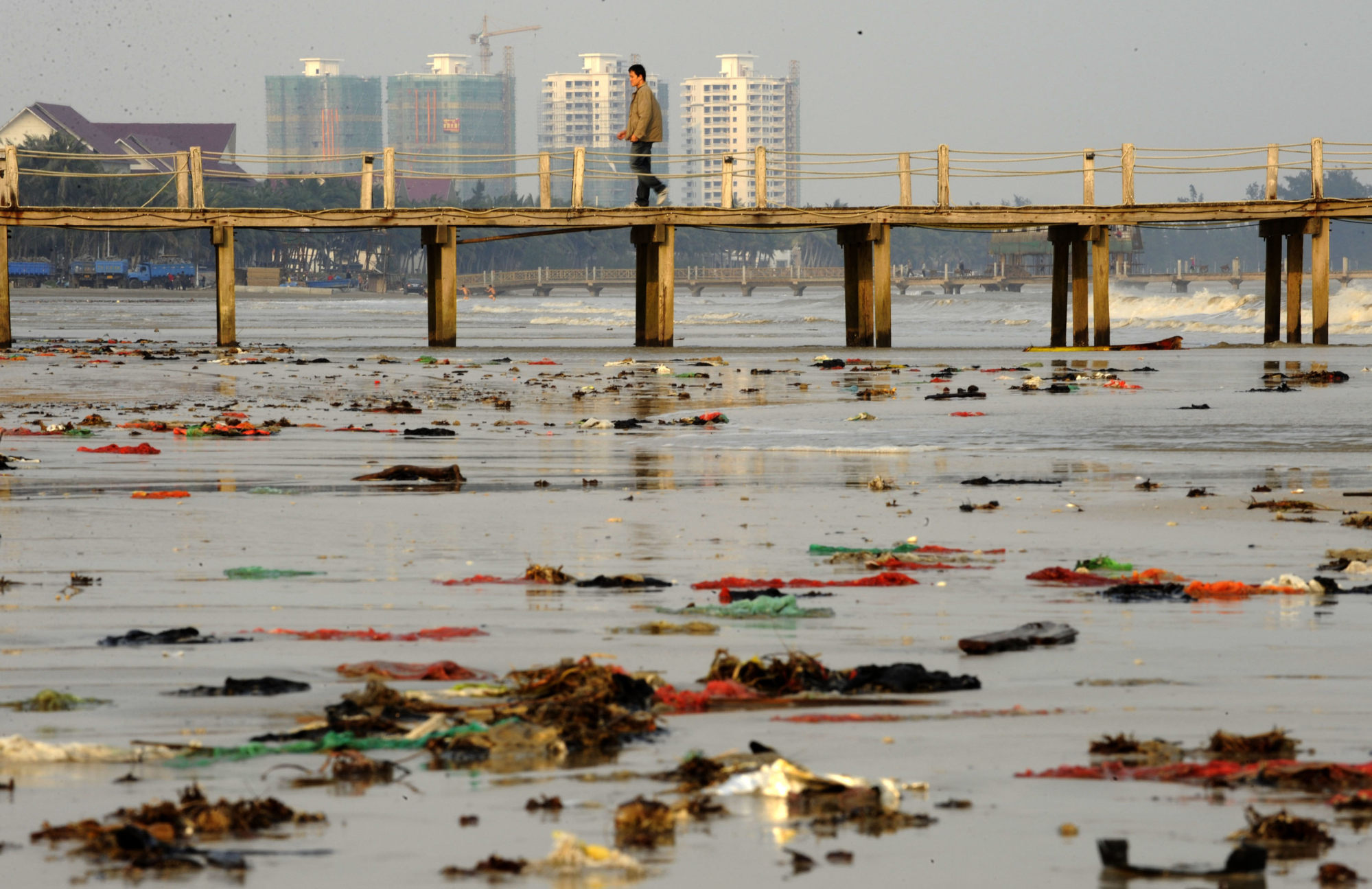 In 2019, it introduced a novel food regulatory framework which requires companies to seek a pre-market safety assessment for alternative protein products that do not have a history of being consumed as food.
San Francisco-based Eat Just expects to open Asia's largest cultured-meat facility spanning 30,000 square feet in the first quarter of next year in Singapore. Its cell-grown chicken was approved to be sold in the city in December 2020.
Avant Meats is not far behind, aiming for pilot manufacturing to start in the first half of next year, and to have its product approved next year in the city state. Sales in Hong Kong, mainland China, Europe and the US will follow depending on the timing of government approval.
Although it will take many years of scaling up production for its products to match the prices of conventional seafood, Chan said Avant has entered the market at the right time.
"Like with the mobile phone, businesses had to invest over many years to improve the products and bring down the costs, otherwise we wouldn't have the smartphones of today," she said.
"Similarly, it will take 10 to 20 years for the cell-grown seafood industry to mature. Given climate change, we will not have secure quality seafood supply if we do not keep investing."