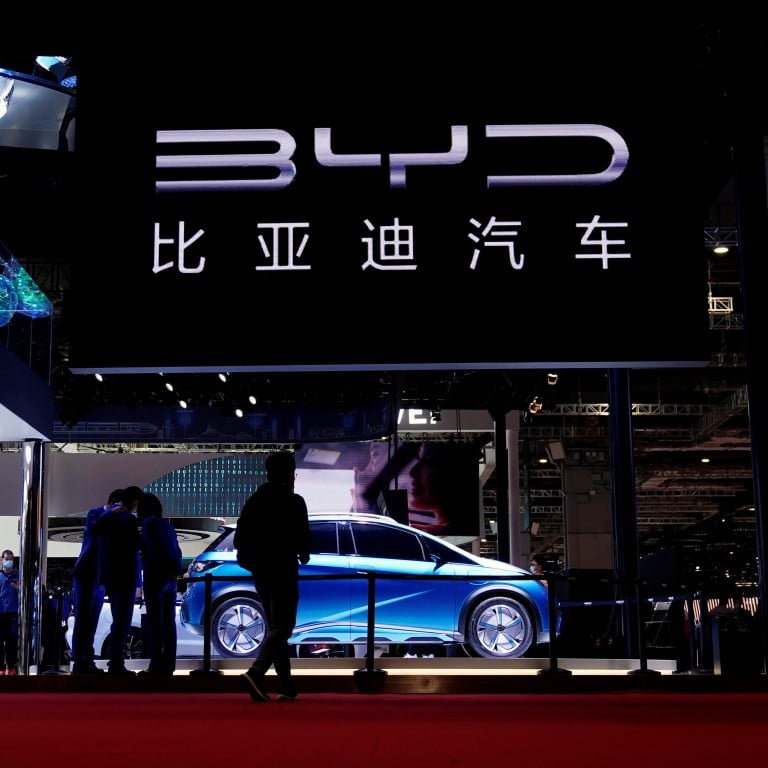 China's BYD takes Tesla's crown as the world's biggest electric vehicle producer by sales
The Shenzhen-based carmaker sold about 641,000 new energy vehicles (NEVs), including EVs and hybrids, in the first six months of the year
Tesla lost 50,000 to 70,000 units in production due to the two-month citywide lockdown in Shanghai, according to estimates by industry experts
BYD, the Chinese carmaker backed by Warren Buffett's Berkshire Hathaway, has overtaken Elon Musk's Tesla as the world's biggest electric vehicle producer by number of vehicles sold, as the country powers ahead with electric vehicle production and bolstering the industrial supply chain.
The Shenzhen-based carmaker sold about 641,000 new energy vehicles (NEVs), including electric vehicles and hybrids, in the first six months of the year, an increase of more than 300 per cent from the same period a year ago, according to a July 5 filing by the company.
This compares with 564,000 vehicles sold by Tesla in the first half, which was a year-on-year increase of 46 per cent from 386,200 vehicles sold in the same period a year ago.
Tesla sold 254,695 cars and SUVs from April until the end of June, an 18 per cent drop over the first three months of the year, as the Texas-headquartered firm's production and sales were hit by Shanghai lockdowns to deal with Covid-19 outbreaks.
Shares of Tesla Inc. fell 4.9 per cent to US$648.50 in early trading in New York but the fall had narrowed to 2.4 per cent by 11am US time.
"The Shanghai lockdown had a big impact on Tesla, and it will be some time before the US carmaker can make up the lost ground [at its Gigafactory 3 in Shanghai]," said David Zhang, a researcher at the North China University of Technology.
BYD's blade batteries have been well received by drivers and the rapid growth in sales of its electric cars is within expectations, said Zhang.
Tesla lost 50,000 to 70,000 units in production due to the two-month citywide lockdown in Shanghai, according to estimates by industry experts, and many say its supply chain is still under stress despite a resumption of full production.
Wedbush analyst Dan Ives estimates that more than 40 per cent of Tesla's sales come from China, and that the Shanghai factory produced about 70,000 fewer vehicles due to the shutdowns, according to a recent report by the Associated Press.
Many of BYD's models are plug-in hybrid vehicles, which use a large battery in addition to a traditional engine for longer journeys, but are counted as "zero emission" vehicles under China's sales rules.
Tesla and other leading Chinese electric car producers, such as Li Auto, Nio, and Xpeng Motors have all been hit hard by China's Covid-19 lockdowns.
BYD was able to escape some of the adverse effects as a substantial number of its vehicle factories are not located in the regions and cities that were subjected to the most strict anti-pandemic restrictions.