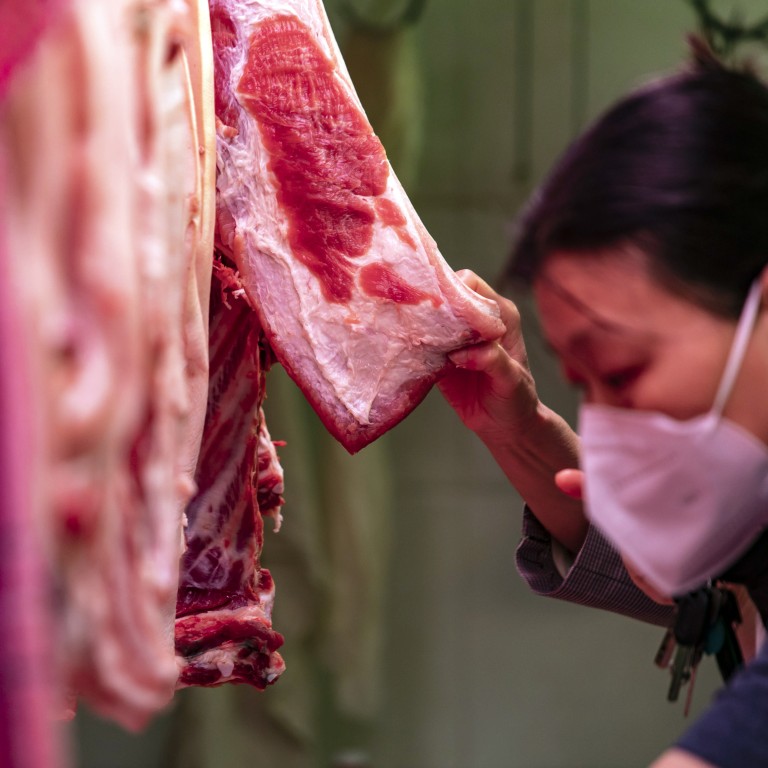 Chinese pork stocks including WH Group recede as nation's top planning body cracks down on misconduct, 'vile speculation' stoking hog prices
The NDRC said it 'will crack down on misconduct such as spreading information on price increases, hoarding, inflating prices and vile speculation.'
The move may prompt traders to reassess their bets that China's pork prices are at the start of a new upward cycle after ending a year-long decline caused by excessive supply
Stock market bets on gains in
China's pork prices
receded after the nation's top planning body warned against speculative activity that could further stoke a 30 per cent increase in hog prices this year.
Shares of Muyuan Foods, the nation's biggest pig-breeder, dropped 3.6 per cent to 61.19 yuan (US$9.13) on Wednesday in Shenzhen, snapping a three-day gain, while pork processing giant
WH Group
slumped 4 per cent to HK$5.81 in Hong Kong, retreating from a level close to a nine-month high.
Trading in pork stocks has started to unravel after the National Development and Reform Commission (NDRC) said on Tuesday it would collaborate with the Dalian Commodity Exchange to rein in the excessive gains in hog prices this year. A day earlier, the planning body said it would take a variety of measures including releasing pork reserves to curb the rally.
"Keeping the hog and pork prices within a reasonable range is of significance in promoting the long-term healthy development of the industry and
maintaining the stability of general prices
," the NDRC's statement said. The commission "will crack down on misconduct such as spreading information on price increases, hoarding, inflating prices and vile speculation."
The move will probably prompt traders to reassess their bets that China's pork prices are at the start of a new upward cycle after ending a year-long decline caused by excessive supply. Shares of Muyuan and WH Group have climbed at least 15 per cent this year, while the benchmark indices in the mainland and Hong Kong are still in the red.
Keeping a brake on rapid gains in pork prices is important to China's top policymakers. Stable prices of the meat, which has a big weighting in the nation's consumer price index, would allow Beijing to further loosen monetary policy to revitalise an economy that has been roiled by the flare-up of the pandemic. China consumes more pork than any other country in the world.
Pork and hog prices have been on a roll this year, which analysts attribute to factors including the shrinking stock of breeding sows and hoarding by some pig farmers who have been anticipating further price increases.
Muyuan, based in Henan province
, reported a 52 per cent year-on-year increase in sales in June, with the average hog price rising 22 per cent from a year earlier. That took the company's revenue growth to 7 per cent so far this year, returning to growth on a year-to-date basis for the first time in 2022.
Citic Securities, the nation's biggest publicly traded brokerage, predicts that hog prices are on a new upward trajectory after hitting the bottom in the first quarter and that they will rise by 25 per cent to 25 yuan per kilogram throughout the year.
The NDRC said in its statement that pork supply is sufficient and the excessive gains in price are mainly caused by irrational behaviour such as hoarding.
Guotai Asset Management says that the current contraction in the stock of breeding sows, a gauge of potential pork supply, is far from signalling a bottom. The stock is down 8.5 per cent since June last year, less than the historical average decrease of between 15 and 20 per cent that heralds the end of downward cycle.
"From the point of view of a big cycle, pork prices haven't bottomed out," said Liang Xing, a fund manager at the firm. "De-stocking has a way to go, and hog prices will probably face corrections again."