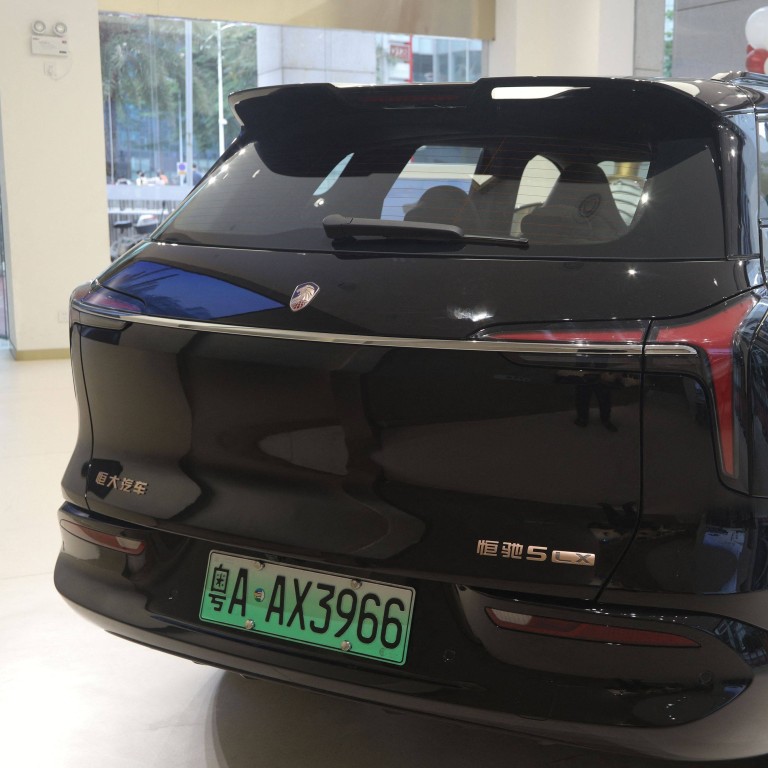 China Evergrande launches first EV, the Hengchi 5, at just over half the price of Tesla's Model Y as embattled developer aims to revive fortunes
The world's most heavily indebted developer hopes its cut-price smart SUV, at 179,000 yuan (US$26,693), will help revive its fortunes and generate much-needed cash
The company will start delivering units in October, said Liu Yongzhuo, president of Evergrande Auto, during an online presentation watched by 825,000 people
The
electric car subsidiary
of China Evergrande, the world's most indebted property developer, has launched its first vehicle at a little over half the price of
Tesla
's popular Model Y.
China Evergrande New Energy Vehicle Group (
Evergrande Auto
) has priced the Hengchi 5 sport-utility vehicle (SUV), its first model since its inception three years ago, at 179,000 yuan (US$26,693), about 44 per cent cheaper than
the American giant
's Shanghai-made Model Y.
"We aim to manufacture world-class smart luxury SUV electric cars priced below 300,000 yuan. Hengchi 5 will become the best SUV
electric car
in this category," said Liu Yongzhuo, president of Evergrande Auto, during an online presale presentation on Wednesday evening.
The first of the SUVs will roll off the production line in October, and the company aims to deliver 10,000 units by 2023, Liu told some 825,000 viewers.
In comparison, Tesla's Shanghai-made Model Y is priced at 316,900 yuan while Nio's EC6 entry-level SUV sells at 396,000 yuan. But Xpeng's G3, another SUV, is cheaper still, starting at 168,900 yuan.
"The price is attractive. Evergrande is aiming for a big sales volume [of the Hengchi] to improve the group's financial conditions," said Chen Jinzhu, chief executive of Shanghai Mingliang Auto Service, a vehicle consultancy
"If it cannot make its
first production car
a hit, Evergrande Auto is unlikely to survive the fierce competition."
Drumming up demand before mass production of the vehicle is under way may prove difficult, according to David Zhang, a research fellow at the Research Center of Automobile Industry Innovation of the North China University of Technology.
"They want to collect as much cash as possible [through presales of the Hengchi 5]," said Zhang. "But the outcome may not be very promising. People probably will not make the decision to buy before mass production."
The launch could be a chance for the embattled China Evergrande to turn the tide and get back on its feet.
The home builder, founded in 1996 by Chinese billionaire Hui Ka-yan,
has struggled to repay debt
since the middle of last year. It has missed payments on its high-yield wealth management products, to its suppliers and contractors, and domestic as well as offshore creditors and bondholders.
It had total liabilities of 1.97 trillion yuan, based on its accounts, which were last published on June 30, 2021. It recently received a wind-up petition from an investor for not fulfilling a financial obligation of HK$862.5 million (US$109.9 million), according to a filing to the Hong Kong exchange last Tuesday. China Evergrande is expected to release its debt-restructuring plan by the end of this month.
To entice people to buy the Hengchi 5, Liu announced a series of incentives: the first 10,000 customers will be able to request a refund within 15 days of delivery, and buyers can return their vehicles within three years for 40 per cent of the purchase price.
Liu said the car delivers AI-powered access to key in-car functions and information, voice recognition, and features that enhance driver safety and convenience.
Evergrande, China's second largest developer by sales last year, started its foray into the electric vehicle (EV) sector in mid-2018 and unveiled its own brand, Hengchi, meaning "last forever and travel the world" in Chinese, the following year.
The group unveiled a line-up of six Hengchi models in August 2020, and added three more in February 2021. For now, the company is likely to focus purely on the Hengchi 5 and Hengchi 6 models, because of funding constraints.
The Hengchi 5 will be available for sale in 200 car dealerships in Beijing, Shanghai, Guangzhou and Shenzhen. Buyers can also subscribe online.