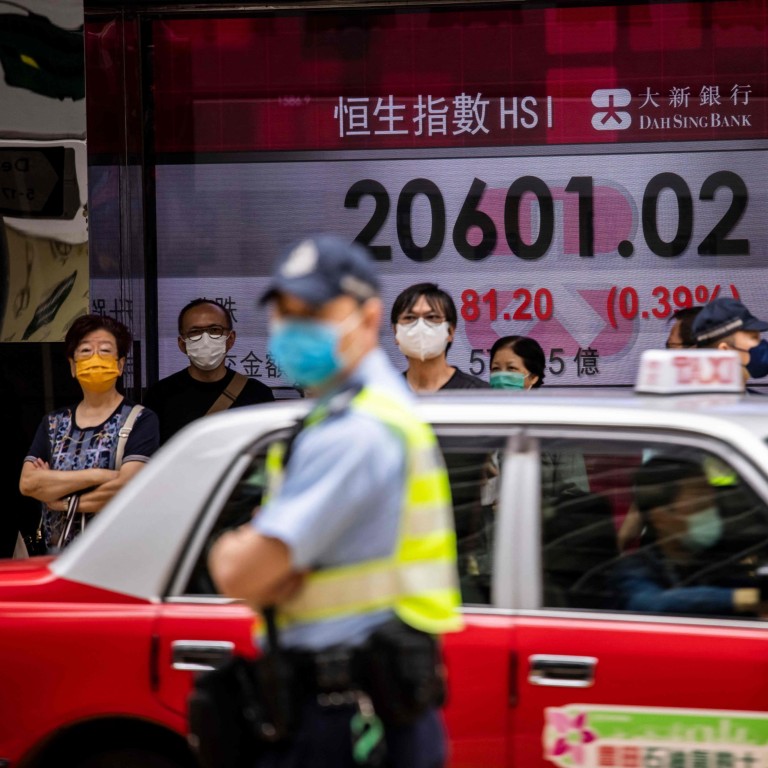 Hong Kong stocks erase drop as city seen easing air travel curbs derided by bankers, investors
Hong Kong to immediately suspend a flight mechanism that penalises carriers in a move to ease curbs on air travel, government says
Official reports next week may show China's economy cooled last quarter, while faster inflation to limit scope for further monetary easing
Hong Kong
stocks
erased losses after the city suspended a flight circuit breaker in a sign that authorities are loosening its stringent travel curbs. Banks and developers powered the rebound from a two-week low.
The Hang Seng Index added 0.3 per cent to 21,643.58 at the close of Thursday trading, overturning a drop of as much as 1.8 per cent. The Hang Seng Tech Index declined 0.5 per cent, while the Shanghai Composite Index climbed 0.3 per cent.
HSBC advanced 1.1 per cent to HK$49.65, while Wharf REIC added 1.7 per cent to HK$36.40 and CK Asset Holdings jumped 1.3 per cent to HK$56.75. Other notable winners included Geely Auto and Orient Overseas, which climbed more than 3 per cent to HK$17.50 and HK$218 respectively.
Stocks earlier fell to near the lowest level since June 23, after a recent flare-up in virus infections clouded recovery bets. Shanghai is conducting a massive screening in most of the 16 districts after the city reported 54 new cases on Wednesday, the most since late May. The eastern province of Anhui locked down two counties to fight an outbreak.
In Hong Kong, health officials expressed concerns about growing new cases. Authorities on Wednesday reported 2,815 infections, while the number of patients in public hospitals had risen to 830 from 400 in June.
"For this recovery to be sustainable, consumer and business confidence need to stay buoyant," said Tai Hui, a strategist at JPMorgan Asset Management. "One critical factor will be how the authorities handle the next round of outbreak."
China's economy probably expanded 1.2 per cent in the second quarter, easing from a 4.8 per cent pace in the preceding three months, according to consensus among economists tracked by Bloomberg before a government report on July 15. The quarter will showcase the impact of two-month citywide lockdown in Shanghai, a key manufacturing and tech hub.
An inflation report on July 9 may show prices rose 2.4 per cent in June versus 2.1 per cent in May, limiting the scope for further monetary easing.
On the mainland, electronics component maker Orbbec surged 39 per cent to 43.03 yuan on the first day of trading in Shanghai, while IT service provider China Etek Service & Technology gained 22 per cent to 59.40 yuan in its Shenzhen debut.