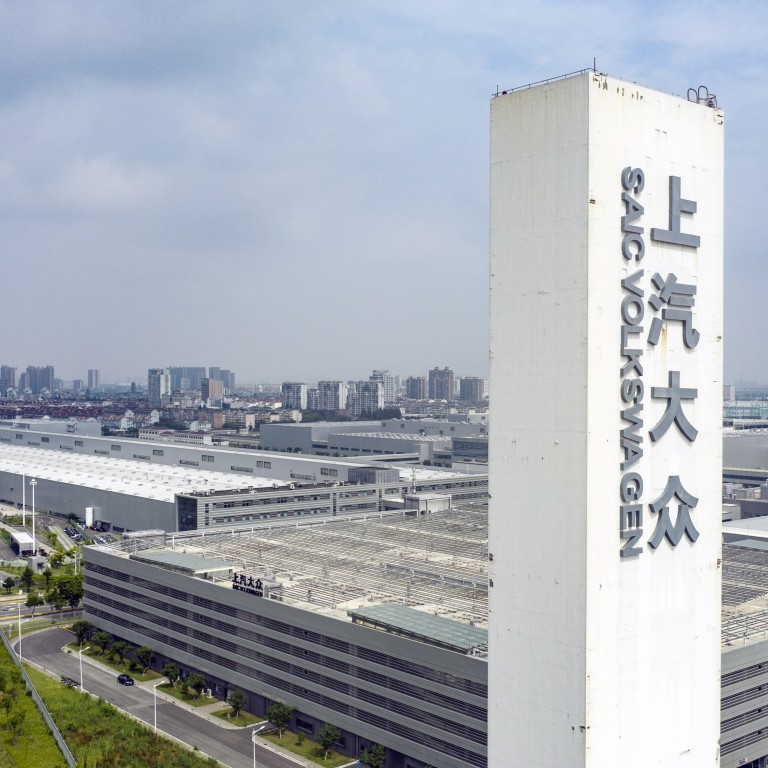 China's largest carmaker sees NEV deliveries almost double in June as supply chain woes ease
The sales number was also a 27.4 per cent jump from May when SAIC fought to restore supply chains amid lockdowns
Analysts said SAIC's strong deliveries in June showed consumer demand for battery-powered vehicles remains strong on the mainland
SAIC Motor, China's largest carmaker, saw its new-energy vehicle (NEV) deliveries nearly double in June from a year earlier, as it stepped up a gear to increase output following a two-month citywide lockdown in Shanghai.
The state-owned company, which is a partner of General Motors and Volkswagen, said its NEV segment powered ahead of rivals with deliveries of 91,297 units last month, compared to 49,030 vehicles in the same period in 2021.
The sales number was also a 27.4 per cent jump from May when SAIC fought to restore supply chains to get production back up to full capacity amid lockdowns.
"Cash subsidies played a role in bolstering local NEV sales," said Tian Maowei, a sales manager at Yiyou Auto Service in Shanghai. "Major carmakers in Shanghai and its neighbouring regions are set to quicken production and increase sales in the second half after emerging out of the Covid-19 pandemic."
Analysts said SAIC's strong deliveries number in June showed consumer demand for battery-powered vehicles remains strong on the mainland, the world's largest electric vehicle (EV) market.
NEV comprises pure electric, plug-in hybrids and hydrogen fuel cell cars.
SAIC and its joint ventures with GM and VW, as well as Tesla's Gigafactory 3, are the major car builders in Shanghai, "China's Motown", all of which fell victim to the coronavirus outbreak, which forced them to temporarily suspend production from late March to mid-April.
Although car makers resumed production in mid-April under the so-called "closed loop" system – where workers slept on site to avoid contact with outsiders – fractured supply chains due to lockdowns still impacted operations.
Tesla's Shanghai factory, known as Giga Shanghai or Gigafactory 3, restored production to 2,600 units per day in late May.
The US carmaker delivered 78,906 Shanghai-made Model 3 and Model Y vehicles in June, beating the previous monthly record of 70,847 units last December, according to data released by the China Passenger Car Association.
But the lofty sales number last month was not enough for Elon Musk's company to retain its title as the world's biggest EV builder as BYD, the Chinese carmaker backed by Warren Buffett's Berkshire Hathaway, sold 641,000 NEVs during the first half of 2022, 77,000 more than Tesla's global total of 564,000.
"All eyes will be on production and sales of NEVs in the second half when a clutch of new models hit the market while all companies double their efforts to lure more customers," said Ivan Li, a fund manager with Shanghai-based Loyal Wealth Management. "All of the leading players like Tesla and SAIC will be looking to make up the lost ground caused by virus controls in April and May."
Early this month, Tesla temporarily halted part of its production at Giga Shanghai to facilitate upgrade work to the assembly line, which will raise its capacity by 30 per cent to 22,000 units in August.
New models to be delivered by Chinese smart EV start-ups such as Nio and Li Auto, and incentives offered by local governments, will continue to drive up sales of battery-powered vehicles in the remaining year, analysts said.
At the beginning of June, Shanghai municipality announced that it would offer buyers a subsidy of 10,000 yuan (US$1,492) to replace their used internal combustion engine (ICE) cars with NEVs.