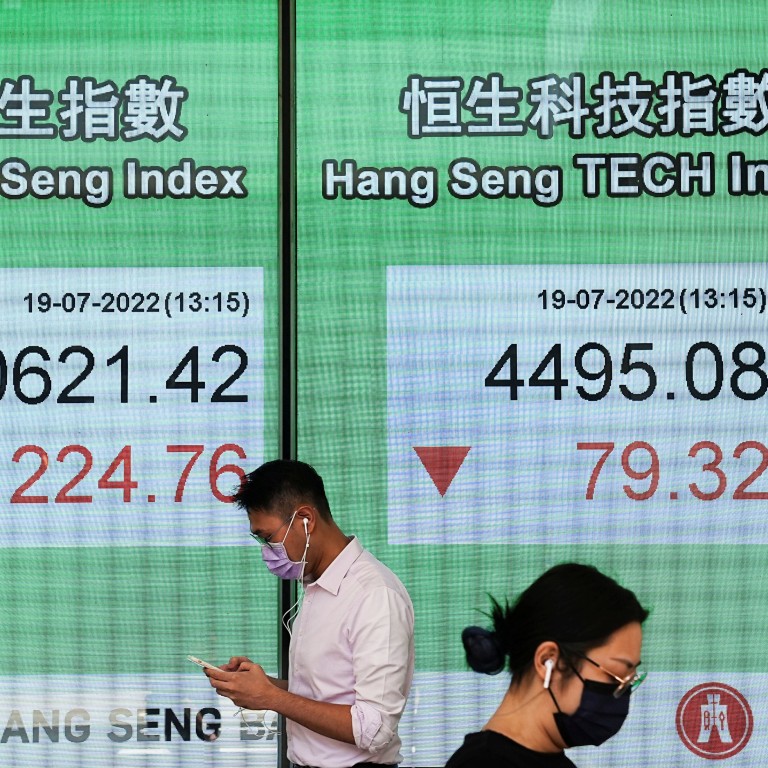 Hong Kong stocks fall on concerns about China's property crisis while Alibaba, other tech leaders trim losses as Didi probe ends
Stocks retreated from a one-week high as developers faced selling pressure amid growing concerns about China's housing crisis, bad loans outlook
Tech stocks like Alibaba pared losses after China fined Didi Global to end a year-long cybersecurity probe
Hong Kong
stocks
retreated as mainland developers and lenders slipped amid a deepening property market crisis. Tech stocks pared losses on speculation China will end its crackdown after wrapping up a probe on Didi Global with penalties.
The Hang Seng Index fell 1.5 per cent from a one-week high to 20,574.63 at the close of Thursday trading. The Hang Seng Tech Index erased losses to end with a 0.1 per cent gain, while the Shanghai Composite Index lost 1 per cent.
Longfor Group slumped 7.2 per cent to HK$26.35 and China Overseas Land and Investment lost 3.8 per cent to HK$21.35. BOC Hong Kong, a unit of China's third-largest banking group, fell 1.2 per cent to HK$27.85. Casino operators Sands China and Galaxy Entertainment lost at least 1.7 per cent amid ongoing lockdown in Macau.
"The recent mortgage crisis will further delay the recovery in the property market," said Zhang Zhilong, an analyst at Xiangcai Securities in Shanghai. "Weak demand and funding curbs are the biggest drag. Regaining the confidence now requires more policy support."
Jitters about China's housing slump hit sentiment after thousands of homebuyers in more than 90 cities refused to service their loans in protest against delay in projects and deliveries. That casts a pall over the banking sector, threatening to swell bad loans. The property sector contributes to a quarter of China's gross domestic product.
NetEase jumped 6.3 per cent to HK$152.80. Alibaba, the owner of this newspaper, slipped 1.2 per cent to HK$102, narrowing an earlier drop of 1.9 per cent, while JD.com advanced 0.7 per cent 247.40 on bet China will cool its crackdown on tech sector afte
r fining Didi Global and some top executives
to end a year-long probe for cybersecurity missteps.
"The government may take a break on creating new regulations for now" while the crackdown may still continue, said Wang Qi, chief executive officer at MegaTrust Investment in Hong Kong. "It's no time to rock the boat and add to the macroeconomic risk with new regulations."
Elsewhere, China is also struggling to contain the more contagious strains of the Omicron. The government reported 826 new cases on Wednesday, close to a two-month high. Some communities in Shenzhen imposed new lockdowns while Shanghai continued its massive screening.
The headwinds offset overnight gains in US equities, aided by strong earnings reports from market leaders like Tesla and Netflix. Markets in Asia-Pacific mostly closed higher on Thursday. South Korean equities gained 0.9 per cent while stocks in Japan and Australia advanced by at least 0.4 per cent.
Yum China sank 1.7 per cent to HK$369.60 after regulators in at least four cities including Beijing and Nanjing conducted inspections of its Pizza Hut restaurant chain following a media report that its outlets used expired ingredients.
With additional reporting by Yaling Jiang.