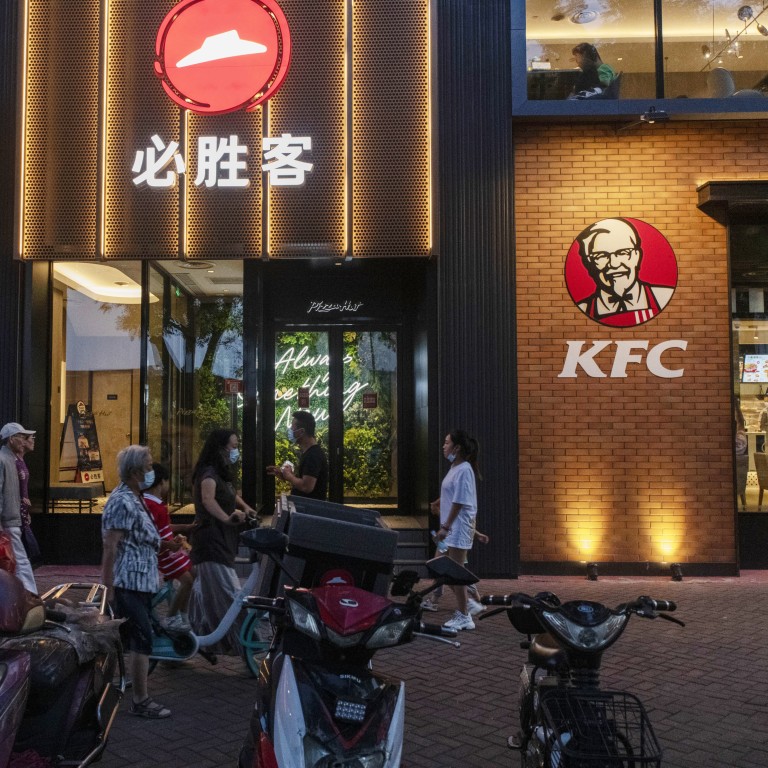 KFC, Pizza Hut operator Yum China reports 54 per cent profit drop after Covid-19 curbs kept diners at bay
The fast-food giant said its earnings in the three months ended June 30 came to US$83 million, down 54 per cent from the same period last year
'We have been battling the pandemic for the past two and a half years. The second quarter was the most challenging to date,' says CEO
Yum China Holdings, the owner of the KFC and Pizza Hut restaurant chains in China, took a beating from the mainland's
stringent Covid-19 curbs
as its net profit dropped by more than half from a year earlier.
The
fast-food giant
said on Friday that its earnings in the three months ended June 30 came to US$83 million, down 54 per cent from the same period last year.
Its performance still beat the company's forecast in May when it warned investors of a potential net loss amid a flare-up in the pandemic which prompted Shanghai to impose a two-month citywide lockdown.
From April to May, 2,500 of
Yum China's restaurants
, about a fifth of the total, were either temporarily closed or barred from serving dine-in customers because of the zero-Covid strategy.
"We have been battling the pandemic for the past two and a half years. The second quarter was the most challenging to date," said the company's chief executive, Joey Wat.
At a results briefing, Wat said the business outlook in the coming months remained uncertain as a resurgence of the coronavirus in cities like Shenzhen and Xi'an continued to disrupt operations.
The restaurant chain operator reported revenue of US$2.13 billion in the second quarter, down 11 per cent on the year. Same-store sales plunged 16 per cent.
"Yum China, banking on its strong brand awareness and nimble management, has proved its ability to minimise the damage caused by the virus control measures," said Chen Xiao, chief executive of Shanghai Yacheng Culture, a firm that deals with marketing and branding for retail companies. "The catering sector, one of the main victims of the Covid-19 outbreak, is indeed in a dire scenario where closures and collapses abound."
Nearly all restaurant in Shanghai, the mainland's commercial and financial capital with a population of 25 million, were closed between April 1 and May 31 amid the citywide lockdown.
Most of them have yet to return to pre-lockdown levels after reopening on June 1.
According to Linkshop, a consultancy serving retail businesses, a total of 39 restaurant chains either halted operations or went bankrupt in the first half of this year.
Zhang Yixiang, a small restaurant owner in Shanghai, said that dozens of outlets in Pudong's Tangqiao subdistrict had collapsed since June because their bosses believed they could not break even in the remainder of the year.
"A large number of residents are still wary of dining out since the highly transmissible Omicron variant has yet to be entirely contained in Shanghai," said Zhang.
Nationwide, catering businesses raked in sales of 2 trillion yuan (US$296.8 billion) between January and June, down 7.7 per cent from a year earlier, according to national statistics authorities.
But Yum China remained bullish on the long-term outlook.
Wat said the company planned to expand its network "at a robust pace" by focusing on small store formats.
In 2022, Yum China envisions opening 1,000 to 1,200 new outlets, with investment of US$800 million to US$1 billion, according to chief financial officer Andy Yeung.