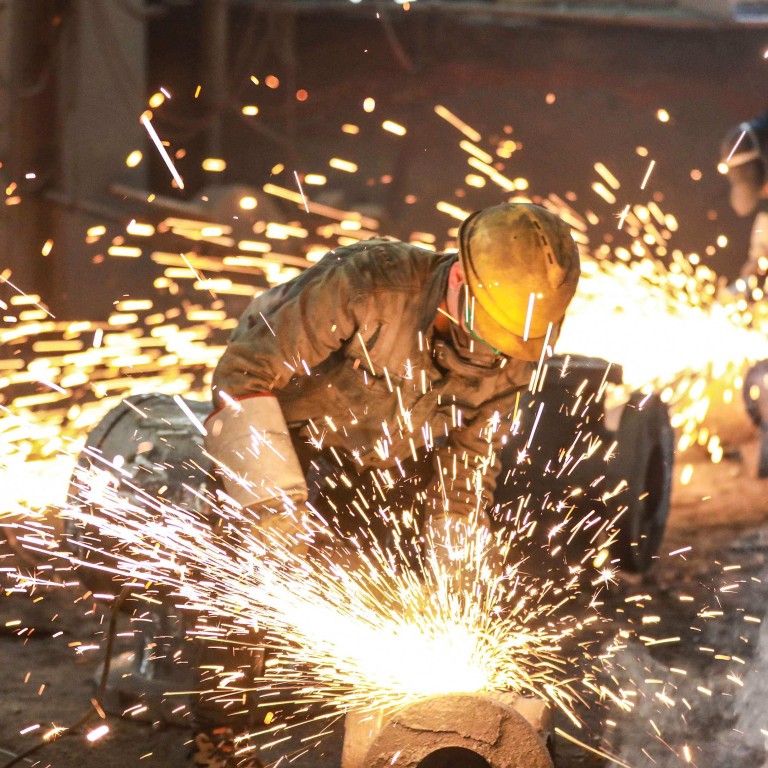 China releases plan to guide carbon-intensive industries to reach peak emissions by 2030
By 2025 companies in seven sectors with annual revenue of US$2.9 million have been ordered to cut energy use by 13.5 per cent from 2020 levels, according to the plan
The steel sector has been asked to achieve annual recycling capacity of 180 million tonnes of scrap iron and steel by 2025
Seven industrial sectors in China have been assigned targets to reduce energy consumption and boost recycling to reach peak carbon dioxide emissions by 2030.
Industrial enterprises with annual revenue of 20 million yuan (US$2.9 million) or more have been ordered to reduce their energy consumption by 13.5 per cent by 2025 compared with 2020 levels, according to a joint plan published on Monday by the Ministry of Industry and Information Technology (MIIT) along with the National Development and Reform Commission and the Ministry of Ecology and Environment.
By 2030, the aim is to establish a modern industrial system with "high efficiency, green, circular and low-carbon characteristics", the plan noted.
Companies in steel, building materials, petrochemicals, non-ferrous metals, consumer goods, equipment manufacturing and electronics sectors will be subject to the new rules.
For the steel sector, which contributes about 15 per cent of the nation's total carbon emissions, the plan called for an annual recycling capacity of 180 million tonnes of scrap iron and steel by 2025. By 2030, the steel sector is also expected to achieve technological breakthroughs in cutting carbon emissions.
President Xi Jinping announced two years ago that China, the world's largest emitter which contributed to one-third of global total carbon emissions, will aim to peak national emissions by 2030 and achieve carbon neutrality by 2060. China's industrial sectors together contributed to roughly 50 per cent of national total carbon emissions in 2021.
The seven sectors have also been urged to actively promote green manufacturing by building low-carbon factories, developing a more sustainable green supply chain and developing a circular economy, with an emphasis on recycling and replacing carbon-heavy materials with low-carbon alternatives, according to the plan.
The scheme called for expanding the coverage of China's national emissions trading scheme, which currently only regulates the power sector, to include industrial sectors to help with their low-carbon transition. It also wants to see progress on green finance to provide funding for green and low-carbon projects in the industrial sectors.
Chinese state agencies have issued several policies on achieving carbon neutrality in heavy industries. Last December, MIIT released a five-year green development plan targeting the industrial sector. The targets included cutting carbon emissions by 18 per cent, energy use by 13.5 per cent and achieving 11 trillion yuan of economic output by the environmental sector by 2025.
The same month MIIT introduced another five-year plan to help the raw materials industry transition to low-carbon. By 2025, the production capacity of major bulk raw material goods such as crude steel and cement should either drop or remain unchanged, according to the plan. The same year energy consumption to produce a tonne of steel and cement should also be reduced by 2 per cent and 3.7 per cent, respectively, the state agency ordered.
Some key industrial sectors have released their own peak carbon emission plans. China's aluminium sector aims to achieve it by 2025 and reduce emissions from that peak by 40 per cent in 2040, according to a draft action plan released by the industry in April.
The steel sector could also reach peak emissions in 2025 and then reduce it by 30 per cent by 2030, according to a forecast by the China Metallurgical Industry Planning and Research Institute in March.