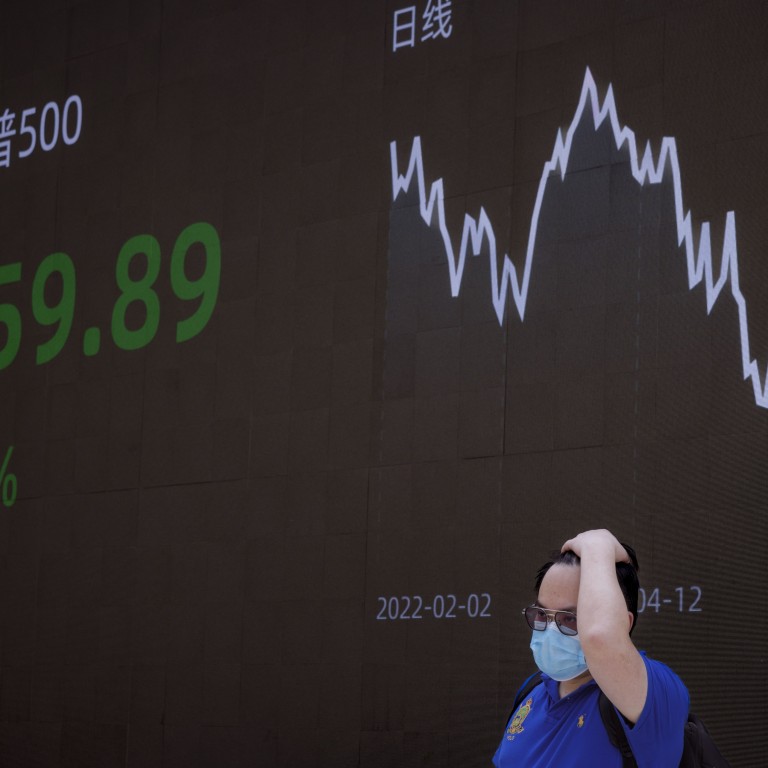 Alibaba, HSBC, AIA pace rout in Hong Kong on Taiwan tensions as China promises 'firm and strong' measures against Pelosi's visit
All save two of Hang Seng Index members slipped on rising cross-strait tensions over Pelosi's impending visit to Taipei late Tuesday
China has promised 'firm and strong' measures over the visit, as it considers Taiwan as a renegade province and its internal affairs
Hong Kong
stocks
tumbled to the lowest in more than two months as a planned visit to Taipei by US House Speaker Nancy Pelosi heightened cross-strait tensions with China promising to retaliate. A slowdown in the city's economy also hurt risk-taking.
The Hang Seng Index slumped 2.4 per cent to 19,689.21 at the close of Tuesday trading the lowest level since May 12. All four of the benchmark's industry groups – finance, property, utilities and industry lost between 0.7 per cent and 2.4 per cent. The Tech Index sank 3 per cent with no winner, while the Shanghai Composite Index fell 2.3 per cent.
Alibaba Group Holding tumbled 2.8 per cent to HK$87.05, while Tencent Holdings slumped 1.5 per cent to HK$295 and Meituan retreated 2.1 per cent to HK$176.20. HSBC fell 1.6 per cent to HK51, giving up part of Monday's 5 per cent rally. AIA Group retreated 2.8 per cent to HK$75.05.
"In the case of any direct armed conflict between China and the US, risk assets could be hammered, with Taiwan and Chinese assets getting hurt particularly badly," Chen Zhao, chief global strategist at Alpine Macro in Montreal, said in a special report. "We believe that the
current political backdrop
makes a military response from China very likely."
Other stocks from smartphone maker Xiaomi to developer Country Garden and Macau casino operator Sands China slumped by 4 per cent or more. The Hang Seng's next support level is 19,178 points, according to Kenny Wen, head of investment strategy at KGI Asia, a level not seen since the market rout in mid-March.
Taiwan's Taiex slipped 1.6 per cent to a two-week low, with Taiwan Semiconductor Manufacturing Co sliding 2.4 per cent to NT$492. Equity benchmarks fell 1.4 per cent in Japan and 0.5 per cent in South Korea.
China said it would take
"firm and strong measures"
as local media in Taipei reported that Pelosi was expected to arrive in Taiwan late on Tuesday, marking a visit by the highest ranking US official since 1997. China regards Taiwan as a renegade province and its own internal affairs.
The US is concerned that Beijing could use Pelosi's visit as an excuse to take provocative actions, including firing missiles in the Taiwan Strait or conducting sorties into Taiwan's airspace. China could impose a naval blockade around the island, Chen added.
Elsewhere, risk appetite also waned after the Hong Kong government reported the city's economy shrank at an annualised rate of 1.4 per cent in the second quarter. Gross domestic product, however, grew sequentially by 0.9 per cent from March. The government is expected to revise its current growth target for a 1 to 2 per cent.
"If a military action will be triggered, that will further damage the already weak Hong Kong and global economy," said Louis Tse Ming-kwong, managing director of Wealthy Securities. "The tense Taiwan issues will not be resolved soon and that is set to add more uncertainties in the near future."
Additional reporting by Enoch Yiu