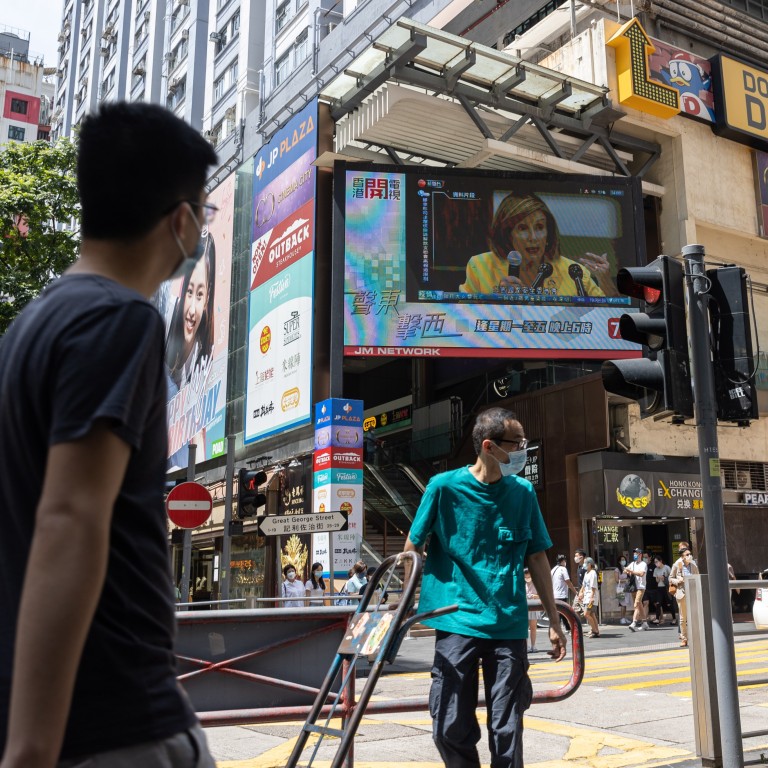 Alibaba, SMIC, Geely lead Hong Kong stock rebound as China's war games around Taiwan put markets on edge
Stocks in Hong Kong and mainland China recover from Tuesday's sell-off sparked by cross-strait tensions over Pelosi's visit to Taiwan
Alibaba, SMIC and Geely lead gainers with market showing tentative return in confidence while China plans live-fire drills encircling island
Stocks
in Hong Kong recovered from a sell-off even as cross-strait tensions remain elevated over the Taiwan situation, with investors keeping risk appetite in check for potential military escalation.
The Hang Seng Index rose 0.4 per cent to 19,767.09 at the close, paring an earlier advance of as much as 1.2 per cent. The benchmark fell 2.4 per cent on Tuesday. The Hang Seng Tech Index jumped 1.2 per cent while the Shanghai Composite Index erased gains to log a 0.7 per cent setback.
Alibaba Group Holding jumped 3.8 per cent to HK$90.35, leading winners in Hong Kong. The e-commerce group is due to issue its quarterly earnings on Thursday, with consensus pointing to a 60 per cent slump from a year earlier based on the US accounting standard.
Taiwanese stocks wavered before closing 0.2 per cent higher, but companies with exposure to the mainland recorded losses. China Airlines and President Chain Store lost 2.3 per cent and 2.7 per cent, respectively.
Other Chinese tech peers rebounded along with Alibaba, as Tencent Holdings gained 2.6 per cent to HK$302.60 and JD.com added 2.2 per cent to HK$233.20. Chip maker Semiconductor Manufacturing International Corp (SMIC) rallied 4.1 per cent to HK$16.18. Carmaker Geely Auto added 3.4 per cent to HK$17.58.
"The real show of force by China is still to come," Clifford Bennett, chief economist at ACY Securities, said in a note to clients. "This is not a point on the Taiwan situation overall, simply to state that it places additional pressure on the military of all three nations and will most definitely set back US-China relations for many years."
Investors should take risk off the table until the Pelosi trip blows over, according to BCA Research. China will be required to react to uphold the credibility of its warnings, and Beijing will have a national and political interest in overreacting, while the Americans will then have a national and political interest in preserving their own credibility. This dynamic could lead to a major escalation in strategic tensions, it added in a report on Wednesday.
Elsewhere, China's services activity grew in July as authorities further eased Covid-19 curbs, helping restore consumer confidence. The Caixin PMI Services Index rose to 55.5 in July from 54.5 in June. The Caixin China Composite PMI Index of smaller enterprises was at 54 last month, remaining in expansionary territory for a second straight month.
Markets in the Asia-Pacific region were mixed. Benchmarks in Japan and South Korea added at least 0.5 per cent while Australian equities slipped 0.2 per cent. US stocks declined overnight on China tensions and worries about the Federal Reserve's policy tightening path.