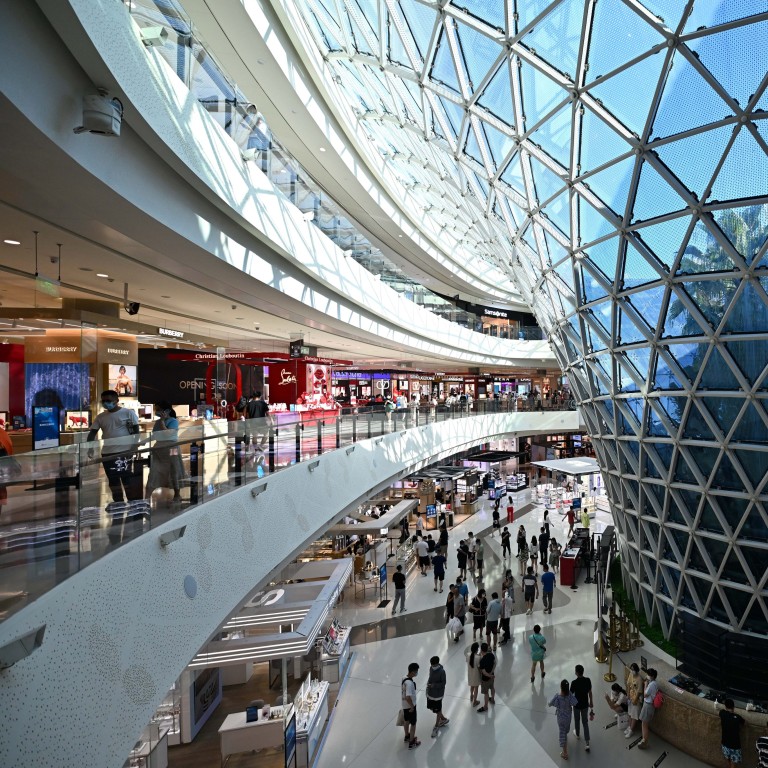 China's lockdown hits top duty-free retailer for US$2.7 billion as stock slides in Shanghai, hurts Hong Kong IPO appeal
China Tourism Group Duty Free lost US$2.7 billion in market value after stock slid 4.7 per cent in Shanghai, with Hong Kong IPO plan still in progress
The lockdown imposed on the popular beach resort of Sanya is bound to affect the group's impending IPO in Hong Kong, says a fund manager
The state-controlled retailer lost 18.2 billion yuan (US$2.7 billion) in market value after its shares slumped 4.7 per cent to 189.59 yuan in Shanghai on Monday, the lowest level since June 16. The Shanghai Composite Index climbed 0.3 per cent.
It resubmitted a listing application to the Hong Kong bourse on June 30, reported to be US$3 billion in size, after
shelving its original stock offering
last year because of unfavourable market conditions. Funds managed by Schroders, Invesco and BlackRock are among holders of its yuan-denominated shares.
"Its offer price will for sure be negatively impacted by the Sanya lockdown" in the event the IPO comes to the market during the curbs, said Dai Ming, a fund manager at Huichen Asset Management in Shanghai.
"Some investors tend to believe that China's zero-Covid approach will have a long-standing impact on consumer spending and consumer stocks," he added. "Therefore, there will be no front-loading of consumption even when this wave of the pandemic is gone and stocks like China Tourism will not have a significant comeback."
The
lockdown in Sanya
could pressure its earnings outlook in the second half. Net income for the first half probably fell 26 per cent from a year earlier because of a 37 per cent drop in the number of tourists amid a resurgence in Covid-19 cases and disruption to the logistics supply chain during the Shanghai lockdown, it said in an exchange filing on July 28. Full-year earnings rose 57 per cent in 2021.
Sanya, often dubbed China's Hawaii, reported 413 new daily cases on Sunday, bringing the tally to 1,210 so far this month. People who are currently in Sanya or who have travelled to the city since July 23 are prohibited from departing and will be required to take nucleic acid tests, the government said.
China Tourism's shares have dropped 14 per cent in Shanghai this year, in addition to a 22 per cent slide in 2021. The stock was a favourable pick among investors in 2020, when it surged 218 per cent after China more than tripled the quota on duty-free buying for domestic travellers to Hainan to revive consumption after the first outbreak in Wuhan.
The company has a near-monopoly in the industry, with an 86 per cent market share at the end of 2021, according to Frost & Sullivan. That was a drop from 92 per cent a year earlier as Beijing granted more duty-free licences to new entrants.
China Tourism now operates five duty-free shops in Hainan and has one under construction in provincial capital Haikou. China's duty-free sales are expected to rise 24 per cent from a year ago to 59.5 billion yuan in 2022, according to its preliminary draft prospectus in Hong Kong.