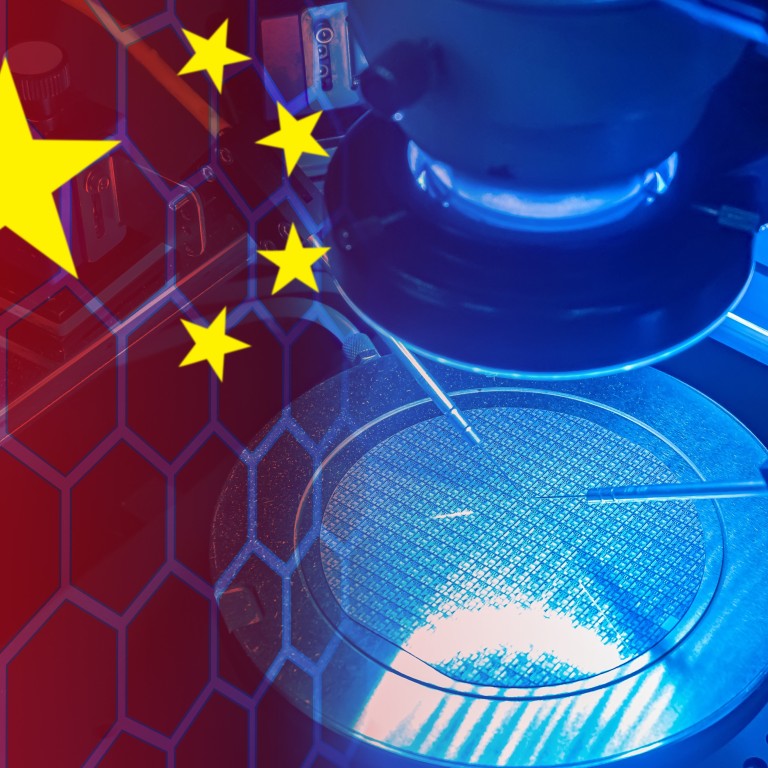 Unigroup, StarPower keep Chinese semiconductor stocks flying as home investors sidestep Biden's subsidy act to counter Beijing's ambitions
An index tracking domestic chip makers has risen 6.8 per cent this month even as Biden signed a US semiconductor subsidy bill into law this week
Unigroup Guoxin and StarPower Semiconductor lead pack in Shanghai and Shenzhen, while SMIC pared gains at home and in Hong Kong trading
China's semiconductor
stocks
are a reason funds managed by local partners of Invesco and Schroders are beating their peers. They have rallied this year in the face of global technology wars, including the latest US legislation to restrain Beijing's ambitions.
An index tracking 515 yuan-denominated chip and electronics companies, including Unigroup Guoxin Microelectronics and Semiconductor Manufacturing International Corp, has risen 6.8 per cent gain this month, according to data provider Shanghai DZH, while the Shanghai Composite Index has stalled.
The gauge's 43 per cent jump from a 17-month low on April 27 has also surpassed the 9.3 per cent gain in the stock benchmark over the same period. Unigroup and StarPower Semiconductor both jumped 48 per cent during the period. SMIC pared its advance to 10 per cent after the stock retreated more than 1 per cent at home and in Hong Kong on Wednesday.
The chip index climbed 0.5 per cent on Wednesday, after President Joe Biden
signed into law the Chips and Science Act
overnight. The US will hand out US$53 billion of subsidies under the act to support American producers in research and development (R&D), and ban fund recipients from raising their output of advanced semiconductor chips in China.
"With the chips law now in place, China's capital expenditure as well as R&D will accelerate and lead to further integration of chip designing and wafer manufacturing," said Yang Haiyan, an analyst at Shenwan Hongyuan Group in Shanghai. "That will hand domestic players cost savings and advantage."
Chip stocks have proved to be resilient amid a slew of challenges that wreaked havoc in the industry, including a citywide lockdown in Shanghai, Taiwan Strait tensions and the US technology export ban. The industry has also looked past
a corruption scandal
at China Integrated Circuit Industry Investment Fund, which owns shares in at least eight chip makers including SMIC and Tianshui Huatian Technology.
China's commerce ministry last month said the US subsidy programme would restrict normal flow of investments by overseas investors, and cause disruptions to semiconductor supply chain and global trade. Traders are betting Beijing will speed up self-reliance programmes to sidestep anti-China measures.
Wednesday's gain in Chinese chip stocks bucked overnight losses in US tech stocks. Micron Technology issued a warning about slower revenue, adding to downbeat guidance from peers Nvidia and Advanced Micro Devices earlier this week.
Industry data shows that China's demand for chip products remains strong. Semiconductor sales in January-to-May increased 17 per cent to US$84.3 billion from a year earlier, while the capacity utilisation rates at SMIC and Hua Hong Semiconductor exceeded 100 per cent, according to Soochow Securities.
"China has become a centre for global expansion in wafer production," said Zhou Ershuang, an analyst at the brokerage. "We estimate capital expenditure to remain elevated and the pace of domestic substitutes will accelerate. The logic of import replacement is more evident."