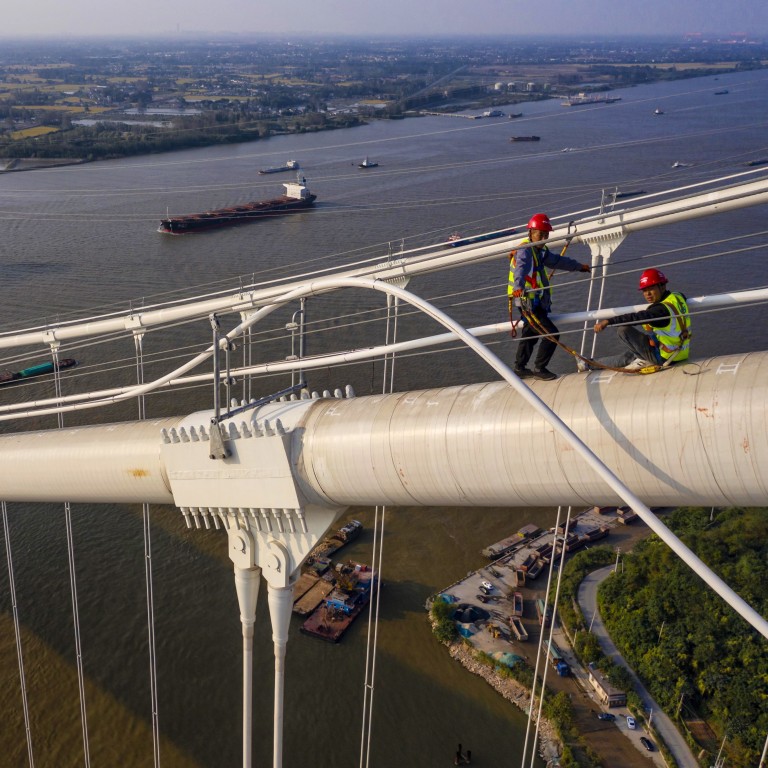 Yangtze River Delta governments take a back seat, giving market forces free rein in developing infrastructure
Integration of the Yangtze River Delta, an area with a population of 240 million, is a national strategy initiated by President Xi in 2018
'Governments hope to relinquish their roles as investors and [builders],' says a senior official
Governments in the
Yangtze River Delta (YRD)
have promised to give market forces free rein in building infrastructure and creating unified public service platforms as the mainland's most affluent region seeks to develop in synergy under Beijing's directions.
Authorities in Shanghai and the provinces of Jiangsu, Zhejiang and Anhui – which together make up the YRD area – are inviting construction companies, institutional investors, research institutes and consultancies to play a dominant role in developing the so-called demonstration zone, essentially a pilot zone that forms a key part of
the YRD integration initiative
.
"We hope an alliance of the companies and institutions will take major responsibility in pushing ahead with the projects," said Zhang Zhongwei, a deputy director of the demonstration zone's executive committee. "Governments hope to relinquish their roles as investors and [builders]. After all,
market forces
will be the main driving force in implementing the integration of the region."
Integration of the Yangtze River Delta, which encompasses an area with a population of 240 million, is a national strategy initiated by President Xi Jinping in 2018.
Shanghai and the three neighbouring provinces are required to better connect with each other to create synergy as they
adjust their industrial mixes
, build highways, ports, railways and bridges, and allocate land resources to chase high-quality growth.
The YRD is seen as a rival to the
Greater Bay Area
that comprises nine cities in Guangdong, plus Hong Kong and Macau. Both economic zones will be competing against each other as they open up their markets to lure professionals and capital.
The YRD's demonstration area, established three years ago, is located at the junction between Shanghai and the provinces of Zhejiang and Jiangsu.
It covers an area of 2,413 square kilometres, and is viewed as a vanguard whose reform measures, if successful, will be copied to other parts of the YRD, which covers a vast 360,000 sq km.
Technology behemoth Huawei is building a 10 billion yuan (US$1.48 billion) research and development centre in the demonstration zone. It is expected to be completed next year.
Aside from infrastructure construction, the zone, jointly developed by the four regional governments, is also creating a unified medical system which can be accessed by all residents to improve people's health and well-being.
Zhang said that members of the so-called developers' alliance had grown to 53 from 12 when it was set up in 2020.
The key members include China Three Gorges, China Telecom,
Huawei Technologies
, China International Capital, Fudan University and PwC.
"Technically, market players are more active and effective in project development because they chase business opportunities and profits," said Ding Haifeng, a consultant at Shanghai-based financial advisory firm Integrity. "But authorities are still supposed to support them to facilitate approval procedures."
The YRD region accounts for about a quarter of the nation's total economic output.
Shanghai is regarded as the gateway for foreign businesses and capital to enter the mainland, and Zhejiang is known as the cradle of China's privately owned businesses.
Jiangsu is the mainland's second-largest province in terms of economic output, trailing only Guangdong.
Anhui, bordering Jiangsu, has been one of the fastest-growing provincial-level regions in China. It is home to speech-recognition software specialist iFlyTek and smart EV maker Nio's production zone.