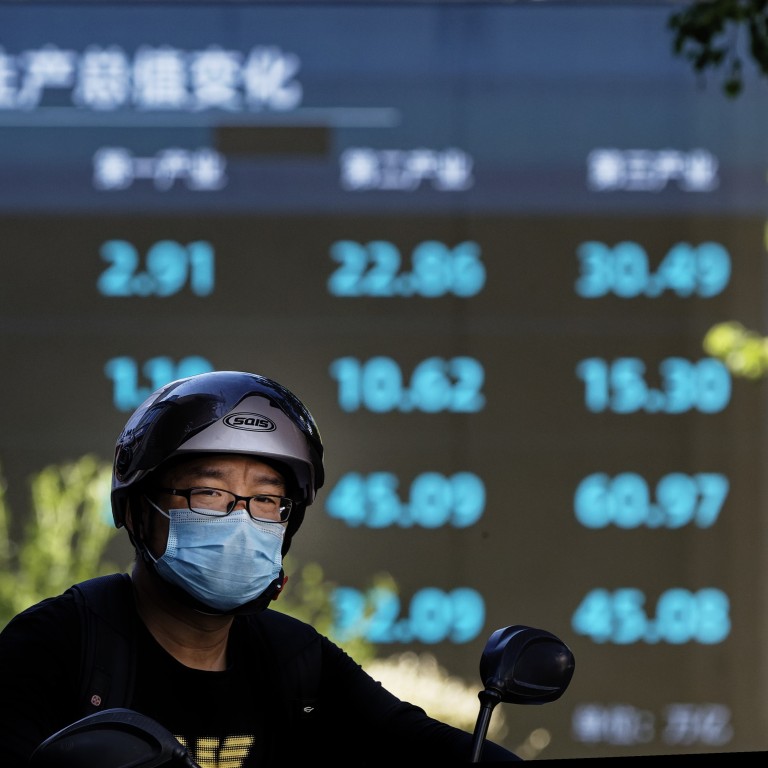 Chinese small-caps emerge as safe haven after logging biggest-ever discount to mega firms
The CSI Smallcap 500's 8 per cent discount to CSI 300 on June 30 represents the biggest-ever valuation gap
Analysts say smaller firms are safe bets to hedge against headwinds such as slowing economic growth and a deteriorating housing market
Chinese small capitalisation stocks
have been trading at their cheapest levels on record against mega companies in terms of valuations, prompting calls that they are havens that will weather market headwinds such as slowing economic growth and
earnings misses
.
The CSI Smallcap 500 Index stood at an about 8 per cent discount to the CSI 300 Index of China's biggest onshore stocks in terms of the price-to-earnings ratio on June 30, the biggest-ever valuation gap, according to Bloomberg data. And while this discrepancy has narrowed since then, the discount remained at 1.3 per cent on Thursday, the data shows.
"Against the backdrop of the sector rotation that dominates trading, small-caps have a valuation edge," said Chen Guo, an analyst at CSC Financial. "Investing in small-cap stocks offers a safety margin."
This marks the first time that China's smaller companies have become cheaper than bigger ones, as local traders tend to give higher valuations to small-caps for their growth potential. At a peak in May 2020, small-caps were 2.4 times as expensive as mega stocks and their premium has averaged almost 80 per cent during the past five years, the Bloomberg data shows.
Small-caps have become market laggards lately, after the lifting of a two-month
lockdown
in Shanghai in June spurred the buying of bigger companies on expectations that the reopening of China's biggest commercial city would bolster growth and benefit industry leaders more. Now, with the re-emergence of concerns about a slowdown amid China's housing crisis and sporadic Covid-19 outbreaks, smaller companies are back on investors' radars.
The CSI Smallcap 500 is valued at 15.4 times earnings, while the multiple for the CSI 300 is 15.6 times, the Bloomberg data shows. The small-cap index is barely changed from June 30, outperforming a 6.5 per cent decline on the CSI 300 in the same period.
Cosco Shipping Energy Transportation is the best-performing constituent on the small-cap gauge this year, surging by 115 per cent. Optical cable-maker Jiangsu Zhongtian Technology is the most valuable index member, with a weighting of almost 1 per cent.
Finding safe assets remains a challenging task for traders, who will need to navigate market uncertainty for the rest of the year. Concerns about further moderation in China's growth were heightened after the country's top leaders did not mention an annual growth target of 5.5 per cent in a recent Politburo meeting amid a deepening housing-market crisis. Thousands of homebuyers are refusing to repay mortgage loans because of the stalled construction of flats.
China's economy grew 0.4 per cent last quarter, its worst performance since a 6.8 per cent contraction in the first three months of 2020 after the initial Covid-19 outbreak in Wuhan.
"Small-caps are attractive bets as their relative valuations are currently at historical lows," said Yan Xiang, an analyst at Founder Securities.
Some analysts also attribute the relative resilience of small-cap stocks to the launch of derivative products linked to an underlying gauge tracking a broader pool of smaller companies. Trade in futures and options on the CSI 1000 Index started on July 22 after the China Securities Regulatory Commission's approval. This has facilitated the sale of exchange-traded funds (ETFs) linked to the gauge, which has raked in about 30 billion yuan (US$4.5 billion) since June.
The boom in ETF sales has underpinned the valuations of small-caps and boosted their appeal, according to Guosheng Securities.