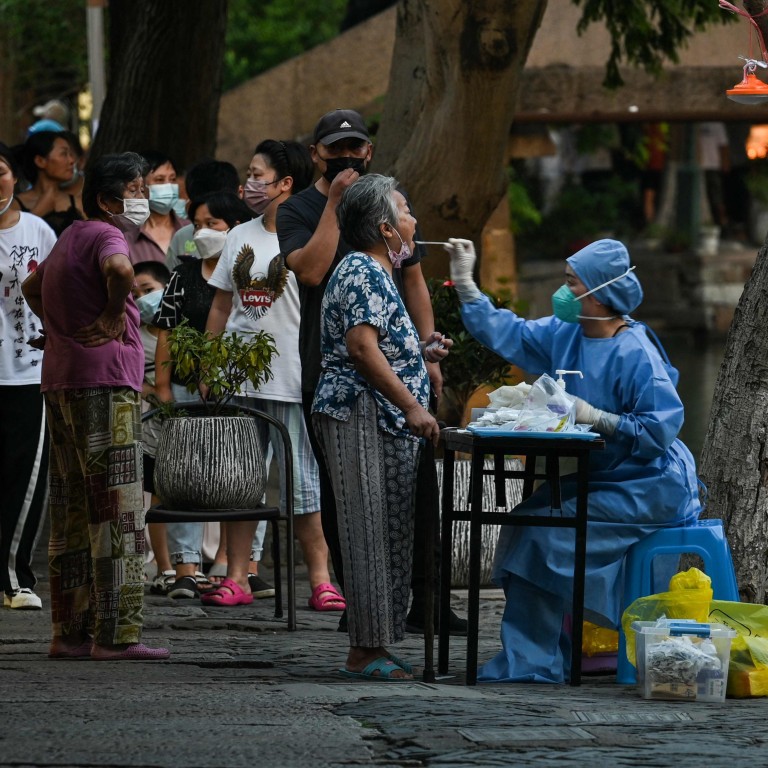 Shanghai seals off 'high-risk' compounds as 2 new Covid-19 infections ignite fears about return of pandemic curbs
The city's government sealed off a clutch of residential compounds in the southwestern districts of Minhang and Xuhui
'Company executives are keeping their fingers crossed that a new round of lockdown will never take place,' says a marketing CEO
Shanghai discovered two new Covid-19 cases on Thursday, ending an
11-day streak with no infections
, prompting local authorities to double down on curbs to contain a resurgence of the pandemic stretching from mainland China's southernmost province of Hainan to the northern Xinjiang autonomous region.
The city's government sealed off a clutch of residential compounds in the southwestern districts of Minhang and Xuhui, warning residents that more
new cases are likely
to surface because the two Covid-19 carriers had been freely roaming the streets before they tested positive.
"The two positive cases had been to some densely crowded public venues such as wet markets, supermarkets and foot massage salons," Wu Huanyu, a deputy director of the Shanghai Centre for Disease Control and Prevention, told a press briefing on Thursday evening. "Those venues carry
high risks of cluster infections
."
One of the two patients, living in Minhang, had mild symptoms, while the other, a resident of Xuhui, was asymptomatic.
Zhao Dandan, deputy Shanghai health commissioner, told the briefing that people living in the compounds classified as "high-risk" zones had been told to stay at home for 10 days.
He did not say how many people live in those zones.
Shanghai had been free of Covid-19 since July 31. The mainland's commercial and financial hub had been stepping up efforts to bolster manufacturing and commercial activities to make up the ground lost during
a two-month citywide lockdown
in April and May.
A shopping festival organised by the local commercial authorities to buoy consumer spending is going on in the city's busiest shopping streets with retailers encouraged to offer huge discounts and incentives to woo customers.
"Concerns about a resurgence of the outbreak remain, because an increasing number of cases were found in other parts of the country," said Chen Xiao, chief executive of Shanghai Yacheng Culture, a firm that deals with marketing and branding for retail companies. "Company executives are keeping their fingers crossed that a new round of lockdown will never take place."
Since Shanghai emerged from lockdown on June 1, it has taken a go-slow approach to relaxing the restrictions on business operations, fearful of a rebound in infections.
Entertainment venues like cinemas and karaoke parlours are still not open, while the capacity of restaurants and coffee shops is capped at 75 per cent.
Shanghai discovered a total of 626,000 Covid-19 cases when the city was under lockdown.
Mainland China has detected 1,974 new coronavirus cases in the last 24 hours, according to data released by the national health commission on Thursday, more than double the number a day earlier.
Hainan – a tropical island with abundant beaches and resorts – has reported 1,602 symptomatic cases in August. Local authorities there have imposed lockdowns in 11 cities.
As of Wednesday, Xinjiang, another popular summer destination known for its idyllic scenery, had recorded 776 asymptomatic cases in August, mostly in the Ili Kazakh autonomous prefecture and in the capital Urumqi.