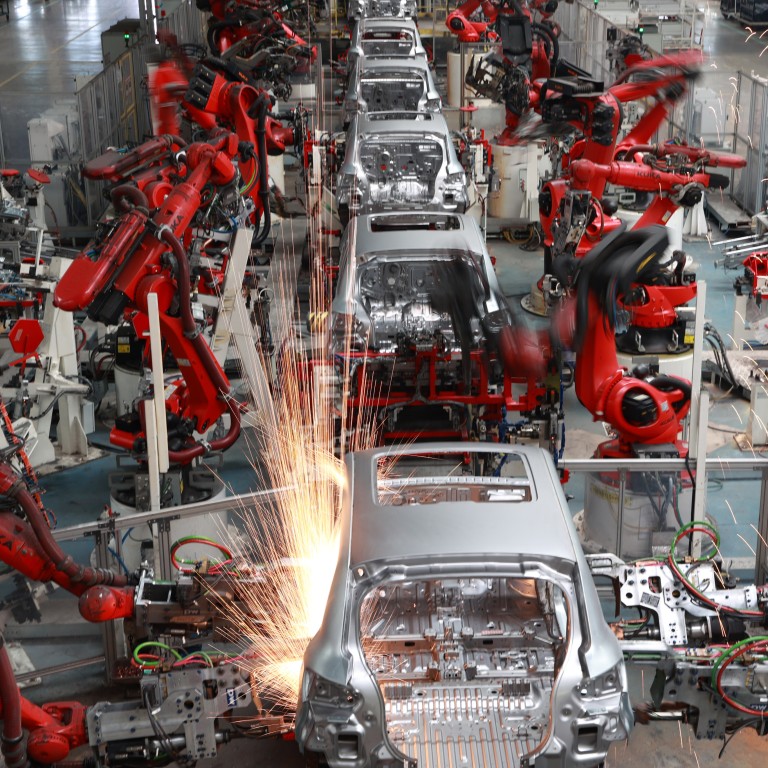 China's EV war: Tesla's rivals rev up the fight as Nio, Xpeng, Li Auto, BYD and Huawei roll out new models to bite at the bellwether's ankles
Five new electric vehicles, including models from Li Auto to Huawei's Aito, aim to siphon off demand for foreign luxury brands
China's ascendant EV market accounts for roughly half the units sold worldwide, helping BYD dethrone Tesla as the world's largest EV maker in the first half
The battle cries in China's electric vehicles (EVs) market rose to a crescendo, as five new models by the nation's homegrown makers are poised to roll off the assembly line for delivery, offering buyers more choices and intensifying the rivalry with the industry bellwether Tesla.
Five of China's biggest EV makers have new models that are ready for delivery as soon as this month:
Nio
's ET5 luxury sedan,
Xpeng
's G9,
Li Auto
's L9 full-size SUV, BYD's Model 3 competitor Seal, and the Aito M5 by that runs on
Huawei Technologies
' HarmonyOS.
All five battery-powered models are so-called next-generation cars, with object-detection technology, assisted parking and semi-autonomous driving as standard features. They also come packed with high-performance batteries, each receiving accolades and massive pre-orders from customers.
"Some of the new models are superior to Tesla's cars, given the new technology and better components they use," said David Zhang, a researcher at the North China University of Technology. "In the Chinese market, they will be able to lure some buyers away from Tesla's Model 3 and Model Y."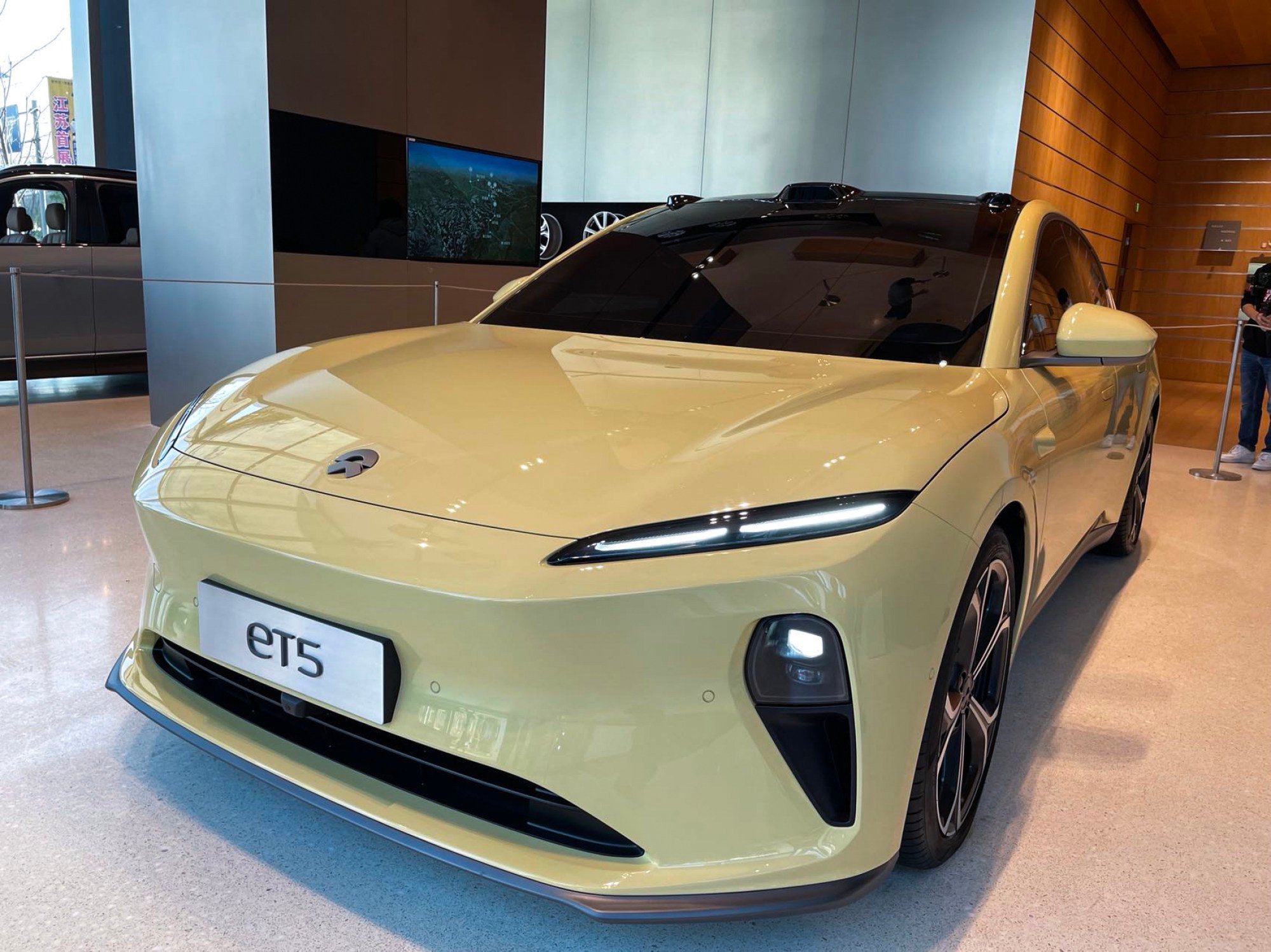 These new models are priced well into the six-digit price range, offering themselves as direct competitors to Tesla, and even the premium segment like BMW. Their journey up the price ladder marks the growing maturity of China's EV makers, underscoring the challenges for Tesla to maintain its sales lead.
"All the new models are designed for Chinese drivers based on insights about local consumer demand," said Phate Zhang, the founder of the Shanghai-based EV news site CnEVpost. "They will be new challengers to Tesla's Model 3 and Model Y vehicles. More importantly, they may become the game changers in the fast-growing Chinese EV market."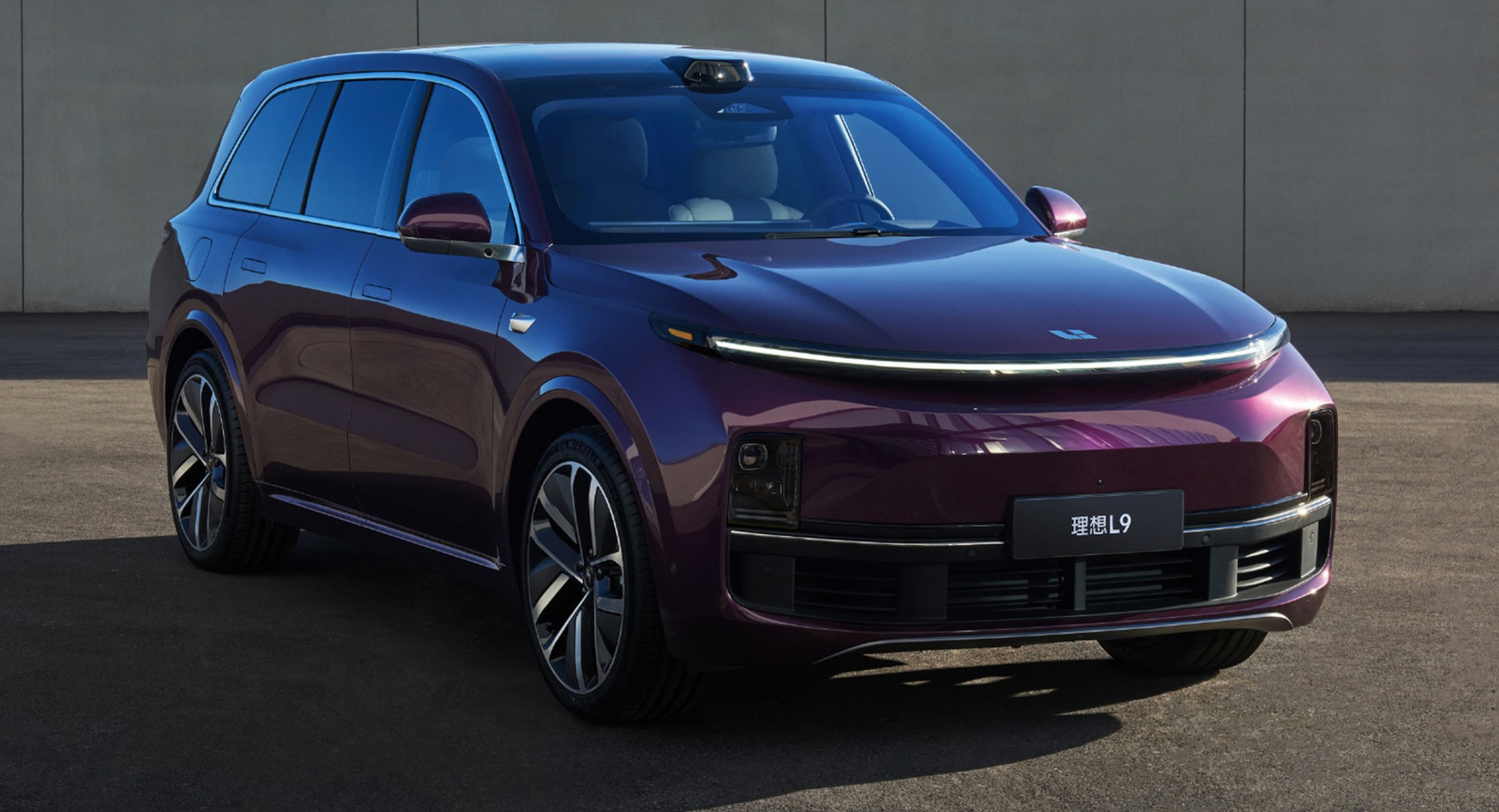 Nio's ET5 is marketed as a high-end EV with the latest technology such as a digital cockpit with augmented reality (AR) and virtual reality (VR) system in a package powered by a solid-state battery.
It's priced at between 328,000 yuan and 386,000 yuan (US$56,675), more expensive than Tesla's Shanghai-made Model 3 (279,000 yuan) and the basic edition of Model Y (316,900 yuan).
Beijing's Li Auto uses extended-range batteries to assuage customers' range anxiety and assure them that they would not be stranded on country roads far out of the reach of charging stations. The L9, selling for 459,800 yuan, can go as far as 1,315 kilometres (817 miles) on a single charge, according to its marketing literature.
That puts it within the price range of BMW's petrol-guzzling X5 flagship SUV at 605,000 yuan, and Audi's Q5 SUV at between 400,000 yuan and 500,000 yuan, said Soochow Securities' analyst Huang Xili. Li Auto said it received 30,000 units in pre-orders within three days of its June 21 launch.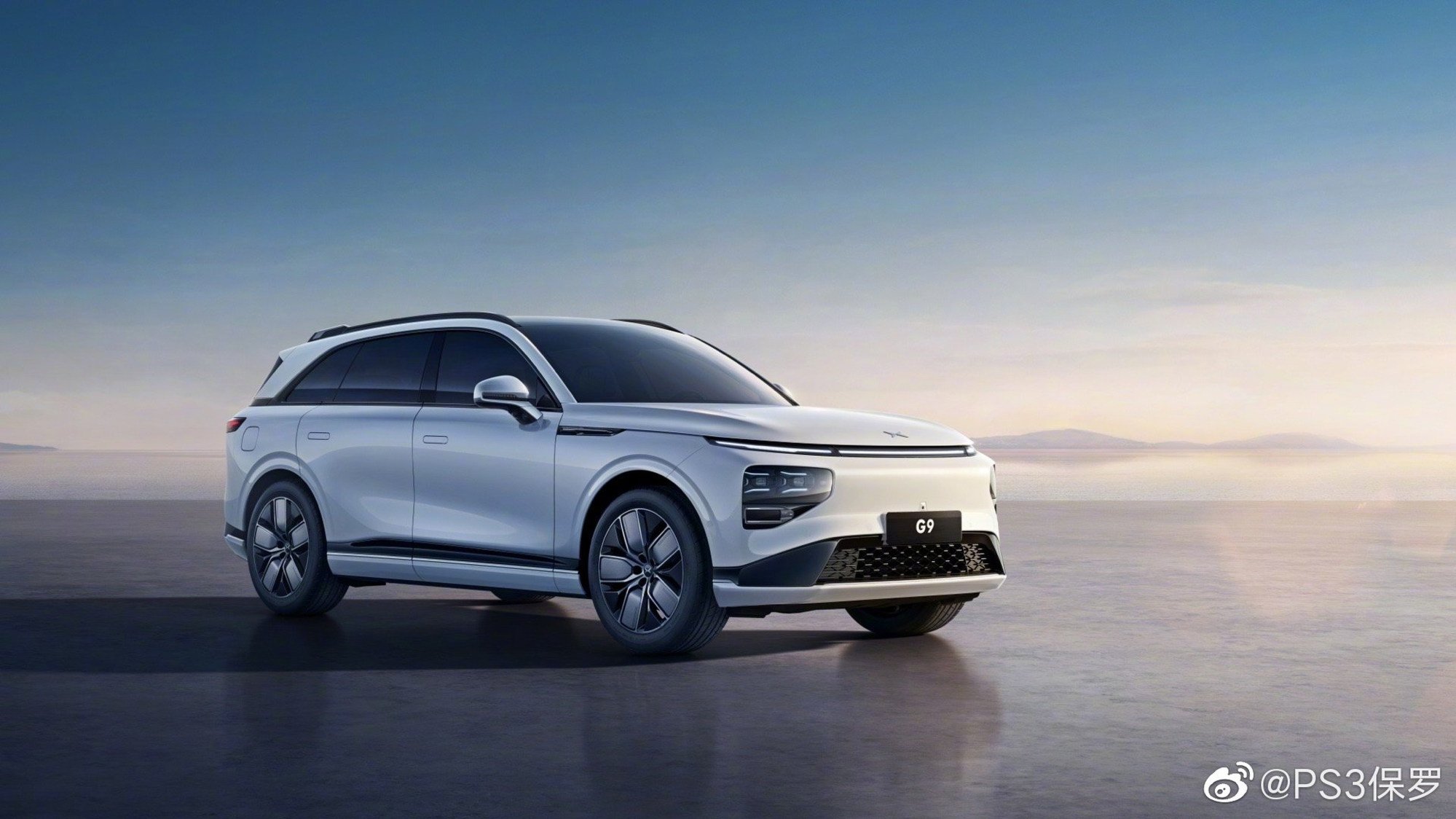 By comparison, Tesla's Model 3 has a driving range of 556 km on a single charge, and the Model Y can go as far as 545 km.
Solid-state batteries are superior because the electricity from solid electrodes and a solid electrolyte is safer, more reliable and more efficient than the liquid or polymer gel electrolytes found in existing lithium-ion or lithium polymer batteries.
"Tesla, with its strong brand awareness, will still appear to be attractive to many Chinese drivers," said Gao Shen, an independent analyst in Shanghai. "It will maintain strong upward momentum."
Not to be outdone, Guangzhou's Xpeng calls its G9 flagship SUV "the world's fastest-charging mass-produced EV," claiming that all it takes is 5 minutes of ultra-fast charging for 200km of driving range.
The carmaker, which took its P7 midsize sedan on a weeklong, 3,675-km semi-autonomous driving test from
Guangzhou to Beijing
last year, is fitting the G9 with its Xpilot 4 assisted driving system.
Three in every five
new cars that enter China's roads will be powered by batteries by 2030, as the world's largest vehicle market embraces all things electric, according to a UBS forecast. The fast growth is also drawing the makers of low-priced utility EVs upmarket.
BYD's Seal is priced between 209,800 yuan and 286,800 yuan, putting it in the price range to appeal to Tesla's customers. Up to 60,000 orders have been received since late May, BYD said.
The Shenzhen-based carmaker, which received a visit last week by the Chinese premier Li Keqiang, sold 641,000 pure EVs and plug-in hybrid petrol-electric cars in the first half, a 300-per cent growth from a year ago that outsold Tesla's 564,000 units in the same period to become
the world's largest EV seller
.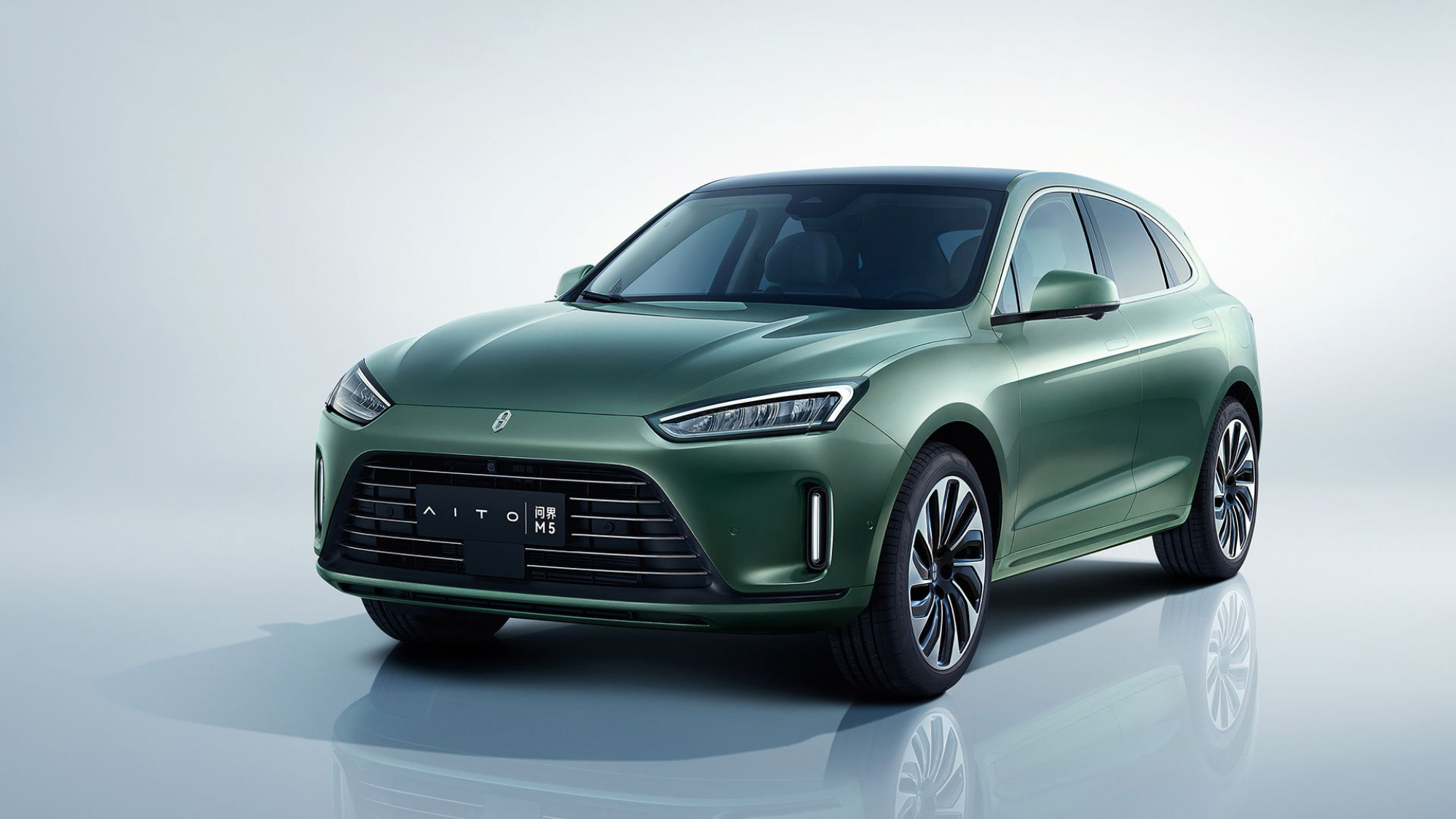 The new model on the block is Huawei, the world's largest maker of 5G base stations and other telecommunications gear. The Shenzhen company's foray into the EV market has led to the Aito M5, designed by Huawei and running on its HarmonyOS operating system. Assembled by the Santa Clara-based start-up Seres - a unit of Sokon Industry Group in Chongqing - the Aito M5 sells from 280,000 yuan, and is aimed squarely at Tesla's Model 3.
"Tesla is recognised as the top smart EV brand worldwide, and is a symbol of social status," said Fanny Zhang, a Shanghai clerk who has set her sights on a Chinese model after several tests of the Model 3 and Model Y. "[Nio's] ET5 and [Li Auto's] L9 can beat Tesla cars in terms of performance. They are worth buying."
Tesla delivered 206,000 vehicles in China in the first seven months, up 48 per cent from last year, according to the China Passenger Car Association (CPCA).
The US carmaker's Shanghai factory lost about 50,000 units in production between March 28 and April 18, during the city's two-month lockdown. But its total loss could amount to 70,000 units, because a broken supply chain foiled Tesla's attempts to fully restore capacity even after it restarted operations on April 19.
It has since completed an upgrade of the Shanghai production facilities, increasing capacity by almost a third to about 1 million units a year.
"China's EV market will still account for half of the world's total with estimated sales of 6 million vehicles this year and 7.3 million units in 2023," said UBS analyst Paul Gong. "The sector will be able to grow on a fast track even with the absence of government cash subsidies from next year."
A sales volume of 6 million units would more than double last year's sales.
China's EV adoption rate has hovered around 25 per cent since May, about 10 percentage points higher than last year, and it is expected to top 30 per cent in the coming months, Gong said.