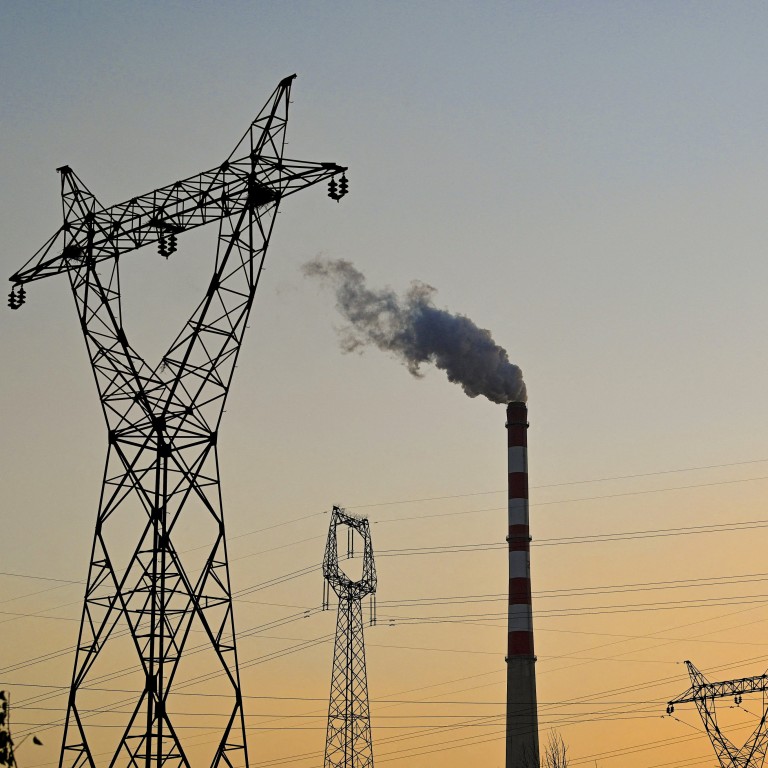 China turns to 'virtual power plants' to stabilise electricity supply as heatwaves trigger demand spikes, undercut decarbonisation drive
Energy management systems, are gaining currency as sweltering heat pushes up electricity demand, undermines carbon-reduction aims
More than 10 provincial, municipal governments have unveiled their 2021-25 plans which call for a cloud-based power plant management system
China has turned to "virtual power plants" to coordinate and stabilise electricity supply across the nation as
record-breaking heatwaves
drive up consumption and undercut its commitment to save energy and reduce emissions.
More than 10 Chinese provincial and municipal governments, including Beijing and Shanghai, have this year issued their 2021-25 development plans for the energy sector, which called for a cloud-based distributed power-plant management system to aggregate energy capacities and resources in their regions.
The plans are in line with China's vision for a modern energy management system, which was unveiled in April by the National Development and Reform Commission (NDRC). The state economic planner mentioned carrying out demonstration projects for buildings, data centres, electric-vehicle grids, and individual households, eager to pre-empt a crisis similar to the one in 2021.
"Flexible and distributed energy management can [strengthen] China's new power system, which will be dominated by renewable energy under the carbon-neutral goals," said Qi Haishen, president of THE Solar, a Beijing-based new-energy firm. "This will be a solid step for China's power sector in its market-oriented transition."
Extreme weather events, like the heatwaves this summer, are expected to become more frequent as climate change accelerates. Analysts said the latest surge in electricity demand – to crank up factory activity and cool temperatures in homes – will put pressure on the power grids.
A virtual power plant is a network of decentralised power-generating units and flexible power storage systems. It integrates several sources such as solar and wind power plants and coordinates them with storage facilities in real time based on changes in supply and demand. This process ensures a stable and ready supply of power at any time and anywhere.
Using software-based technology, a virtual power plant can adjust its network of power supplies to quickly respond to demand swings to avoid a power crunch akin to the blackouts last autumn caused by power cuts, coal shortages and a race to meet carbon-reduction targets.
Several major Chinese manufacturing hubs in Jiangsu, Zhejiang, and Anhui provinces have imposed restrictions on industries such as metal and textile production, according to mainland media reports this month, as electricity consumption broke records.
Still, virtual power plants are not without challenges. Unlike other energy sources, it is difficult for electricity to be stored on a large scale at low cost, according to Liu Chongyang, a researcher at the Institute for Energy Development at state-owned China Southern Power Grid.
"It is like a light bulb connected to a power generator, and the two must be synchronised at all times," he added. "This requires the power system to be very stable between supply and demand, which is not that flexible."
China has aimed to reach carbon neutrality and have renewable energy account for 80 per cent of its energy mix by 2060, while also pledging to reduce its carbon footprint by retiring coal-power plants.
Some cities have experimented with virtual power plants in their local power management. In 2017 Shanghai finished building China's first virtual power plant, which could coordinate concurrent demand in more than 50 commercial buildings in the Huangpu district.
That may be a small step forward. China still needs to accelerate its technological development in monitoring and forecasting power supply and demand, state-run media outlet Economic Daily reported last month. A business model to encourage more market participation would help, it added.
The global virtual power plant market could be worth US$6.74 billion by 2028 up from US$710 million in 2020, according to a report published by Fortune Business Insights.
In developed economies, Germany, Australia, and the UK have deployed virtual power plants over the past decade. Tesla is also a major player, having installed rooftop solar systems and batteries in Australia and the UK to help households reduce costs and boost power security.