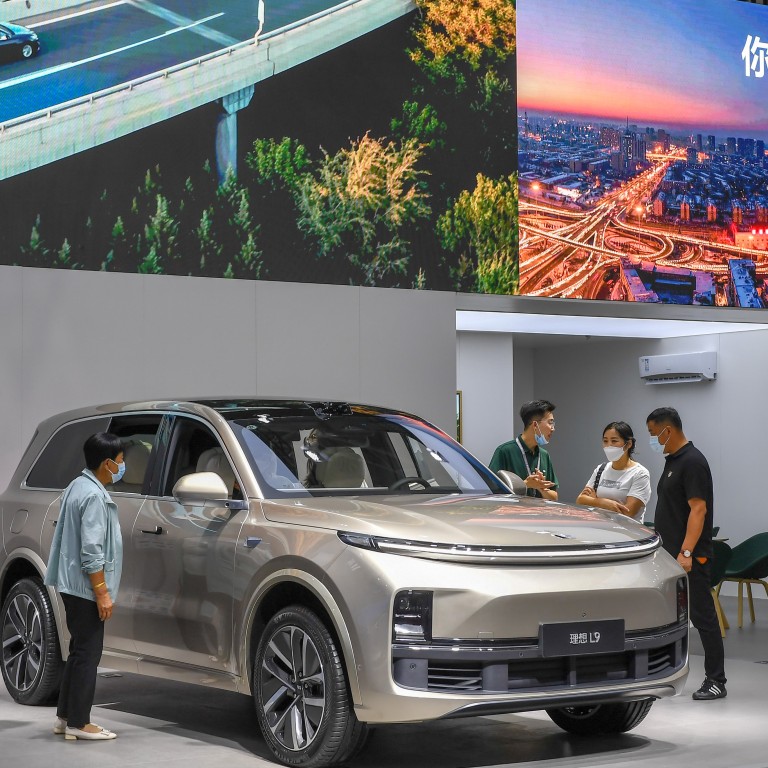 Electric cars: Li Auto's deliveries likely to disappoint in third quarter as supply chain constraints hinder production
The Chinese smart electric vehicle (EV) start-up expects its delivery volume to stay flat at between 27,000 and 29,000 cars
The estimate is much smaller than the consensus forecast of about 40,000 units
Chinese smart electric vehicle (EV)
start-up Li Auto
expects its delivery volume to stay flat in the third quarter of this year, falling short of market expectations as a broken supply chain continues to affect production.
The Beijing-based company said on Monday afternoon that it would hand over the keys to 27,000 to 29,000 cars between July and September, unchanged from the 28,687 vehicles in the previous quarter.
"It has secured thousands of orders for its
new model L9
, but it seems Li Auto has to overcome supply chain constraints to engineer higher growth of production and sales," he said. "The company's guidance for the third-quarter performance disappointed its investors."
The 28,687 cars it delivered to customers between April and June represented a 9.6 per cent fall from a quarter earlier as the company fell victim to a citywide Covid-19 lockdown in Shanghai.
Thousands of automotive supply-chain vendors based in Shanghai and its neighbouring cities were forced to either halt operations or reduce production from April 1 to May 31 amid the stringent pandemic curbs, preventing carmakers from churning out enough vehicles to meet consumers' demand.
In April, Li Auto delivered just 4,167 cars, 62.2 per cent shy of the volume it recorded in the previous month.
The monthly delivery number rebounded to 11,496 in May before rising further, to 13,024 in June.
Deutsche Bank said in a recent research report that Li Auto's deliveries in the third quarter would top 40,000 units buoyed by its L9 sport-utility vehicle (SUV) that has already drawn rave reviews from mainland drivers.
Li Auto received 30,000 pre-orders for the L9, which is priced at 459,800 yuan (US$67,941) and set to be delivered this month, within three days of its launch on June 21.
The luxury car, powered by electricity, is seen as a strong rival to BMW's X5 that starts at 605,000 yuan in China, and Audi's Q5, priced from 400,000 yuan to 500,000 yuan.
At present, global marquees dominate the mainland's high-end SUV segment with their petrol-powered cars.
Li Auto's lacklustre forecast for third-quarter deliveries suggests it may take some time before battery-powered luxury vehicles to really challenge the established international brands, Chen said.
The company reported an underlying net loss of 0.17 yuan per share for the second quarter, widening from a loss of 0.07 yuan in the previous quarter.
That still beat a median forecast for a 0.21 yuan per share loss in a Bloomberg survey of analysts.
Its revenue in the three months ended June came to 8.73 billion yuan, down 8.7 per cent from the previous quarter.
Li Auto, along with Shanghai-based Nio and Guangzhou-headquartered XPeng, is regarded as China's best response yet to the American carmaker Tesla, which is the ­runaway leader in the country's premium electric- vehicle segment.
The other two Chinese smart EV start-ups have yet to publish their quarterly earnings.