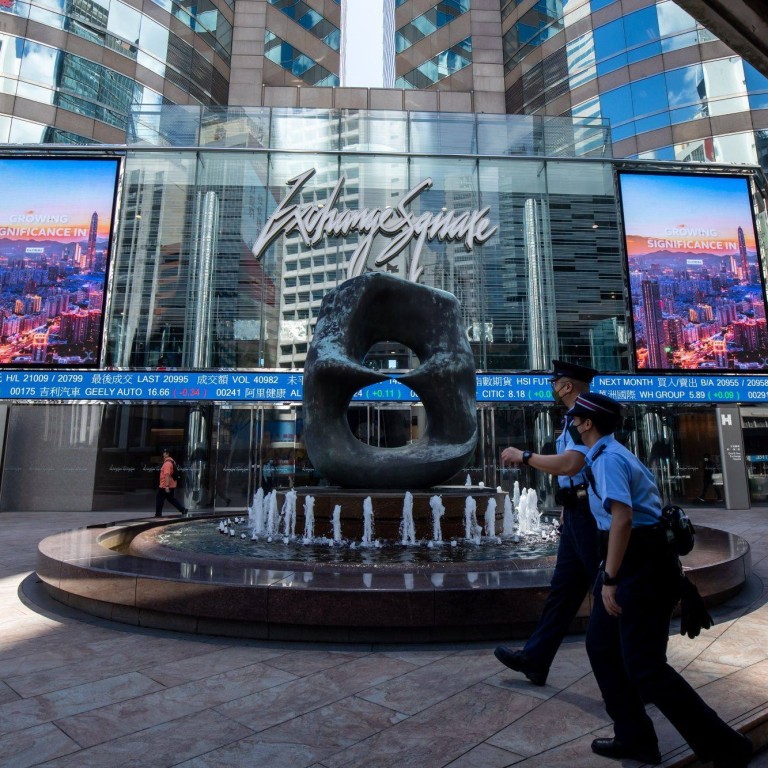 Meituan, WH Group lift Hong Kong stocks as Premier Li calls for tonic to revive China's stumbling economy
Premier Li Keqiang called on key provinces to undertake more growth-friendly policies after recent signs of economic wobble
Meituan recouped part of Tuesday's 9.1 per cent slump while HKEX slumped after printing weaker-than-expected earnings reports
Hong Kong
stocks
rose for the first time this week after Premier Li Keqiang urged officials in key provinces to undertake growth-boosting policies amid a pullback in economic activity. Meituan rebounded from a sell-off.
The Hang Seng Index added 0.5 per cent to 19,922.45 at the close of Wednesday trading. It slumped 1.1 per cent a day earlier. The Hang Seng Tech Index advanced 0.4 per cent, while the Shanghai Composite Index also rose by that much.
Meituan surged 3.3 per cent to HK$170 and pork-processing firm WH Group climbed 1.5 per cent to HK$5.51. Power tools maker Techtronic and China Resources Beer gained at least 3.9 per cent to HK$105.40 and HK$56 each. Alibaba Group Holding advanced 0.4 per cent to HK$90.35.
Li's call, while visiting the southern technology hub of Shenzhen, echoed local media reports that more incentives were needed to lift the economy. Official reports this week showing
factory output and retail sales
grew at a slower pace in July, missing consensus forecasts.
"Investors are overly pessimistic about Chinese stocks, which means there is the potential for positive surprise," Kristina Hooper, a strategist at Invesco, said in a note on Wednesday. "The economic rebound will continue this year, and I still expect Chinese equities to claw back some of the losses from the first half, given the potential for policy support – both fiscal and monetary – if and when needed."
Meituan recouped part of the 9.1 per cent plunge on Tuesday. The rout was in reaction to a Reuters report that Tencent was considering selling part or all of its Meituan shares this year. Tencent held 19.3 per cent in Meituan, according to its annual report published in April.
Trading in other Tencent investee companies was mixed. Kuaishou Technology retreated 0.3 per cent to HK$71.70 and Bilibili lost 0.7 per cent to HK$190.30, while JD.com added 0.9 per cent to HK$223.20.
Several index heavyweights published their interim earnings. Tencent rose 0.1 per cent to HK$303.20, erasing a drop. Its
second-quarter earnings
shrank 56 per cent from a year earlier to 18.6 billion yuan (US$2.7 billion). Revenue fell for the first time since its listing in 2004.
Hong Kong Exchanges & Clearing fell 1.6 per cent to HK$341.20. First-half profit fell 27 per cent from a year earlier to th
e lowest in five years
amid a dearth of jumbo stock offerings.
Wind power generator China Longyuan Power surged 7.4 per cent to HK$13.42 and China Power International Development rallied 8.2 per cent to HK$4.50 after they announced a plan to set up units to tackle unpaid subsidies to green-energy companies.
Elsewhere, two debutants both rose on the mainland's exchanges. Shenzhen Newway Photomask Making, a maker of optoelectronic products, jumped 105 per cent to 51.31 yuan in Shanghai, while biometric device producer Zkteco rallied 31 per cent to 56.70 yuan in Shenzhen.
Other major markets in Asia were mixed. Japan's Nikkei 225 rose 1.2 per cent and South Korea's Kospi slipped 0.7 per cent. Benchmark stock gauges in Taiwan and Australia both gained 0.3 per cent.