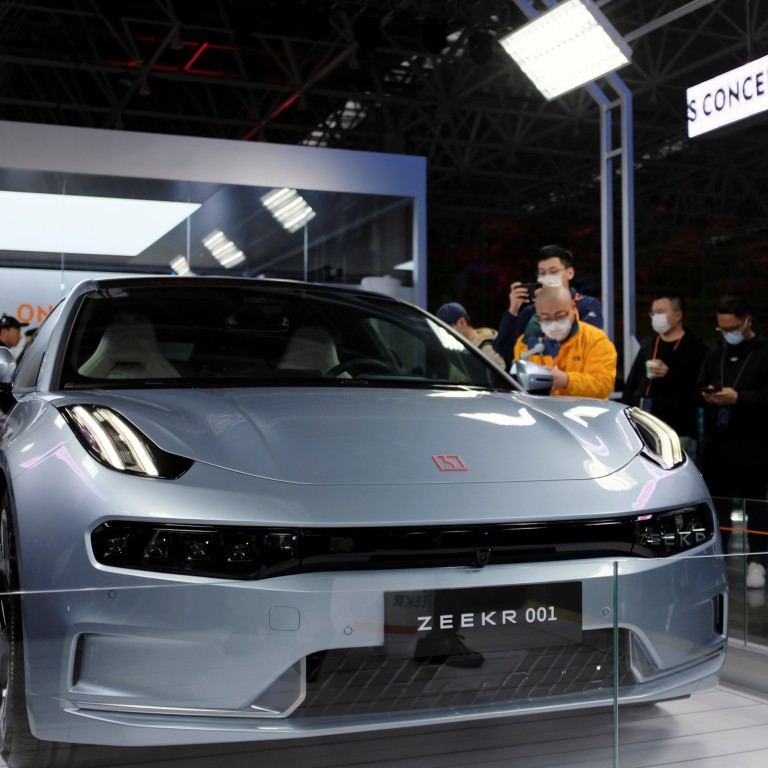 Geely's premium brand Zeekr aims to deliver 10,000 units a month, challenging Tesla, home-grown Chinese rivals
10,000 is seen as an important threshold for defining a powerful carmaker in mainland China
A restored supply chain and the rising popularity of electric cars should help Geely reach the important target
Geely Automobile Holdings, China's largest privately-owned carmaker, expects to deliver 10,000 smart electric vehicles (EV) a month to customers in the fourth quarter of this year, benefiting from an
accelerated pace of electrification
on the mainland's roads.
The number is seen as an important threshold for defining a powerful carmaker in mainland China.
An Conghui, chief executive of Zeekr Technology, a unit of Geely that builds
premium EVs
, told reporters at a virtual briefing on Thursday that sufficient orders for the Zeekr 001 had been secured, and a restored supply chain may help ensure monthly deliveries above the significant 10,000 mark from October.
"We need to deliver at least 9,000 units a month from August to December to meet the full-year sales target," he said. "The number of
orders we received
is enough for us to achieve the goal and production is not a problem now that the supply chain has been largely fine-tuned."
Zeekr, a unit set up by Hong Kong-listed Geely last year to drive its push into the high-end electric car segment, will compete head-on with global EV leader Tesla and a clutch of Chinese rivals if its monthly sales break through the important 10,000 barrier.
At present, Tesla is the distant front-runner in the mainland's premium EV segment, with monthly deliveries that
could soon top 50,000 units
.
XPeng, Nio and Li Auto, the three major Chinese smart EV start-ups, are snapping at Tesla's heels as a combined force, which each normally posting monthly deliveries of more than 10,000 units.
The rising penetration of new-energy vehicles (NEVs) – which comprise pure electric, plug-in hybrid and fuel-cell cars – in the mainland has created big
opportunities for EV start-ups
in the last two years, while conventional car manufacturers like Geely were playing catch-up, ramping up development of their electric cars.
Geely Automobile's parent, Zhejiang Geely Holding, is also the owner of Sweden's Volvo Cars and a shareholder of German marquee Mercedes-Benz.
The Zeekr 001, a four-door car with a driving range of 700 kilometres, is priced at 281,000 yuan (US$41,380), marginally higher than the Shanghai-made Tesla Model 3's starting price of 279,900 yuan.
It offers air suspension that automatically adjusts for ground clearance, and frameless automatic doors that open when a passenger approaches, and close behind them.
Zeekr set a sales target of 70,000 units for this year, but it delivered only 24,000 from January to July because a broken supply chain caused by a citywide Covid-19 lockdown in Shanghai in April and May disrupted production.
It is developing the Zeekr 009, a multipurpose vehicle (MPV), An told the briefing after Geely published its interim earnings.
Geely reported a 35 per cent profit drop for the first half of this year to 1.55 billion yuan. The profit was 44 per cent less than the median forecast of 2.77 billion yuan among analysts surveyed by Bloomberg.
Revenue increased 29 per cent to 58.2 billion yuan, beating the estimated 53.2 billion yuan.
In the first six months, Geely delivered 613,842 vehicles, just 37 per cent of its full-year target of 1.65 million units.
"Geely will prioritise new EV model development to spur sales and bolster profitability in the coming years," said Gao Shen, an independent analyst in Shanghai. "Zeekr will play a big role in the company's electrification drive."
Geely also builds EVs under the Lynk and Geely brands.