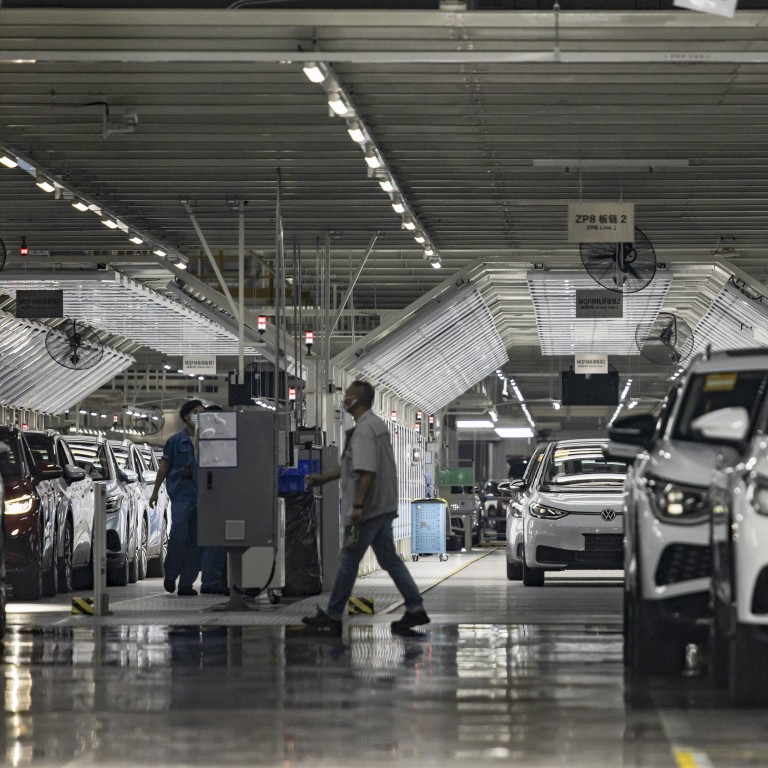 Tesla, SAIC car output hit as power shortage in China's Sichuan province roils supply chain
A power shortage in Sichuan province is disrupting car production in Shanghai, just as China's Motown was recovering from a two-month lockdown
Tesla and SAIC have enlisted the help of the Shanghai government to request authorities in Sichuan to prioritise power supply to automotive component makers
A
power shortage
in southwestern China's Sichuan province is disrupting car production in Shanghai, just as the mainland's carmaking heartland was
recovering
from a two-month lockdown.
The outages have hit output at
Tesla
's Gigafactory and SAIC Motor, the mainland's largest home-grown carmaker, because of the impact on the industry's supply chain.
The companies have enlisted the help of the Shanghai government to support its vendors in Sichuan. The Shanghai Commission of Economy and Information Technology has requested authorities in Sichuan to prioritise power supply to 16 key automotive supply-chain vendors that have business ties with Tesla and SAIC, according to a document dated August 16 circulating online. The Shanghai commission confirmed that the document was genuine.
The request for uninterrupted power supply comes even as the Sichuan government has prioritised electricity for residential use amid an unrelenting heatwave that has sent temperatures as high as 40-42 degrees Celsius (104-108 degrees Fahrenheit). Sichuan decided to limit electricity supply from August 16 to August 20 as a severe drought has reduced power output at the province's hydropower plants.
Tesla and SAIC did not reply to requests for comment.
"Shanghai's automotive firms are vulnerable to a new round of supply chain snarls because they have already lost thousands of vehicles in production during the two-month lockdown," said Peter Chen, an engineer with car parts maker ZF TRW in Shanghai. "The power cuts in Sichuan, where a group of important suppliers are based, will stop Tesla and SAIC from using their full production capacity," Chen said.
Shanghai
formally ended its two-month citywide lockdown on June 1, allowing manufacturers and local businesses to resume operations after bringing the city's Covid-19 outbreak under control. The Sichuan power crisis is another setback for the car industry, which is just getting back on its feet after losing several hundred thousand units to lost production because of the lockdown between April and May.
The province, along with Chongqing municipality, is one of the mainland's six major automotive industry bases, where a total 2.7 million vehicles were built in 2021, accounting for 10.3 per cent of the national total.
Chen Jinzhu, chief executive of Shanghai Ming­liang Auto Service, a consultancy firm, said the power shortage in Sichuan might not have a huge impact on the Shanghai carmakers' operations because they should have a stock of the components.
"But the carmakers and Shanghai authorities want the vendors to receive government support if the power shortage is prolonged," he added.
Tesla's Gigafactory 3 lost about 50,000 units in production between March 28 and April 18, at the height of Shanghai's strict Covid-19 lockdown. But the lost production could amount to 70,000 units because a broken supply chain foiled Tesla's attempts to fully restore capacity even after it restarted operations on April 19.
The factory has increased its capacity by about 30 per cent after completing an upgrade this month. It can now churn out more than 1 million Model 3 and Model Y vehicles a year.
Tesla is also ramping up production to make up for the lost output during the lockdown.
The power shortage is also affecting use of electric cars as some of the charging stations in Sichuan are closed.
However,
Nio
, a Shanghai-based smart electric vehicle maker, said in a statement to the
Post
on Friday that the impact on its clients was limited because its battery service business – which allows customers to lease battery packs – has proved beneficial amid the power crisis.