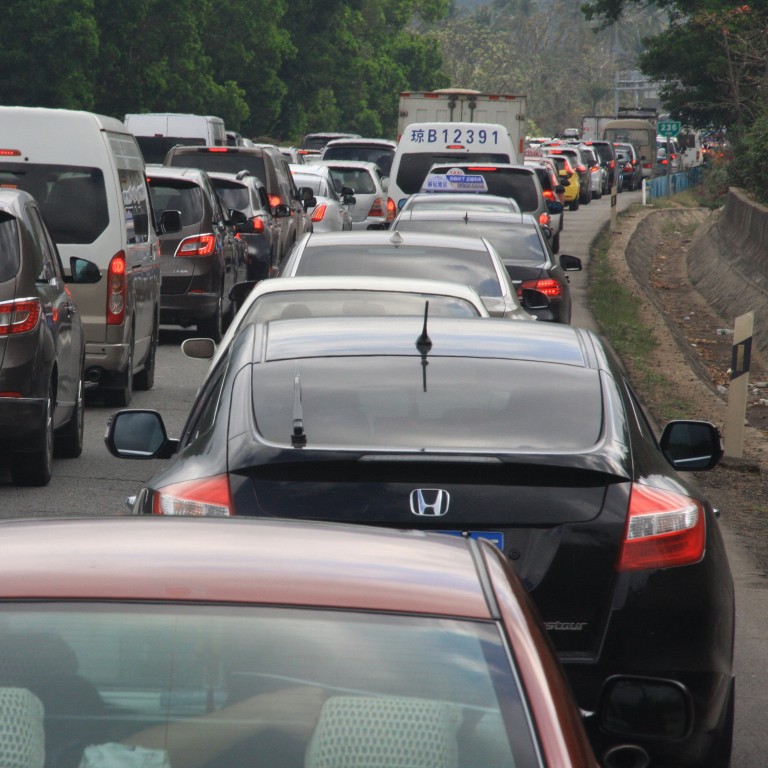 'China's Hawaii' to ban sale of conventional cars from 2030 in boost to Beijing's climate change goals
China's southernmost province says 45 per cent of vehicles on its roads will be powered by batteries by 2030
To support a rapid increase in EV use, Hainan will also build a large number of charging stations by 2025
Hainan
, the tropical island known as "China's Hawaii", will ban the sale of conventional cars from 2030.
In a document on
climate change goals
released on Monday, the government of China's southernmost province said that 45 per cent of vehicles on its roads would be
powered by batteries
by 2030. Currently, it has more than 146,000 new-energy vehicles (NEVs) – pure electric, plug-in hybrid and fuel-cell cars – that account for 8.3 per cent of the total.
The Hainan government is China's first provincial level administration to unveil a time frame for banning cars powered by petrol and diesel engines. "All cities and counties will achieve the goal of zero [carbon dioxide] emissions by vehicles in 2030," it said in the document.
The pledge is in line with goals of peak carbon emissions by 2030 and carbon neutrality by 2060 set by Chinese President Xi Jinping for the whole country in September 2020.
"Hainan's plan to ban conventional car sales in 2030 is an important step taken by a local Chinese government to [reinforce] Beijing's determination to achieve its carbon peaking goal and to tackle the issue of global warming," said Gao Shen, an independent analyst in Shanghai.
Hainan's document also came after 277 weather stations across mainland China reported record temperatures this month that led to the suspension and reduction of manufacturing activity in areas such as southwestern Sichuan province.
"The heatwave has been a wake-up call for the Chinese people that carbon emissions have to be cut to protect the environment," Gao said.
The quick pace of replacing conventional cars with electric vehicles (EVs) in Hainan will boost Beijing's climate change goals, and analysts said more provinces were expected to unveil similar plans.
To support a rapid increase in EV use across the island, the Hainan government said that a large number of charging stations would be built by 2025. It did not give an exact number, but said the number of public charging stations would represent one-seventh of the total EVs being used in the province.
EV adoption across the country is likely to top 30 per cent in the coming months, compared with about 25 per cent in May, UBS analyst Paul Gong said this month. Last year, the Swiss bank forecast that three out of every five new cars hitting roads in China in 2030 would be powered by batteries.
The total deliveries of EVs could surpass 6 million units this year, more than doubling last year's total, Gong said.
Under its "Made in China 2025" industrial strategy, Beijing hopes its major EV companies can grasp core technologies in the industry and secure a leading position worldwide. Currently, US carmaker Tesla and BYD, in which Warren Buffett's Berkshire Hathaway owns a 7.9 per cent stake, are the front-runners in mainland China's EV market.