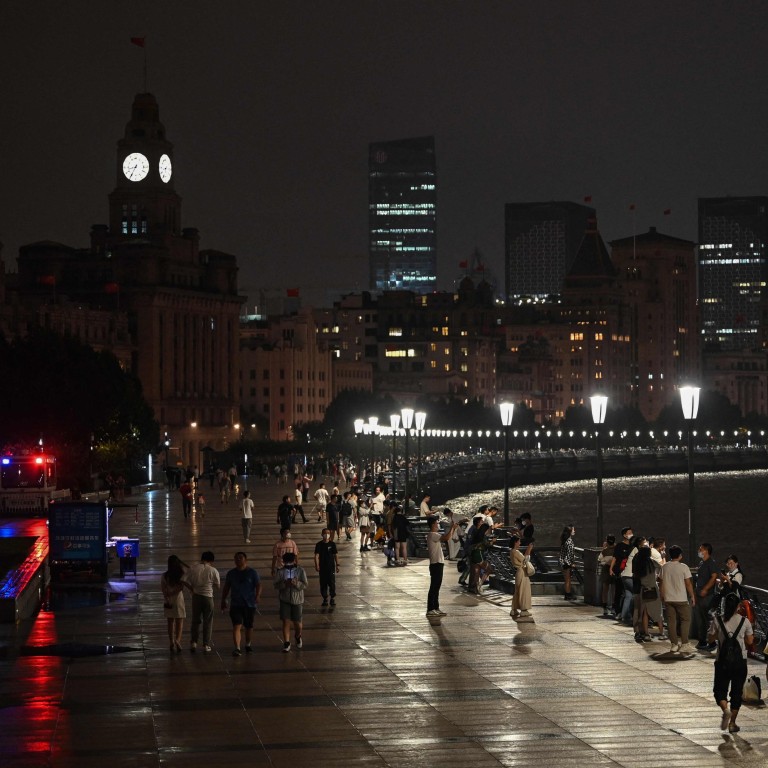 Energy crunch under Shanghai's heatwave send post-lockdown recovery into spasms in China's commercial hub
Shanghai authorities switched off lights for two days along The Bund waterfront and the Lujiazui finance zone to save power
The two-month lockdown caused Shanghai's economy to contract by 13.7 per cent in the second quarter, the worst slowdown in four decades
The unprecedented heatwave in
Shanghai
has raised concerns about the possibility of a power crunch and disruption to construction work, hampering the city's economic recovery from a two-month
Covid-19
lockdown.
This summer, China's biggest commercial city recorded at least seven days where the temperature rose above 40 degrees Celsius, the most since meteorological records started in 1872, according to the local meteorological station. Shanghai also logged its hottest day ever on July 13, when the mercury hit 40.9 degrees. Large parts of the country have been affected by a severe drought because of a record-breaking heatwave.
The inclement weather prompted local authorities to switch off lights along The Bund waterfront and the Lujiazui finance zone, where the Shanghai Stock Exchange and HSBC Tower are located, for two days through Tuesday. The authorities did not provide details, but it is widely believed the move was undertaken to conserve power to ensure supplies for industrial and household use.
"The sweltering heat has posed yet another challenge to the local economy after it was walloped by a two-month citywide [Covid-19] lockdown," said Wang Feng, the chairman of Ye Lang Capital, a Shanghai-based finance firm. "Most manufacturing companies have been prepared to operate at reduced capacity because of power shortages and concern for their staff's health and well-being."
The heatwave has hit the city's efforts to get its damaged economy back on feet after a two-month lockdown was lifted on June 1.
The lockdown
caused Shanghai's economy to contract by 13.7 per cent in the second quarter, the worst slowdown in more than four decades.
The mainland's most developed metropolis has avoided power cuts that have affected large parts of the country since July, allowing manufacturers and service providers to maintain smooth operations. But the decision to temporarily turn of the lights along The Bund was a clear sign that the local electricity distributor was under pressure to sustain power supply to the city of 25 million people, said a State Grid official.
Shanghai, home to 2.67 million businesses, consumes massive amounts of power, which rockets during the summer when residents and businesses crank up the air-conditioning.
Sufficient power supply is also needed to keep key facilities such as Yangshan Port and Pudong International Airport running. Companies like electric carmaker Tesla and China's biggest chip maker Semiconductor Manufacturing International Corp (SMIC) also need huge amounts of power.
Meanwhile, the Shanghai government has ordered a halt to outdoor work on construction sites between 11am and 3pm on days the temperature is above 35 degrees, according to an official statement. The local authorities have also asked employers to provide the workers with cold drinks, green-bean soup and Chinese traditional medicines to prevent sunstroke, and to have medical staff on standby for emergencies.
Leo Zhang, president of chemical product maker Sika China, said his company offers workers ice-cream on hot days. "We do lots of things to make the working environment comfortable amid the heatwave," he said.
A survey by Shanghai-based real estate agency E-house R&D Institute found that the current average vacancy rate of 20 grade A office buildings and shopping malls was 9 per cent, above the "warning line" of 5 per cent. Super Brand Mall in Lujiazui was the worst hit, with a vacancy rate of 34 per cent.
"Hundreds of shops in the [Tangqiao] subdistrict have closed down since June 1 when Shanghai lifted the lockdown because they could not sustain operations," said Zhang Yixiang, a small restaurant owner in Tangqiao, Pudong. "A big wave of business closures might have eased the power shortage woes."
Shanghai, whose gross domestic product surpassed 4.3 trillion yuan (US$583 billion) for the first time last year to outrank the other three first-tier cities of Beijing, Shenzhen and Guangzhou, has yet to fully shift to the pre-lockdown life mode, with the local government still imposing restrictions on mobility. Residents who want to use public transport or enter malls and hospitals have to show a negative nucleic acid test taken within the past 72 hours, while all residents are required to take at least one test a week.
A raft of measures unveiled by the municipal government to revitalise growth, from providing subsidies to restaurants to reducing rents for small merchants, have had limited impact so far. In a bid to boost consumption, the local authority said last week that it would issue 1 billion yuan of electronic coupons to consumers from this Friday.
Investment bank Natixis said in a research note on Wednesday that hydropower represents about 18 per cent of the total electricity consumption in Shanghai and a prolonged drought in Sichuan would still wreak havoc on the city's economy.
"Given the role Shanghai plays in the supply chain and export, any power blackout [in the city] could have a devastating impact on the significant automotive and semiconductor industries."