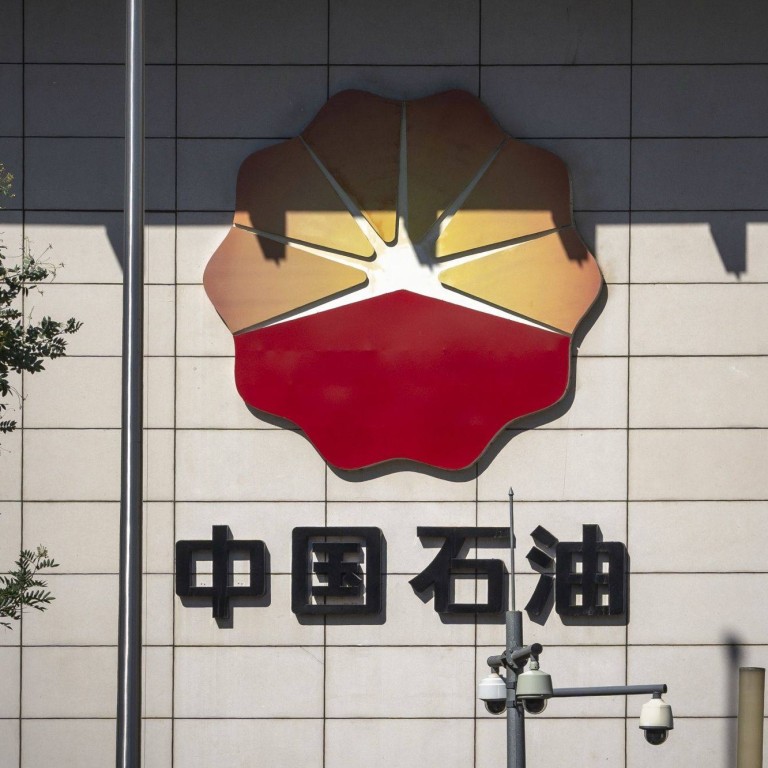 PetroChina picks up renewable energy development pace to meet nation's climate goals as it unveils record profit
PetroChina, the country's largest oil and gas producer, posted a 55.3 per cent year-on-year jump in first-half profit to US$12 billion
Company won permits to install 5.36 gigawatts of wind and solar farms and 11.2 million square metres of geothermal projects in the first half
PetroChina, which has made better-than-expected
progress on renewable energy development
, has raised its installation target to meet its energy transition goal, chairman Dai Houliang said after unveiling a record first-half profit.
The nation's largest oil and gas producer won permits to install 5.36 gigawatts of wind and solar farms and 11.2 million square metres of geothermal projects during the first six months of the year, Dai said after the company posted a 55.3 per cent year-on-year jump in interim profit on Thursday.
"As the development pace was faster than expected, we have adjusted our target for wind and solar farms approvals to 20,000 megawatts and that of geothermal acreage to 20 million square metres," he said, without giving a timetable for the implementation.
While the company did not provide the amount allocated for execution of renewable projects this year, vice-president Wan Jun said it was included in its 175 billion yuan (US$25.5 billion) oil and gas exploration and development budget.
PetroChina aims to transform its output profile so that oil, gas and renewable energy each accounts for one-third of its output by 2035, to help the nation achieve its twin climate goals of peaking carbon emission before 2030 and reaching carbon neutrality by 2060.
Although the state-backed energy giant reported a 55.3 per cent year-on-year jump in first-half interim net profit to 82.4 billion yuan, it fell short of Bloomberg analysts' consensus forecast of 84.9 billion yuan.
The increase was mostly attributed to a 59 per cent surge in the average selling price of crude oil and a 20 per cent rise for natural gas.
Operating profit from oil and gas production more than doubled to 82.4 billion yuan from 30.9 billion yuan. Profit from oil refining and chemicals production grew 8 per cent to 24 billion yuan.
Profit from fuel marketing rose 28 per cent to 8.5 billion yuan, and that from natural gas sales fell by almost two-thirds to 13.6 billion yuan due to the non-recurrence of assets restructuring profit booked last year.
International peers such as BP and Shell's 2050 net-zero goals include lifecycle emissions for the energy products they sell. TotalEnergies has pledged to slash emissions from its products by 30 per cent between 2015 and 2030.
PetroChina's greenhouse gas emissions reached 159.54 million tonnes of carbon dioxide equivalents last year, a 4.7 per cent decrease from the previous year, according to its environmental, social and governance report.
It has made some breakthroughs in its know-how on capturing carbon emissions from its plants, with one million tonnes of the gas captured and injected into oil wells to boost output, Dai said.
Impacted by social distancing and quarantine policies to contain the spread of the Covid-19 coronavirus, PetroChina saw refined fuel sales drop 6 per cent in the first-half.
President Huang Yongzhang said the company expected the nation's fuel demand to show a 1.6 per cent year-on-year growth in the second half as travel restrictions are relaxed.
"However, growth in the next few years will be tepid, as more electric vehicles are put on the roads and start displacing fossil fuel ones," he said.
An interim dividend of 20.2 fen was declared, compared to 13 fen last year.
Separately, CNOOC, the nation's dominant offshore oil and gas producer, posted a 115.7 per cent year-on-year jump in net profit to 71.9 billion yuan. An interim dividend of 70 HK cents was declared, up 133 per cent from last year.