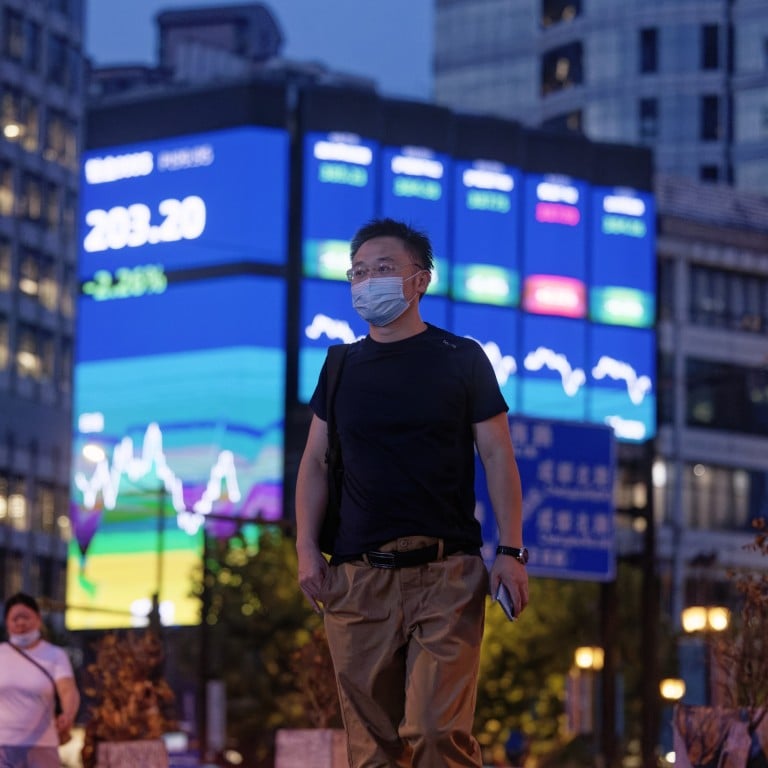 As China's power crisis drains energy from a lacklustre equity market, any more shocks to the economy spells bad news
The ongoing power crisis has proved to be a drag on the CSI 300 Index, which has declined 8.6 per cent from a July high
The diversion of electricity to household use has caused prices of key commodities to rise, further eroding the margins of many downstream industries
China's ongoing
power crisis
is the latest headwind to weigh on stocks, straining supplies of commodities from lithium and silicon to copper and aluminium and disrupting industrial production.
The CSI 300 Index of the biggest onshore stocks dropped 1.1 per cent last week, taking its decline from a July high to 8.6 per cent. Huatai Securities warned of wilder swings, which could sap demand for equities, while Guosheng Securities said that a decreasing risk appetite could hurt sentiment.
China's worst drought and heatwave in decades have led to a power shortage crisis, prompting at least five provinces including Sichuan, Jiangsu and Zhejiang to conserve energy. The
worst hit
southwestern Sichuan province has cut off supply to industries and diverted it for residential use, while neighbouring Chongqing municipality has ordered shopping malls to reduce their business hours.
The CSI 300 fell in three out of the past four major power outages since 2000, according to Haitong Securities. The gauge dropped 5.2 per cent last year when Chinese provinces cut supply to meet lower emission targets, slumped 13 per cent in 2010 because of energy conservation efforts, and 66 per cent in 2008 when cold weather spiked energy demand. The only gain was in 2003, when the index rose 8.3 per cent despite supply shortages.
Historically, coal stocks have outperformed all other sectors during past power shortages and consumer stocks also tend to perform well due to higher probability of inflation, while financial stocks have lagged, according to Essence Securities.
"Most sectors will face a re-rating of valuations during the power shortage," said Wang Yi, an analyst with Great Wall Securities in Shenzhen. "The upstream industries will be one of the few beneficiaries and some photovoltaic companies will also benefit, as the government is set to encourage more installation of solar-power capacity amid the strained supply of coal."
Solar panel maker Longi has dropped more than 9 per cent over the past two weeks, while CATL tumbled almost 5 per cent last week, its worst performance in almost two months.
"The downstream industries will bear most of the brunt of the repercussions of the power shortage amid rising commodity prices," said Zhang Xia, an analyst at China Merchants Securities in Shenzhen.
Rising raw-material costs are not the only risks to listed companies. The power shortages have also forced some companies to idle part of their manufacturing capacity as electricity is diverted to households. At least 22 publicly traded companies, including display panel maker BOE Technology Group and Sichuan Meifeng Chemical Industry, have responded to such mobilisation by the government, according to local media.
This summer was the eighth time that large parts of the country have witnessed power shortages over the past two decades, according to China International Capital Corp (CICC). Earlier crises were attributed to factors ranging from rising coal prices to energy-saving policies.
The heatwave, coupled with the zero-Covid approach and the property market slump, will be a major drag on China's growth for the rest of the year, according to Union Bancaire Privée (UBP). The Swiss private bank said that the recovery in growth seen in June was not sustainable, as the pickup simply reflected the pent-up demand following the lifting of the Shanghai lockdown.
"Heavy industry has been impacted the most, with some factories operating only three days a week," said Carlos Casanova, an economist at UBP. "The economic recovery in the second half will be more measured, with the third quarter remaining below trend. Therefore, it will be necessary for the authorities to take additional steps to stabilise growth."
Not everyone is downbeat. Citic Securities and CSC Financial expect the power crisis to have a limited impact on the economy in the second half, because the heatwave will end soon and the power situation will return to normal.
The best strategy to navigate the energy crisis is to position for commodity producers and power generators, which are expected to be re-rated amid mounting speculation about reforms to market-based electricity tariffs, according Founder Securities and Huatai Securities.