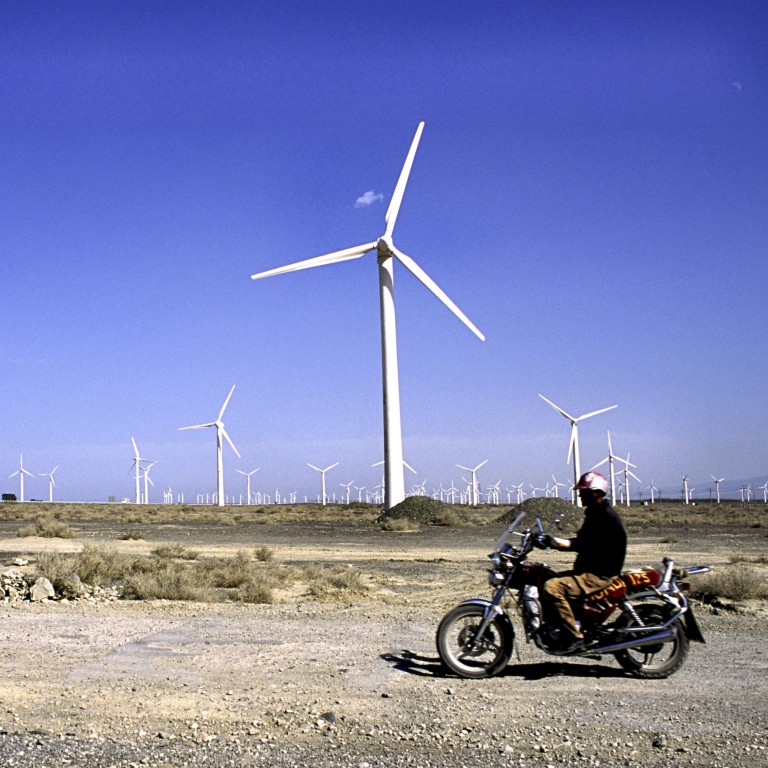 Chinese wind turbine makers eye Asia, Europe for growth as climate change, energy security take centrestage
Amid stiff price competition in the domestic market, Chinese firms are looking at overseas markets where profit margins are higher, says Liang of GWEC
China's wind turbine installations growth is expected to average 7.3 per cent a year up to 2025 after more than doubling in 2020
Chinese wind turbine makers have become more proactive in pursuing
overseas sales
amid a slowdown at home, a development welcomed by buyers eager to see more competition, according to industry participants.
The biggest opportunities are in Asia and Europe. Governments in the region are delivering on their climate goals by incentivising renewable energy production, while in Europe efforts have been stepped up to grow renewable capacity to reduce dependence on fossil fuel imports, amid skyrocketing electricity prices caused by a winding down of natural gas imports from Russia following its invasion of Ukraine.
While Chinese turbine and component makers – which supply some 60 per cent of global demand – have previously enjoyed a boom just by feeding on the
domestic market
, overseas sales are increasingly important for maintaining profit growth.
"Due to stiff price competition in the domestic market recently, some companies are finding that they can make a higher profit margin by selling overseas," said Liang Wanliang, China director of Global Wind Energy Council (GWEC). "Also, as their technological capabilities and cost competitiveness have improved, they are more qualified to play a bigger role overseas."
In 2020, the volume more than doubled as developers rushed to finish onshore projects to ensure they qualify for subsidies. Last year, the total volume fell 14.7 per cent as a sharp fall in onshore projects could not be offset by a 145 per cent jump in offshore projects before Beijing's subsidies scheme expired.
This year, developers have engaged in a price war to win domestic project development rights, Liang noted, which was made possible by slashing turbine prices.
Xinjiang Goldwind Science & Technology, China's largest wind turbine maker, posted a weaker than expected 5 per cent year-on-year net profit decline for the year's first half because of a much thinner profit margin despite strong sales volume growth.
Overseas sales made up 11 per cent of its order book. The company did not respond to the Post's queries about its overseas strategy.
While Chinese firms have in previous years taken part in bids for projects in other Asian countries, they were not particularly aggressive on their price and warranty offers, said Patrick Architta, Asia-Pacific president at K2 Management Partners, which advises developers and banks on wind farm engineering, procurement and financing.
"However, in the past six months, Chinese turbine manufacturers were at least aligning with the warranties offered by international rivals," he said.
Feng Zhao, head of market intelligence and strategy at GWEC, said Chinese players had already stepped up their Asia presence last year when 1.9GW of their turbines were installed in
Vietnam
.
Exports of Chinese turbines to the rest of Asia-Pacific jumped to 729 units totalling 2,560 megawatts last year. This is a massive increase from 13 turbines totalling 19MW in 2009 when China delivered a batch to India, its first export to the regional market, he noted.
In comparison, China installed 47.6GW of wind farms domestically in 2021.
"Through a decade of learning and improvements, the quality and reliability of Chinese turbines has been well-proven," Feng said. "Nowadays, Chinese makers are launching new and more capable products at an even faster pace than their European and US peers."
More proactive bidding by Chinese makers will be welcomed by project developers in Asia as well as in Europe, who will not have the production capacity to meet their needs, K2's Architta said.
"The current market in Asia, excluding China, is dominated by a few players, such that we are all in a comfort zone now," he said. "Having a new big serious competitor will drive the market towards better performance. It will be healthy competition."