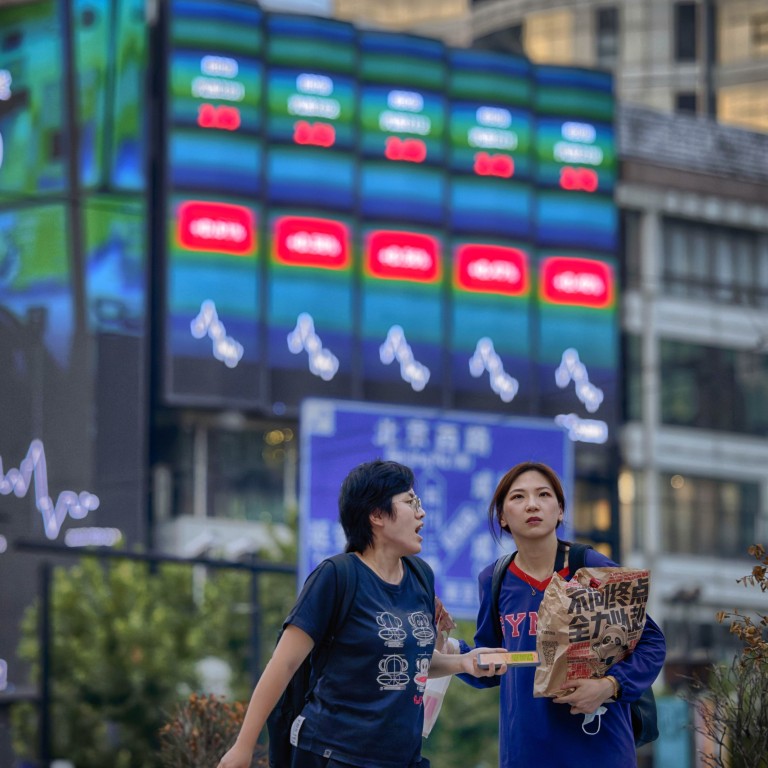 Hong Kong stocks slip as new Covid-19 lockdowns increase fears about China's manufacturing engine, consumer confidence
A government report on Wednesday may show manufacturing in China contracted for a second month in August, survey shows
New lockdowns in southern technology hub of Shenzhen follow recent curbs in mainland cities, including Sanya, Yiwu and Chengdu
Hong Kong
stocks
fell before a government report this week that may show a slowdown in Chinese manufacturing amid new lockdowns, adding to a sell-off sparked by the Federal Reserve's hawkish stance on interest rates.
The Hang Seng Index slid 0.4 per cent to 19,949.03 at the close, following a 0.7 per cent setback on Monday. The Tech Index retreated 0.5 per cent, while the Shanghai Composite Index dropped 0.4 per cent.
Auto retailer Zhongsheng Group and aluminum maker China Hongqiao Group each sank more than 4 per cent. Country Garden Holdings tumbled 4.2 per cent to HK$2.49 after first-half profit slumped 96 per cent from a year earlier. BYD, the electric-vehicle maker backed by Warren Buffett, slipped 0.5 per cent to HK$263 despite tripling its interim profits. Alibaba Group Holding added 0.1 per cent to HK$95.20, reversing a loss of as much as 2.6 per cent, while Tencent Holdings gained 0.2 per cent to HK$323.60.
Manufacturing probably shrank in August with the official PMI gauge holding at 49.2 versus 49 in July, according to consensus among economists tracked by Bloomberg before a government report on Wednesday. Readings below 50 indicate contraction.
"There is pressure to stabilise the economy, with a rebound in domestic consumption and exports being challenged by possible recession in other major economies," said Xue Wei, an analyst at Ping An Securities. "That is hardly appealing to stock investors."
The Hang Seng Index has fallen 1 per cent this month, taking the setback this year to 15 per cent. The CSI 300 Index of onshore stocks has declined 2.3 per cent, adding to an 18 per cent misery in 2022. Both are headed for a second month of losses.
"Beijing's zero-Covid policy is a much tighter straitjacket over the economy," Yan Wang, a China strategist at Alpine Macro wrote in a report. "It constantly disrupts business activity. More importantly, it has dealt a heavy blow to the government's credibility, which has further dampened consumer and business confidence."
China's biggest search-engine operator Baidu rose 0.3 per cent to HK$146.30 before the release of its report card later on Tuesday. Net income for the second quarter probably dropped 36 per cent from a year ago, according to analysts tracked by Bloomberg.
Industrial and Commercial Bank of China (ICBC), Bank of China and China Construction Bank, the biggest state-controlled lenders, are also reporting their earnings. ICBC finished unchanged, while Construction bank lost 0.2 per cent and Bank of China slipped 0.3 per cent.
Elsewhere, major markets in Asia all rebounded from Monday's sell-off, as Japan's Nikkei 225 index rose 1.1 per cent, South Korea's Kospi climbed 1 per cent and Australia's S&P ASX 200 advanced 0.5 per cent.