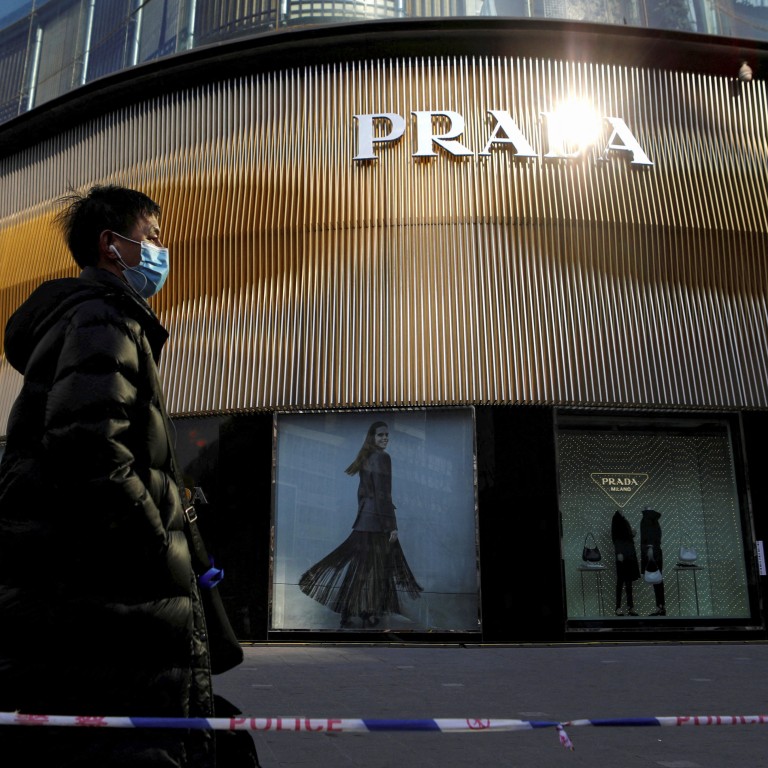 Will Covid-19 chills and slumping economy keep China from becoming world's largest luxury goods market?
A confluence of macroeconomic factors appears to have stirred up an increasing amount of self reflection among China's young middle-class shoppers and suppressed their appetite for spending
Analysts at Bain & Company, Oliver Wyman and home-grown consultancy Yaok Institute, however, believe that China is still on a path to becoming the world's largest luxury goods market
Simon Fu, a 32-year-old Shanghai fashionista, used to hang out at the city's most popular luxury shopping centre every week before Covid-19 struck.
This year, he has not been to Plaza 66 even once.
But then lockdowns and work-from-home arrangements kicked in, and a realisation dawned on Fu – there were no occasions to show off his expensive outfits.
This realisation occurred in parallel with concerns about a slumping economy and the rising unemployment around him.
"[That was] the turning point of my attitude towards consumption," Fu, who now markets watches, told the Post. "I have become more aware of [the importance of] savings after the instability the economic downturn brought to my income and work."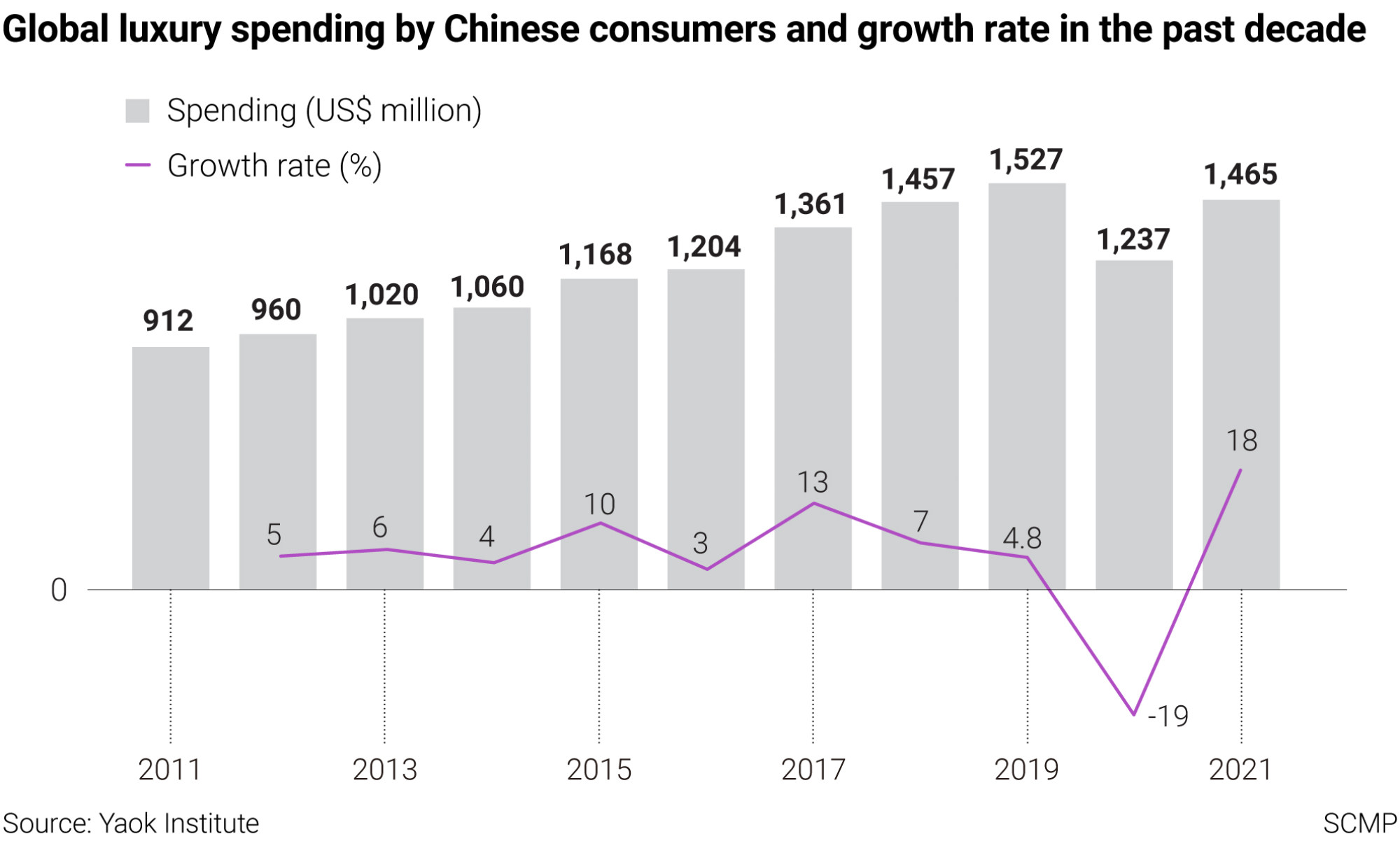 Since 2020, a confluence of macroeconomic factors – including Beijing's zero-Covid policy that has shut down whole cities, the crisis in the property sector and a huge number of lay-offs across high-growth regions – appears to have stirred up an increasing amount of self reflection among China's young middle-class shoppers such as Fu and suppressed their appetite for spending.
During the lockdown in Shanghai in April and May, luxury sales in the commercial hub – where luxury brands often kick-off their new stores and campaigns – came to a "hard stop", according to a report
by global consultancy Bain & Company
and Italian luxury brands committee Altagamma Foundation released in June. Sales plummeted 38 per cent at Plaza 66, which Fu would frequent and is home to brands under the world's biggest luxury groups, such as LVMH, Kering, Richemont, Prada and Moncler.
Compared with 2020, when China's iron-fisted Covid-19 policy played in favour of
the luxury goods market
, the market in 2022 is more uncertain than ever. After the Shanghai lockdown, premium consumer and luxury goods brands cut an 18 per cent year-on-year growth forecast on average for their mainland China businesses to 3 per cent, according to a report published in June by consultancy Oliver Wyman.
"The recovery [of China's luxury goods market] is taking more time than expected," said Jacques Penhirin, a partner in Oliver Wyman's Greater China office. "It is most likely to be a U-shaped type of recovery."
On social media, some vloggers have started making explainers on conscious spending. Fu, for instance, has been making vlogs for "girls from regular families" since earlier this year, telling them that they should "stop letting luxury logos define" them and that they should "stop being exquisite but poor" by saving up for luxury items by cutting down on essential items.
His videos resonate largely with women on social e-commerce platform Xiaohongshu, and he has attracted 210,000 followers.
However, despite the Covid-19 era disruptions and dampened consumer sentiment, analysts at Bain, Oliver Wyman and home-grown consultancy Yaok Institute still believe that China is on a path to becoming the world's largest luxury goods market. The question is not of "if", but "when".
"We had expected a progressive recovery from the third quarter of 2022 with an outlook to regain 2021 levels between the end of 2022 and the beginning of 2023, subject to the lifting of Covid-19 related restrictions," said Xing Weiwei, who leads Bain's Hong Kong office. Bain has previously forecast that China will become the world's largest luxury goods market by 2025.
Last year, China's domestic luxury goods sales accounted for 21 per cent of total global luxury goods sales, according to Bain. Oliver Wyman's Penhirin said that China could account for as much as 40 per cent of the world's market for luxury goods.
"There is no doubt [that China will become the world's biggest luxury goods market]," said Zhou Ting, head of research at Shanghai-based
Yaok Institute
.
"The sales growth of luxury brands is mainly dependent on two things. One is that they expect existing clients to buy more things, while the other is to acquire new clients. In recent years, the lion's share of these companies' sales growth is owed to new clients acquisition [in China]," Zhou said.
But as the middle class starts to tighten its belt, the importance of luxury's core clients – high-net-worth individuals (HNWIs) – is resurfacing. This group tends to be more economically resilient, which could trigger luxury brands to put less focus on courting the young middle class, Zhou said.
"China's 4.7 million HNWIs contribute more than 80 per cent of luxury sales, and this group may drive brands to implement differentiated strategies towards high-end customers and mass consumers, respectively," she said, citing recent research by Yaok Institute on HNWIs, or people with personal assets worth at least 10 million yuan (US$1.45 million).
As China's physical luxury goods market adjusts to a post Covid-19 business landscape, the slow development of the country's virtual or online luxury market under Beijing's strict regulations might, however, hinder its development.
Online luxury goods sales
carry the potential to add an extra US$50 billion to the sector, according to investment bank Morgan Stanley, but the influence of metaverse channels on sales in China is still limited compared to traditional avenues.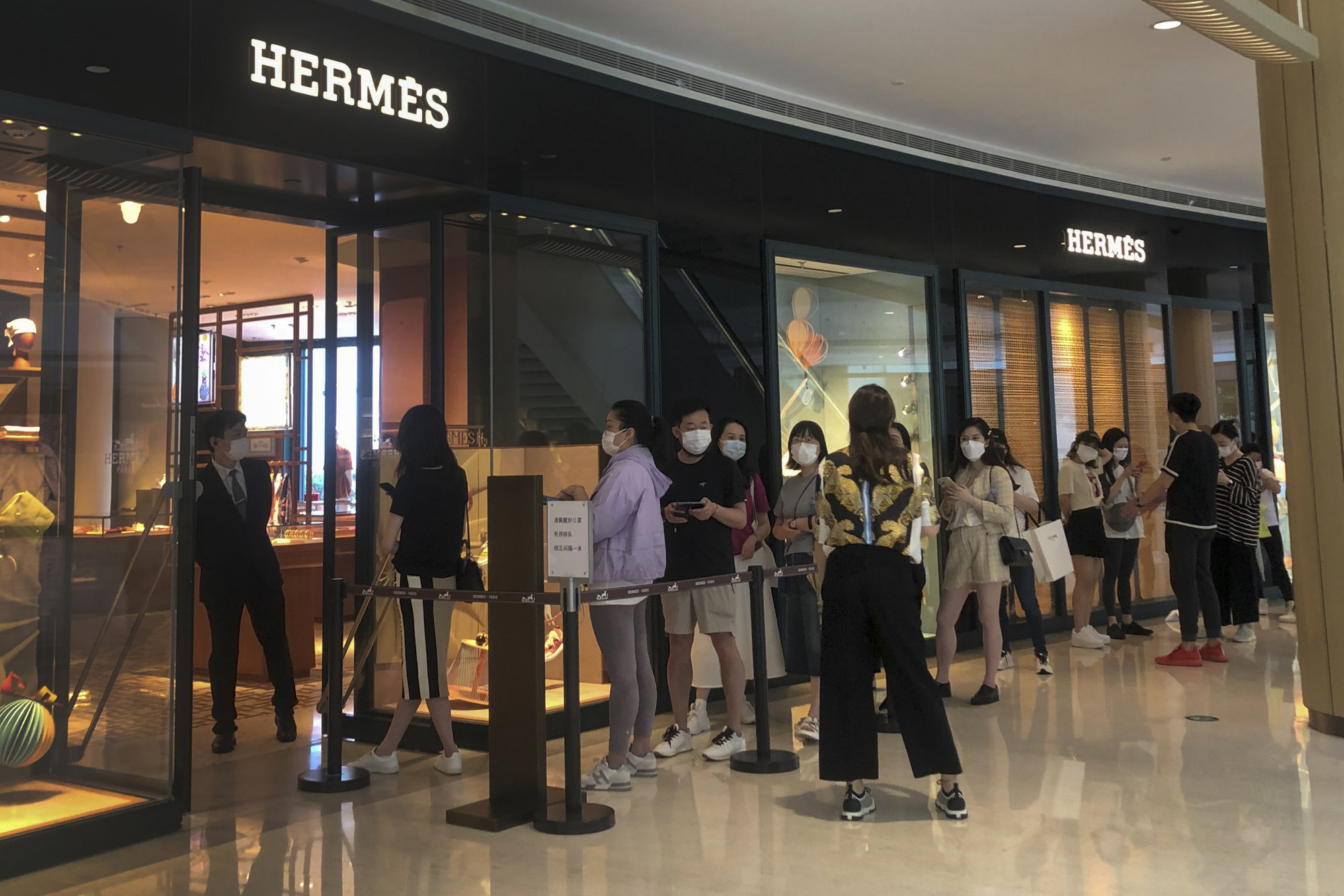 "Globally, we are going to see [metaverse adoption] in the next three to five years. In China, I think we need to scale a little more, maybe in five more years. My anticipation is by 2030," Steven Zhong, luxury sector lead partner at PwC China, told the Post.
China banned cryptocurrency transactions in September 2021 and, over the past year, has also curbed secondary trade in non-fungible tokens (NFTs), making it clear that relevant players on mainland Chinese soil should stay away from the financial aspect of digital assets.
"China will be following that trend [of metaverse], but will be slightly lagging in terms of the completeness of commercialisation," Zhong said.