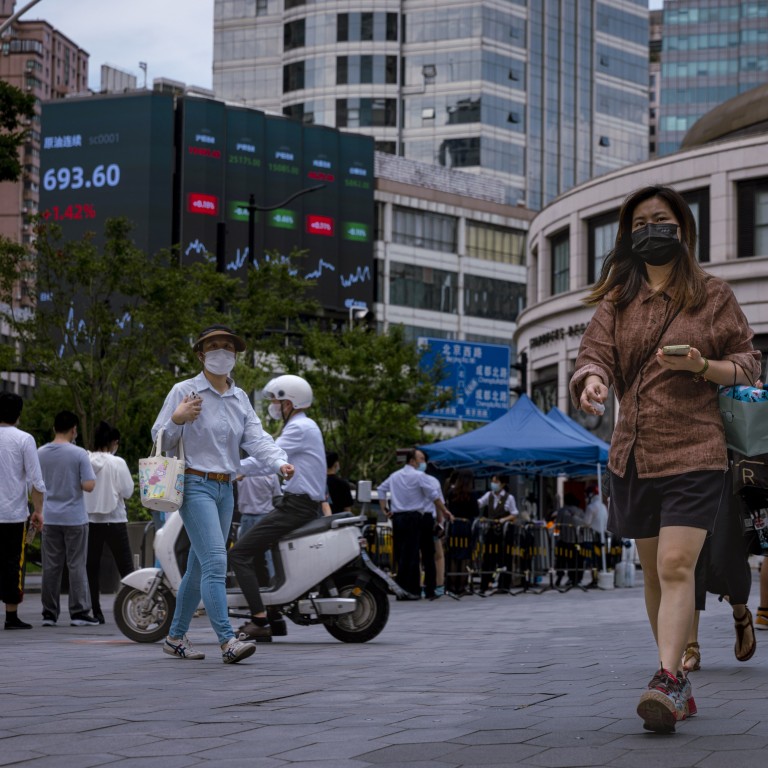 China to enhance Hong Kong's status as a global financial hub, adding overseas stocks to cross-border trading scheme
An expansion of the Stock Connect scheme will give mainland traders access to overseas companies listed in Hong Kong, official says
That gesture and others won plaudits from banking and regulatory officials amid the city's technical recession
China's government has widened a crucial transborder stock trading scheme in Hong Kong to strengthen its status as a global financial hub, in a crucial gesture that has won plaudits from banking and regulatory officials amid the city's technical recession.
An expansion of the eight-year-old
Stock Connect scheme
will give mainland Chinese traders access to the shares of Hong Kong-listed overseas companies for the first time, according to the China Securities Regulatory Commission's vice-chairman Fang Xinghai, at a financial forum in Beijing on Friday.
In addition, regulators in China and Hong Kong are studying a plan to create a special trading counter in Hong Kong for yuan-denominated stocks to facilitate the internationalisation of the Chinese currency, Fang said. Chinese Vice-Premier Han Zheng this week
touted Hong Kong's uniqueness
as China's offshore financial hub during a forum to promote the
Belt and Road Initiative (BRI)
.
The CSRC will also help Hong Kong to launch futures trading linked to Chinese government bonds and allow foreign investors to trade the derivative product on onshore markets, Fang said, without revealing when these changes would take place.
Hong Kong's Chief Executive John Lee Ka-chiu hailed the Chinese government's "support for Hong Kong in consolidating its status as an international financial centre."
"The measures will support the high-quality opening up and development of the mainland's financial markets and contribute to the progress of yuan internationalisation, while achieving concerted development of the financial markets in the two places and mutual benefits," Lee
said in a statement
.
Nicolas Aguzin, CEO of bourse operator Hong Kong Exchanges and Clearing Limited (HKEX), also welcomed the plan, which he said would "offer investors greater choice, driving liquidity, breadth and opportunity across Mainland China and Hong Kong markets".
Hong Kong's key Hang Seng Index has dropped 17 per cent this year, putting Hong Kong among the world's worst-performing major equity markets, as concerns about China's slowdown and aggressive interest-rate hikes by the Federal Reserve weighed on sentiment.
"The key for the expansion of the Stock Connect is to get foreign companies into it," Fang said. "By doing so, Hong Kong will be able to attract listings of more global and foreign companies. That is one of the important measures for Hong Kong to play its role as an international financial centre."
Some Hong Kong-listed foreign companies surged on Friday on expectations about fresh inflows from mainland investors, even if the benchmark fell by 0.7 per cent. Shares of the Italian luxury goods maker Prada rose by as much as 3.2 per cent while the US suitcase producer Samsonite International advanced by as much as 3.8 per cent.
The Stock Connect programme has evolved since its 2014 establishment into a major conduit for global funds to access China's onshore yuan-denominated A-shares, which had been hitherto off-limits due to China's capital control. The other end of the Connect conduit provides a bigger menu of investible options for mainland investors, who can now trade most of the biggest stocks listed in Hong Kong.
Overseas traders have spent 63.2 billion yuan buying Chinese stocks so far this year, while net purchases of Hong Kong stocks by mainland traders totalled HK$220.6 billion (US$28.1 billion), according to official data.
Participation by Chinese onshore traders has now become one of the pillars that underpins Hong Kong-listed stocks. Citic Securities estimates that mainland inflows have accounted for more than 10 per cent of the daily transactions in Hong Kong this year.
Still, some analysts argue that Hong Kong's stocks may need more tonics, as the handful of foreign companies trading in the city is unlikely to generate enough interest to lift sentiment on the broader market.
"This is a slight enhancement of the integration between Hong Kong and the mainland," said Willer Chen, associate director at Forsyth Barr Asia. "There are a limited number of such companies in Hong Kong, while mainland investors' interest in them is relatively limited."
The Hang Seng Index is valued at 7.4 times earnings, making it the world's cheapest exchange after Brazil, according to Bloomberg data. The Hong Kong shares of 146 dual-listed Chinese companies trade at a 30-per cent discount on average to their yuan-denominated counterparts, according to stock exchange data.
After a year of the regulatory
crackdown, the valuations of Tencent Holdings, Meituan and China's other tech stocks have fallen to historic lows, making them attractive again for global money managers such as JPMorgan Asset Management and Fidelity International.
"The announcement shows that the [Chinese] government is throwing its full weight behind Hong Kong in attracting foreign listings," said Tom Chan Pak-lam, chairman of Institute of Securities Dealers or Hong Kong, an industry body of local brokers. "This is the time for HKEX and the regulator to speed up their international promotional efforts to attract more overseas firms to raise funds here."
The HKEX is poised to open offices in
New York and Europe
to attract global listing, Aguzin said during a June interview with the
Post
. The city's government is also about to embark on a promotional tour of Southeast Asia to attract listings, the Secretary for Financial Services and the Treasury
Christopher Hui Ching-yu said this week
.
"It is now the right time for the roadshow to attract international listings in Hong Kong," Chan said. "Hong Kong should also introduce products for the trading of yuan shares as soon as possible" since the Chinese government has shown support for the initiative, he said.
With additional reporting by Iris Ouyang and Enoch Yiu