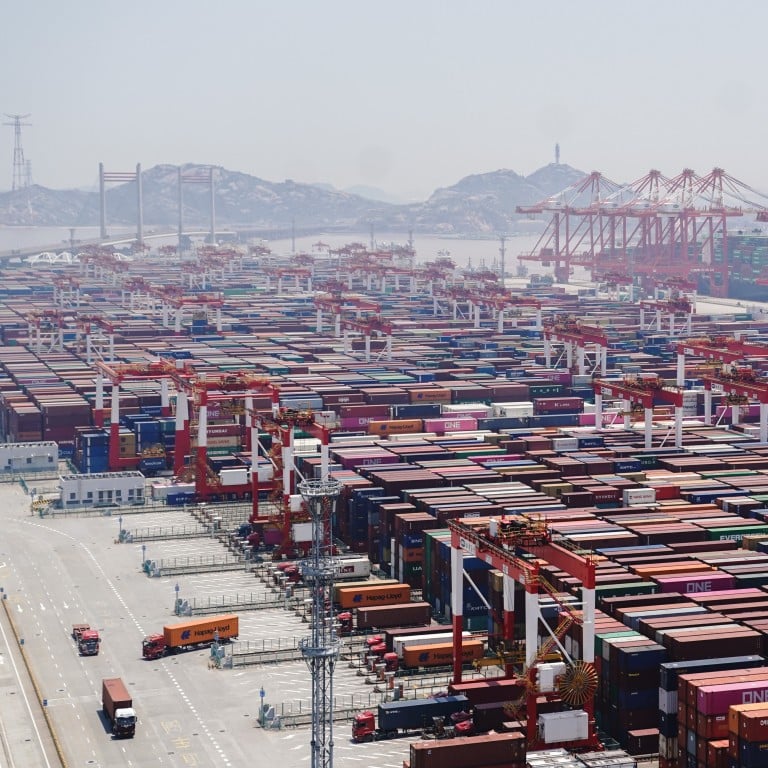 Chinese shippers face abyss as freight rates plummet 60 per cent from 'unprecedented' highs at height of coronavirus pandemic
Windfall brought by the Covid-19 pandemic 'is history', Shanghai-based shipping agent says
Shippers are currently charging 60 per cent less to transport a 40-foot equivalent container to the US' west coast, compared with the beginning of this year, according to data from Freightos
China's shipping industry has reported a 60 per cent drop in
freight rates
, as congestion linked to Covid-19 eases globally and the country's foreign trade slows down.
The decline was seen between January this year and now, and is expected to continue in the coming months, affecting shippers' bottom lines.
"The windfall at shipping companies brought by the Covid-19 pandemic is history," said Lu Ming, an agent with Shanghai Ocean Shipping Agency. "The high shipping rates arising from the disruption in supply and demand created by the pandemic will never come back."
Shippers are currently charging US$4,797 to transport a 40-foot equivalent container to the US's west coast, down about 60 per cent from the beginning of this year, according to data from Freightos, a global freight booking platform.
Shipping companies in Shanghai benefited from
stringent coronavirus controls
around the world following the pandemic's outbreak in early 2020. In mid-2020, a severe shortage of containers propelled ocean freight rates to an elevated level, which could be as high as five times normal rates, as exporters rushed to ship their goods and execute overseas orders.
Shanghai is mainland China's
shipping hub
as well as the world's largest container port, and
its two-month citywide lockdown
also affected supply and demand. For instance, some imported containers were left unattended in the yards of Yangshan Deep-Water Port for as long as 12 days, compared with four-and-a-half days before the lockdown.
"Bookings for container slots were unprecedentedly high during the past two years and may never be repeated," said Xiong Hao, an assistant general manager with freight forwarder Shanghai Jump International. "The shipping industry is now returning to normality and is in a downward spiral."
Shipping rates have also been affected by China's falling foreign trade. China's exports grew by just 7.1 per cent last month from a year earlier to US$314.9 billion, compared with 18 per cent growth in July. Imports rose 0.3 per cent in August from a year earlier to US$235.5 billion, down from 2.3 per cent growth in July.
The trade data falls considerably short of economists' expectations and the outlook remains bleak, as inflation in the US dents consumer demand.
China Cosco Shipping Holdings, the country's largest shipper and the owner of the world's fourth-largest container ship fleet, said recently that a drop in shipping rates would eat into its profit.
"We need to pay close attention to the impact of inflation on consumer demand and behaviour," the company said in its first-half earnings report on August 31. "The industry will face a new situation on the supply side with the delivery of new vessels."
The company reported a net profit of 64.7 billion yuan (US$9.3 billion) for this year's first six months, up 74 per cent from the same period in 2021.
Top shippers worldwide have all enjoyed handsome profits over the past two years. AP Moeller Maersk, the world's largest shipper, earned US$8.6 billion in the second quarter of this year, more than the full-year profit it made before the Covid-19 outbreak.
"The aggressive expansion by major liners since 2021 will raise a repeated question of whether they should protect their market shares at the expense of lower rates," said Gene Song, CEO of cargo tracking platform SeaVantage in South Korea.
"Nevertheless, cash-rich liners may have room to watch the long-term cycle of the industry, instead of entering price competitions happening in 2018 to 2019."