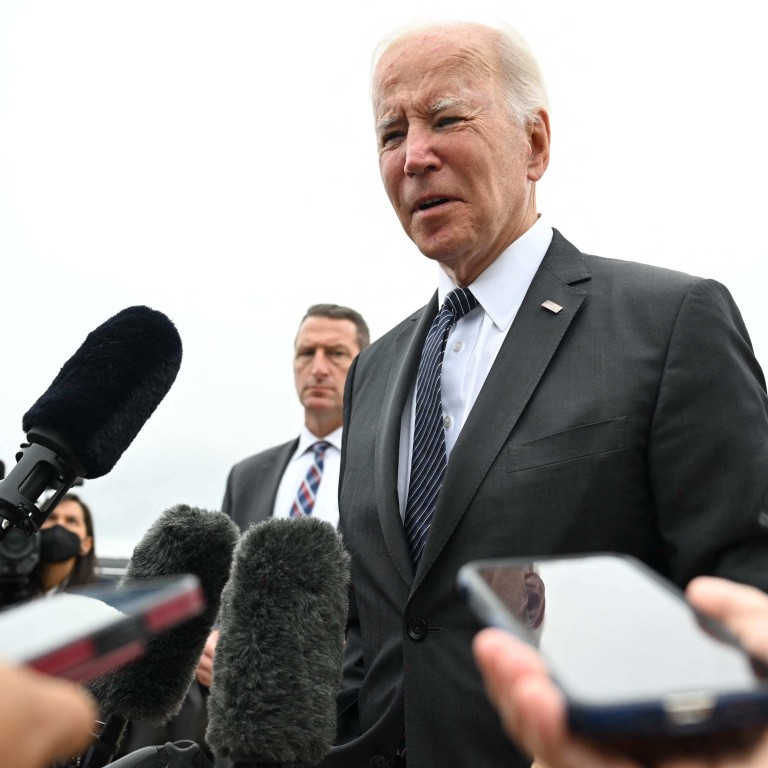 Chinese biopharma stocks slump after Biden targets sector with executive order, opens new front in tensions with Beijing
US should not 'artificially' hamper global technology communication and trade, Chinese foreign ministry says
Executive order 'a sign of an all-out confrontation between China and the US': Shanghai analyst
Chinese biopharmaceutical stocks slumped on Tuesday after US President Joe Biden
signed an executive order
overnight bolstering the US bio-manufacturing industry. The move is being seen as designed to curb America's reliance on China for new medicine production.
Wuxi Biologics
, the Jiangsu province-based contracted drug maker that counts on North America for half of its sales, tumbled by the most in seven months in Hong Kong on Tuesday. Its shares slumped 20 per cent to HK$53.40 for their biggest decline since February 8. Wuxi AppTec, an affiliate, plunged by 17 per cent to HK$68.75 in the city, while its onshore stock sank by the 10 per cent daily limit to 76.35 yuan in Shanghai.
The US should by no means "artificially" hamper global technology communication and trade, Mao Ning, a spokeswoman for the Chinese foreign ministry, said at a briefing in Beijing on Tuesday. China also urged the US to respect the market-based economy and the principle of fair play, with globalisation already being an objective fact, she said.
"[The executive order] will have a huge negative impact on Wuxi Biologics and the CRO [contract research organisation] industry," said Dai Ming, a fund manager at Huichen Asset Management in Shanghai. "China will probably lose some of its CRO market share, given most of the industry companies have about half of their revenue coming from overseas.
"That is also a sign of an all-out confrontation between China and the US."
The MIC25 strategy unveiled in 2015 lays out specific five and 10-year targets for domestic firms. Being able to produce better drugs domestically is key to China's ability to lower costs and improve accessibility of medicines – especially for life-threatening cancers – and help shore up social cohesion amid a widening wealth gap between urban and rural people.
Biden is now doing the same for the US.
He endorsed the National Biotechnology and Biomanufacturing Initiative on Monday, which the White House said aims to create new jobs, enhance the supply chain and lower prices. The bill is being widely interpreted as the US trying to minimise the impact of China's manufacturing on its hi-tech industries.
Other biopharmaceutical stocks that slumped on Tuesday included Asymchem Laboratories, which plunged by the 10 per cent daily cap to 150.85 yuan on the main board of the Shenzhen exchange. Pharmaron Beijing plummeted 14 per cent to 55.76 yuan on Shenzhen's ChiNext board of start-ups.
Wuxi Biologics and Wuxi AppTec bucked relative strength in the broader market – the Hang Seng Index closed 0.2 per cent lower on Tuesday and the Shanghai Composite Index held onto a 0.1 per cent gain.
Geopolitical tensions have been among Wuxi Biologics' biggest nemeses –
its stock tumbled by 23 per cent on February 8
after it was put on a tentative sanctions list by the US. Tuesday's loss took to 42 per cent the decline in Wuxi's Hong Kong-listed shares this year.
A call to the board-secretary office of Wuxi Biologics went unanswered.
The company operates 21 facilities in China and overseas, including two in the US in Massachusetts and New Jersey, and one each in Ireland and Germany. It derived almost 50 per cent of its revenue from North America, 26 per cent from China and 23 per cent from Europe, according to its interim report.
Wuxi Biologics has a 12-month price target of HK$108.49, implying a 101 per cent gain from its latest close, according to Bloomberg data. Among 38 analysts tracked by Bloomberg, 36 rated it as buy and two had hold recommendations, with no sell ratings.
Its first-half net income increased 38 per cent from a year earlier to 2.5 billion yuan (US$391.2 million), trailing analysts' projection by 3.3 per cent.