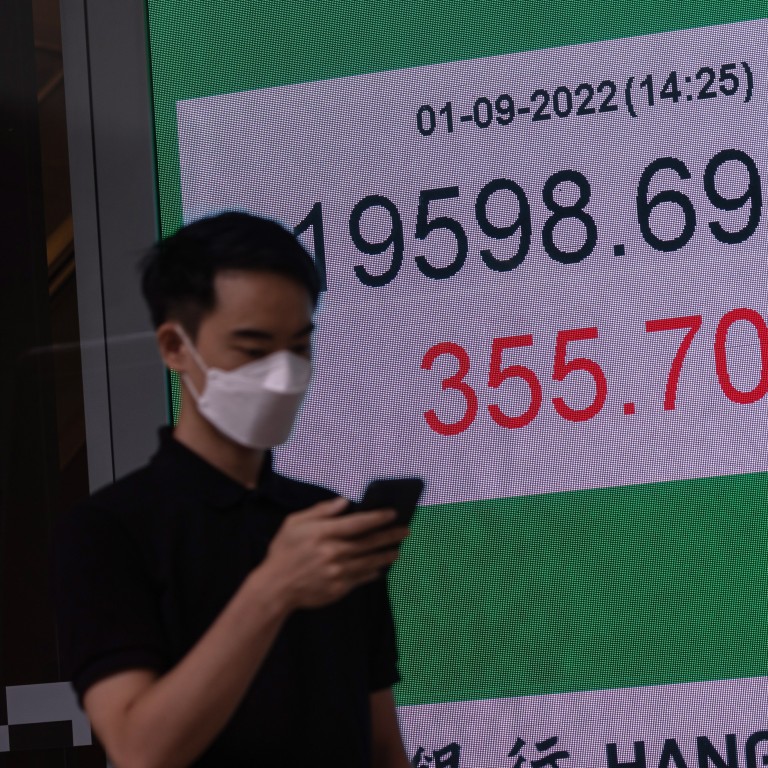 Asia stocks follow overnight US equities plunge after US inflation stokes fears of more aggressive interest-rate hikes
All 73 members of the Hang Seng Index but four drop as the index slumps 2.5 per cent after US inflation accelerates at a faster-than-estimated pace
Benchmarks in Japan and Australia fall by more than 2 per cent on the back of the biggest declines in US stocks in more than two years
Stocks fell across Asia, taking cues from an overnight rout in US equities after a report that showed untamed American inflation stoked fears that the Federal Reserve will be more aggressive with interest-rate increases, dimming the outlook for global growth.
The Hang Seng Index slumped 2.5 per cent to 18,847.10 at the close on Wednesday, the biggest decline since July 11. The Hang Seng Tech Index sank 2.9 per cent, while the Shanghai Composite Index lost 0.8 per cent.
All 73 Hang Seng Index members but four fell. Power tool maker Techtronic Industries shed 10 per cent to HK$89.10 and Chinese search engine operator Baidu lost 5.7 per cent to HK$128.40. Alibaba Group Holding sank 4.5 per cent to HK$87.10, while Wuxi Biologics slid 4.9 per cent to HK$50.80, extending a 20 per cent slump a day earlier sparked by concern about
more competition from the US
in bio-manufacturing.
The sell-off also swept Asia's other major markets, with benchmarks in Japan and Australia falling by more than 2 per cent and South Korea's Kospi retreating 1.6 per cent. That came on heels of tumultuous trading in the US that sent the major equities plunging by the most in more than two years. Traders shifted to haven assets, pushing the dollar index by 1.4 per cent to near a two-decade high.
US consumer prices rose 8.3 per cent in August, according to the Labor Department, topping the median estimate of 8.1 per cent. So-called core inflation, which excludes the more volatile food and energy components, also exceeded projections.
The data dealt a blow to traders who had chased a stock rebound on hopes that inflation had peaked. Derivative traders have increased bets that the Fed will raise borrowing costs by 75 basis points later this month, with some even expecting a full percentage-point increase.
"The Fed will likely have to be even more aggressive with raising rates, and that is bad news for risky assets," said Edward Moya, an analyst at Oanda. "The playbook for a lot of traders was that the Fed would be done with raising rates in December, but that probably won't be how things play out as inflation remains hot."
In a report issued on Wednesday, Morgan Stanley recommended investors continue to shun technology stocks and warned that the chance of emerging-markets stocks, Hong Kong stocks and Chinese offshore stocks sliding into bear-market territory was rising.
Hong Kong casual wear maker
Giordano International
sank 8.7 per cent to HK$1.69 after local billionaire Henry Cheng Kar-shun failed to secure enough votes from shareholders to take control of the company.
China International Capital Corp lost 8 per cent to HK$13.20 after the investment bank said that it plans to raise as much a 27 billion yuan (US$3.9 billion) from a stock placement with onshore shareholders. Its Shanghai-listed stocks tumbled 9.2 per cent to 39 yuan.
Online medical consultation service provider Dingdang Health Technology Group was unchanged at HK$12 on its first day of trading in Hong Kong. In Shenzhen, seal maker Voneseals Technology jumped 50 per cent to 28.05 yuan in its debut.
A rebound on Hong Kong stocks, spurred by the lifting of the Shanghai lockdown in June, has stumbled as traders fret over repeated lockdowns on the mainland and the deepening woes of the housing market. The Hang Seng Index has dropped 19 per cent this year, making it the worst performer among the major stock gauges globally.