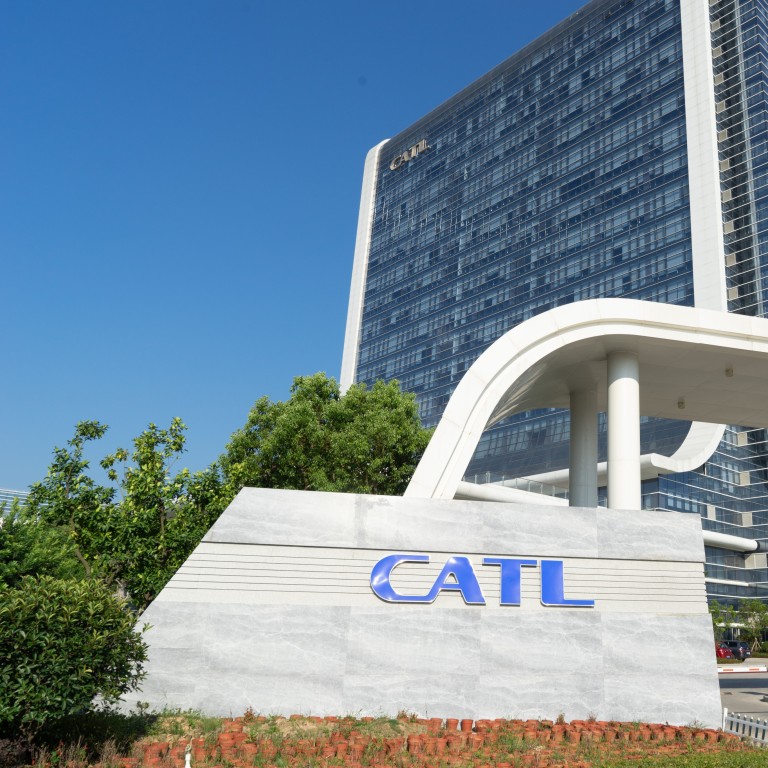 Chinese EV battery producers race ahead of assemblers with plans to build plants overseas as Beijing pushes industry forward
The battery makers are set to race ahead of Chinese EV assemblers to internationalise their businesses
CATL said earlier this month that it would start building a US$7.35 billion plant in the Hungarian city of Debrecen within this year
A clutch of Chinese electric vehicle (EV) battery producers led by industry bellwether Contemporary Amperex Technology (CATL) are doubling down on overseas expansion plans, building more plants in Europe and the US.
The battery makers
are set to race ahead of Chinese EV assemblers to internationalise their businesses amid Beijing's ambition of turning itself into a global leader in the future of mobility.
"EV battery firms in China are world leaders now, and they have heightened hopes of the domestic carmaking industry that the country can gain ascendancy in the production of battery-powered vehicles," said Davis Zhang, a senior executive at Suzhou Hazardtex, an energy solutions provider that supplies specialised vehicle batteries. "They will play a pioneering role in the go-global drive by China's EV industry."
CATL, based in Ningde, southeastern Fujian province, announced earlier this month that it would start building a US$7.35 billion plant in the Hungarian city of Debrecen within this year, which will have a capacity of 100 gigawatt-hours (GWh) when complete in 2027.
Its founder and chairman Robin Zeng said construction of the factory, its second outside mainland China, was a major step for CATL in reinforcing its global strategy. The world's largest EV battery producer with a market share of about 35 per cent, is expected to start production at its first overseas plant in Thuringia, Germany at the end of this year.
The battery maker counts a large number of major EV makers including Tesla, BMW, Mercedes-Benz, Nio and Xpeng as its customers. It makes both NCM – composed of lithium, nickel, cobalt and manganese – and LFP – made up of lithium, iron and phosphate – batteries, both of which are widely used to power electric cars.
Last week, the company said it will supply new cylindrical battery cells to BMW's plant in Hungary. The sixth-generation lithium-ion cells increase energy-density by 20 per cent and enable cars to go 30 per cent further on a single charge, CATL said.
On Tuesday, Svolt Energy – a spin-off from vehicle assembler Great Wall Motor – announced it would build a battery cell plant in Lauchhammer, Brandenburg, Germany, to serve the European market. It will be the second Germany-based facility for China's sixth-largest EV battery maker, after its first factory in Heusweiler, Saarland.
Gotion High-tech, China's third-biggest EV battery player, said last week that it would turn a German plant it acquired from Bosch Group last year into a production base with a capacity of 20 GWh batteries, up from an originally planned 18 GWh.
"It is safe to say that Chinese EV battery manufacturers are already strong contenders in the global market, as CATL and BYD have already secured massive orders from EV leader Tesla," said Phate Zhang, founder of the Shanghai-based EV news site CnEVpost. "But it will be some time before Chinese EV assemblers can have a considerable market share outside the mainland."
Chinese EV companies have yet to build a production base overseas. However BYD, which dethroned Tesla as the world's largest electric carmaker by sales volume in the first half of this year, recently announced a plan to build a factory in Thailand.
The carmaker, backed by Warren Buffett's Berkshire Hathaway, also produces batteries and has overtaken LG Energy Solution with a global market share of 16.2 per cent as of July, according to SNE Research.