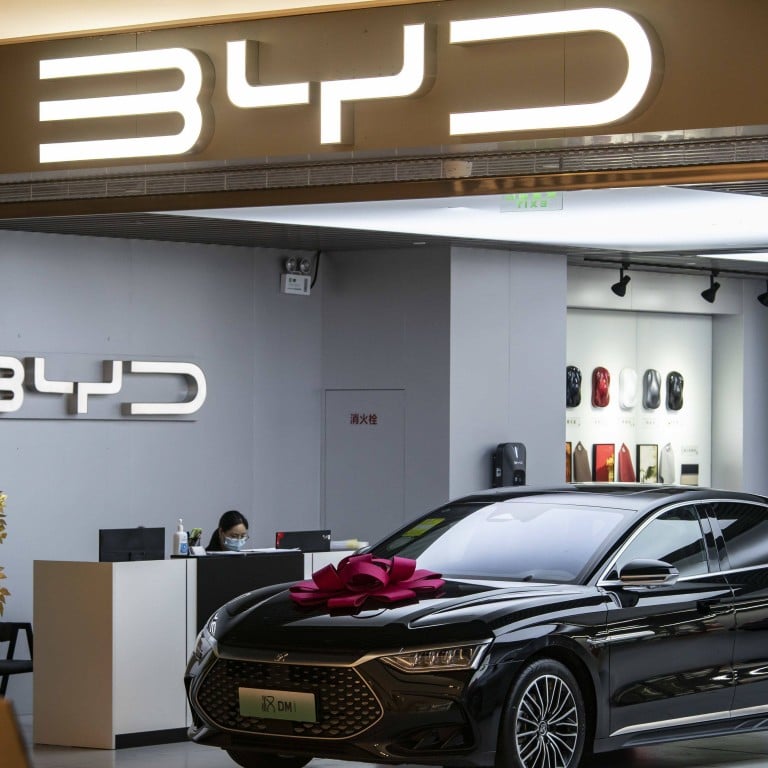 Electric carmaker BYD expands Shenzhen production base to keep pace with fast-growing Chinese market
Expansion of industrial estate in Shen-Shan Special Cooperation Zone aims to generate annual sales of 100 billion yuan from next summer
The local authority was quick to grant approval, and construction is already under way, just a few weeks after the carmaker bought the land
BYD, the Chinese company that recently overtook Tesla as the
world's largest electric vehicle (EV) builder
, has begun expanding one of its production bases in Shenzhen as it strives to tap Chinese motorists' growing penchant for battery-powered cars.
The second phase of construction at its industrial estate in Shen-Shan Special Cooperation Zone will cost 20 billion yuan (US$2.9 billion) and aims to generate
annual sales of 100 billion yuan
when it becomes operational in July, 2023.
The local authority was quick to grant approval, and construction is already under way, just a few short weeks after the
carmaker
bought the plot of land.
The rapid pace of approval reflects Shenzhen's goal of accelerating the development of the special cooperation zone with high-quality growth, the municipal government said in a statement posted on its official WeChat account on Thursday.
"
New-energy vehicle (NEV)
, as a promising industry that offers new jobs and creates technological innovations, is a new darling of local economic policymakers," said Gao Shen, an independent analyst in Shanghai. "BYD, as the industry's bellwether, has obtained huge support from the local government so that it could kick off the expansion quickly."
The facilities, covering 3.79 million square metres, will focus on making core components for BYD's electric cars.
BYD, backed by Warren Buffett's Berkshire Hathaway, has about 400,000 employees worldwide. A quarter of them are based in Shenzhen, mainland China's technology hub that borders Hong Kong.
BYD dethroned Tesla as the world's largest EV maker by selling some 641,000 pure-electric and plug-in hybrid cars in the first six months of this year, more than quadruple what it shipped a year ago. Tesla, in comparison, sold 564,000 Model 3s and Model Ys worldwide in the same period.
Unlike Tesla, which assembles and sells only pure-electric vehicles like the Model 3 and Model Y, BYD's products include pure-electric and plug-in hybrid cars.
Most of the Shenzhen carmaker's models are priced between 100,000 yuan and 200,000 yuan, about half the price of Tesla's cars.
"Top EV makers will technically be the top beneficiaries of the accelerated pace of electrification on the Chinese roads," said Ivan Li, a fund manager at Loyal Wealth Management in Shanghai.
"Their sales will grow fast due to strong brand awareness and wider sales network. That is why they will rev up expansion to meet the rising market demand."
The EV adoption rate in China is likely to top 30 per cent in the coming months, compared to 26 per cent in May, said Paul Gong, a UBS analyst. Total deliveries could surpass 6 million units this year, more than double last year's total, he added.
BYD reported net profit of 3.6 billion yuan for the first six months of this year, more than three times its earnings in the same period a year ago.
Berkshire paid US$232 million for 225 million BYD shares during the global financial crisis in 2008, which it held until this year. The stake, equivalent to 20.5 per cent of its Hong Kong-listed shares, was worth as much as US$9.6 billion when BYD reached an all-time high of HK$331.40 on June 28.
Berkshire sold 1.33 million shares at an average of HK$277.10 (US$35.31) apiece, valuing the sale at HK$369 million on August 24, according to a regulatory filing to the Hong Kong stock exchange.
The company reported a ­starting position of 220.5 million shares before the August 24 sale, against its last reported holding of 225 million shares, or a 20.49 per cent stake, in BYD's interim report published this week. That suggests an earlier undisclosed sale of 4.95 million shares by Berkshire.