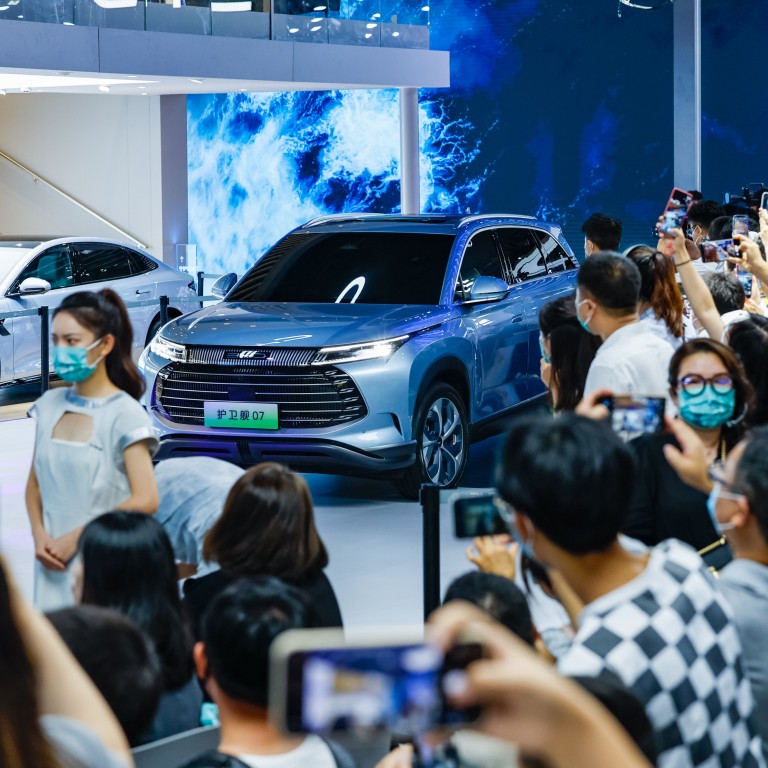 Veteran Chinese stock analysts wary of green energy shares amid multiple headwinds
The current levels of institutional allocations to green energy stocks are the 'most extreme in the history of China's A-share market', Soochow Securities analyst says
Warren Buffett's divestment in BYD has led to speculation that EVs and batteries will be Washington's next targets: former Bocom, CICC analyst
Veteran
stock
analysts have become cautious about Chinese
green energy
bets because of fund managers' record-high holdings, slowing gains in fossil fuel prices and geopolitical risks.
Fund managers' record-high holdings of green energy stocks makes them susceptible to sell-offs. Trade in such shares from
electric vehicles
(EVs) and
lithium-ion battery makers
to wind and solar power equipment manufacturers has remained crowded over the past three months, with interim reports showing that mutual fund managers ploughed a record 40 per cent of their assets into the sector, said Chen Li, chief global strategist at Soochow Securities in Shanghai.
"I am cautious about these stocks in the short term," he said. "The [current] proportion of institutional allocations to the sector is the most extreme in the history of China's A-share market. And, of course, valuations are also elevated."
A gauge of 402 green energy stocks has risen 41 per cent from a nadir in April, outperforming a 3.9 per cent gain on the CSI 300 Index in the time span. It is one of the few sectors that has withstood a recent broad-based sell-off, as traders increasingly fret over China's growth outlook. Beijing's adherence to a
rigid zero-Covid policy
and a deteriorating property market, which is estimated to account for about a quarter of the economy, have been highlighted as major factors keeping risk appetites at bay.
Moreover, money managers love green energy stocks because clean energy is among the few industries that can still get a tailwind of policy support from top policymakers in Beijing, who have set a target of achieving carbon neutrality by 2060. Regulatory risks have been among fund managers' key considerations while picking stocks over the past two years. Beijing has upended fast-growing industries such as e-commerce and after-school tutoring because of Chinese President Xi Jinping's common prosperity goals. The regulatory crackdown, while on the milder side this year, is still under way.
Chen, who previously worked for UBS Group and Credit Suisse as a China equity strategist, is known to investors for correct calls on market gyrations over the past few years. He is not alone in making a bearish wager on the sector.
Hong Hao, the Hong Kong-based chief economist at Grow Investment Group, also said investors should steer clear of such stocks, because of the geopolitical risk that the Biden administration will target China's burgeoning EV and battery manufacturing sectors. Hong was formerly employed by Bocom International Holdings and China International Capital Corp, and accurately forecast the 2015 market meltdown.
Warren Buffett's divestment in
BYD
, China's
biggest EV maker
, has already set alarm bells ringing among local investors, and speculation has been mounting that EVs and batteries will be Washington's next targets as part of its drive to contain China, Hong said.
"It probably explains why Buffett sold BYD stock," he said. "New energy stocks will probably fall further."
Wuxi Biologics and other Chinese contract biopharmaceutical companies took a pounding last week following an executive order by US President Joe Biden that seeks to bolster biomanufacturing in the United States. It has been seen as a move designed to reduce American industry's reliance on China.
Investment in green energy industries should be very selective now and focus on niche segments, given the stampede trade that sometimes foreshadows massive unwinding of popular bets, said Xu Tingquan, a fund manager at HSBC Jintrust Fund Management in Shanghai.
Xu said he liked domestic makers of chips and sensors used in EVs, as demand with a focus on Chinese self-reliance was expected to be strong in the coming years.
For Soochow Securities' Chen, the recent pullback in crude oil prices was a harbinger of slowing momentum on clean-energy stocks before the re-emergence of buying opportunities. Falling crude and natural gas prices in Europe are a headwind for the sector.
"The more important thing is to look at the fundamentals. Recent decreases in conventional energy prices have reduced the appeal of new-energy stocks," he said.
"But I am positive on the sector in the long run."