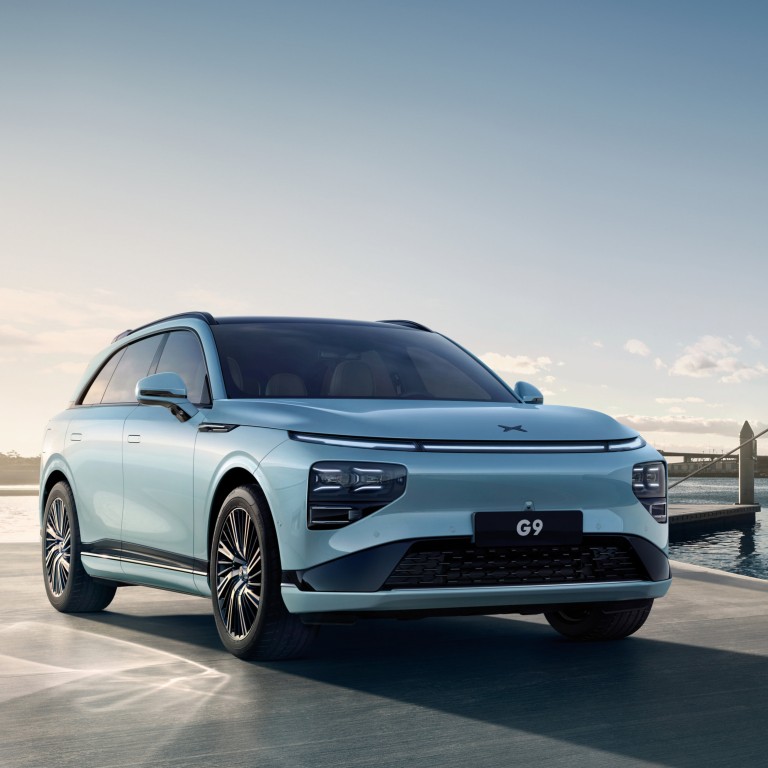 Xpeng launches US$44,000 semi-autonomous G9 SUV to take on Tesla's Model Y in China's premium EV market
The G9 has been priced from 309,900 yuan (US$44,170) to 469,900 yuan
SUV is 'the last step' before truly autonomous vehicles, Xpeng CEO says
Chinese smart electric vehicle (EV) maker
Xpeng Motors
launched the G9, its premium sport utility vehicle (SUV), on Wednesday.
The G9, Guangzhou-based Xpeng's fourth production model, will have a driving range of 702 kilometres on a single charge and will be delivered to customers in October. It has been priced from 309,900 yuan (US$44,170) to 469,900 yuan.
The SUV, which is capable of
navigating its way automatically
along city streets, is expected to take on Tesla's bestselling Model Y, the current front-runner in China's premium SUV segment, and is being viewed as a potential game changer for the segment.
"We believe the G9 will become the new benchmark for smart EVs, representing the last step before the realisation of truly autonomous vehicles," He Xiaopeng, Xpeng's co-founder and CEO, said during the model's online launch event.
Xpeng, along with Shanghai-based Nio and Beijing-headquartered Li Auto, have been
churning out new models
with object-detection technology, assisted parking and semi-autonomous driving systems, with the aim of unseating Tesla.
The Model Y, which is priced at 316,900 to 417,900 yuan, currently outsells all other battery-powered and conventional SUVs in the more than 300,000 yuan price range in China, topping the likes of BMW's X3, Mercedes-Benz's GLC and Audi's Q5. Its performance edition can go as far as 615km on a single charge.
In the first eight months of this year, a total of 172,418 Model Ys were delivered to Chinese customers, up 188 per cent from the same period in 2021, according to the China Passenger Car Association. The GLC, the second-most popular SUV, reported sales of 101,200 units in the same period.
Xpeng received about 23,000 orders for the G9 in the first 24 hours after its presales were launched on August 10. The carmaker said the G9 was "the world's fastest-charging mass-produced EV". The G9 needs just five minutes of ultra-fast charging for a driving range of 200 kilometres, it said.
Some versions of the SUV will come fitted with lidar sensors that can use a city navigation pilot software to drive without human intervention in urban areas. Xpeng is the first Chinese EV maker to launch an advanced driver assistance system that is similar to Tesla's full self-driving software.
Tesla's software and Xpeng's city navigation pilot software still require active driver supervision and are yet to make the vehicles fully autonomous. Tesla's software has not been approved for use in China.
"Chinese carmakers are pinning their hopes on new technologies as they seek to break up the dominance of Tesla," said Eric Han, a senior manager at business advisory firm Suolei in Shanghai. "Autonomous driving technologies can be one of the draws offered by Chinese smart EVs to lure young drivers away from Tesla."
In March last year, a fleet of Xpeng's P7s completed a 3,675km autonomous driving test from Guangzhou to Beijing. The frequency of human intervention was 0.7 times per 100 kilometres.
The G9 also features a luxurious smart cabin that comes equipped with a 5D audio system.
Xpeng ­delivered 9,578 vehicles in August, down by 17 per cent from a month earlier. Tesla, on the other hand, sold 34,502 EVs in China last month, more than quadruple the 8,461 cars it sold in July.