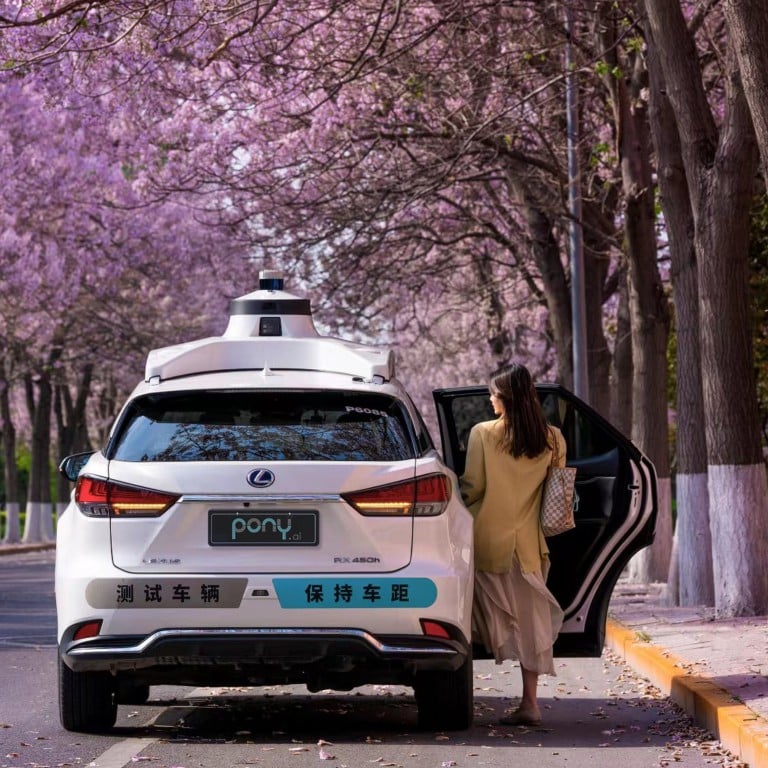 Toyota-backed Chinese autonomous driving firm Pony.ai and Geely join hands to accelerate roll-out of robotaxis
Pony aims to operate a robotaxi service in Suzhou this year with Geely's ride-hailing unit Cao Cao Mobility and Geely Intelligent Driving Centre
Carmakers see huge potential in autonomous cabs thanks to China's ambitions of becoming a global smart EV powerhouse, analyst says
Guangzhou-based Pony aims to operate an autonomous taxi or robotaxi service in Suzhou, in China's eastern Jiangsu province, this year with Geely's ride-hailing unit Cao Cao Mobility and Geely Intelligent Driving Centre, it said in a statement on Friday.
"Major automotive industry players in China have realised the huge potential of robotaxis amid the government's ambitions of turning the country into a global smart electric vehicle [EV] powerhouse," said Chen Jinzhu, CEO of Shanghai Mingliang Auto Service, a consultancy firm. "A marriage between technology firms and carmakers will benefit the growth of this business."
Pony is one of only two companies allowed by Beijing to offer robotaxi services in China, along with internet search giant Baidu. Founded in 2016 by James Peng and Lou Tiancheng, former developers and engineers at Apollo, Baidu's self-driving unit, Pony has been actively seeking tie-ups with third-party platforms to promote its autonomous taxis and technologies.
Under the agreement, Pony will provide self-driving technology and Geely Intelligent Driving Centre will be responsible for construction of IT infrastructure. The robotaxis will be operated through the Cao Cao ride-hailing platform.
Pony's robotaxis have a human "security officer" behind the wheel, ready to intervene if necessary.
Last November,
Pony and Baidu
became the first two mainland operators to be allowed to charge passengers using their autonomous taxis within a designated area covering 60 square kilometres in Beijing. In April, it received the green light to operate 100 driverless taxis in Guangzhou's Nansha district.
Baidu, which in 2017 launched Apollo, the world's largest open-source autonomous driving platform, became the first mainland Chinese company to operate completely driverless cabs on open roads on August 12 this year.
As part of its "Made in China 2025" industrial plan, Beijing hopes that major Chinese EV companies will grasp core technologies in the sector and secure a leading ­position worldwide.
Most robotaxis in China are powered by batteries in line with Beijing's goal of achieving carbon neutrality by 2060.
To enhance efficiency in manufacturing sectors, Beijing has also been striving to slash logistics costs to help companies improve profitability over the past five years. Autonomous driving is expected to save labour costs worth about 1.8 trillion yuan in 2030, when thousands of lorries plying between cities become driverless, Xu Bin, an analyst with Swiss bank UBS, said on Friday.
Geely, meanwhile, is also developing next-generation EVs. It expected
to deliver 10,000 Zeekr-branded smart EVs a month
to customers in the fourth quarter of this year. The 10,000 deliveries is seen as an important threshold in China's car making industry.