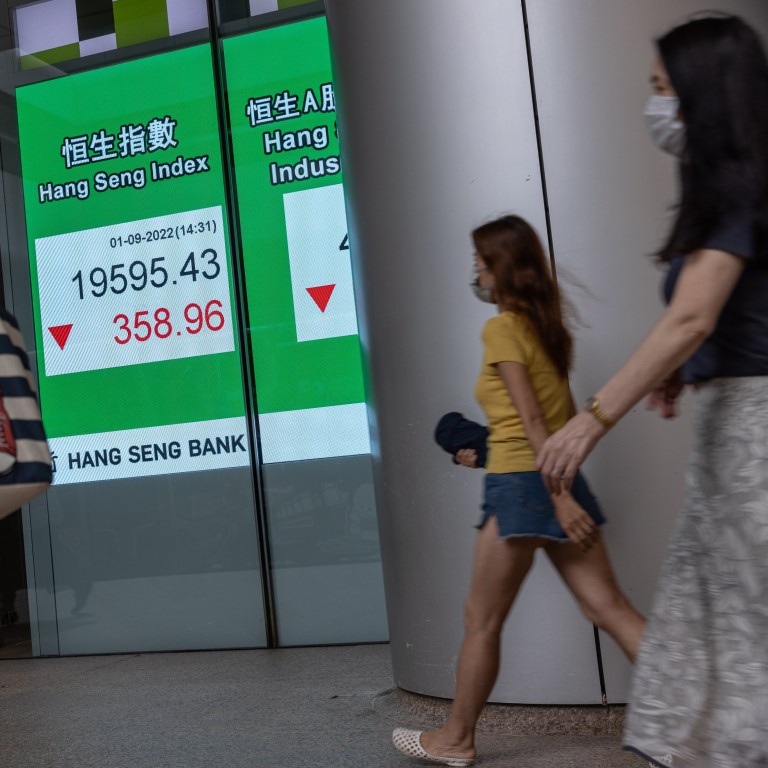 HSBC slides, Hong Kong stocks extend sell-off from 11-year low as policy hawks fuel recession concerns
Stocks slid further to 2011-low after entering bear-market zone last week as HSBC sank 7.5 per cent amid recession fears, UK tax cuts
Hong Kong scrapped mandatory quarantine rules from September 26 as the financial industry called for a full reopening to catch up with global financial hubs
Hong Kong
stocks
slumped deeper into bear-market territory amid growing concerns about a global recession, erasing earlier gains built on hopes for a full reopening of the local economy as mandatory quarantine rules ended. HSBC sank by the most in more than two years.
The Hang Seng Index dropped 0.4 per cent to 17,855.14 a the close of Monday trading. The 73-member benchmark sank last week into bear market territory, with losses of more than 20 per cent from a peak in June. The Hang Seng Tech Index bucked the decline with a 1.1 per cent gain, while the Shanghai Composite Index slid 1.2 per cent.
HSBC tumbled 7.5 per cent to HK$42.25, the most since April 2020, amid a slump in the British pound after the UK government unveiled its biggest tax-cut plan in half a century. Power Asset Holdings, which derives 46 per cent of its revenue from Europe, lost 2.7 per cent to HK$41.30.
A powerful rally in early hours petered out. Alibaba Group Holding rose 0.4 per cent at HK$78.70 while Xpeng surged 8.7 per cent to HK$56 and WuXi Biologics added 3.3 per cent to HK$47.95, all paring their advances.
"The current path of policy normalisation and tightening through balance sheet reduction suggest that volatility is likely to remain a feature of markets for some time," Belinda Boa, head of active investments for Asia-Pacific at BlackRock, said in a report. "Risk premia are still more likely to expand on the margin, rather than contract."
HSBC fell to the lowest in almost 12 months. Expectations are building that the Bank of England will increase its benchmark rate aggressively to support the sterling, which slumped last week to the weakest level since 1985 against the US dollar amid tax-cut plans.
MTT Group, which provides technology solution services, dropped 27 per cent to HK$0.62 on the first day of trading. Shanghai Ziyan Foods, a producer of cooked food, surged by 44 per cent to 21.82 yuan. Harbin Sayyas Windows had the biggest decline, slumping 17 per cent to 31.61 yuan in Shenzhen.