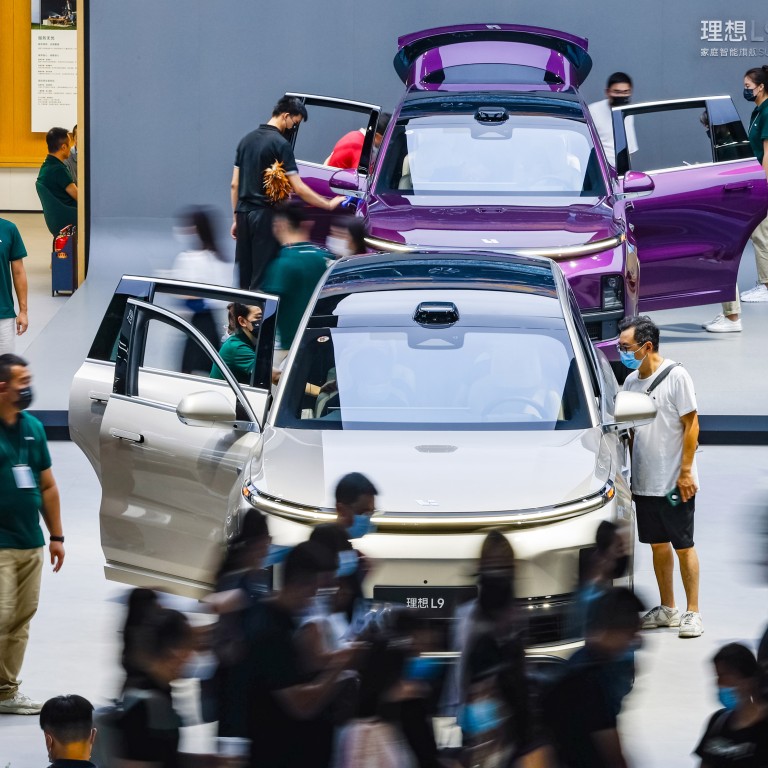 Electric cars: Beijing extends exemption from 5 per cent purchase tax to end of 2023 in boost for sector
The exemption from a tax levied on electric vehicle purchases will be extended until 2024, Beijing announced
In the first seven months of this year, the exemption saved Chinese EV buyers 40.7 billion yuan in tax payments
The exemption from a tax levied on electric vehicle (EV) purchases will be extended to the end of 2023, Beijing has announced, in an apparent effort to further
bolster the use of battery-powered cars
on mainland Chinese roads.
A statement jointly published by the Ministry of Finance, State Taxation Administration and Ministry of Industry and Information Technology on Monday said
buyers of all pure-electric
, plug-in hybrid and fuel-cell cars will be exempt from paying a 5 per cent tax next year.
"The policy is in line with expectations," said Tian Maowei, a sales manager at Yiyou Auto Service in Shanghai. "An official announcement can effectively encourage Chinese drivers to
opt for electric cars
in the near future."
Beijing began exempting motorists from paying the EV purchase levy in 2014 and planned to phase out the incentive by the end of 2022. But a slowing economy caused by Covid-19 pandemic curbs has prompted top policymakers to extend the tax break as a way of bolstering electric car purchases and reinforcing the country's decarbonisation drive.
A 5 per cent purchase tax translates to an additional payment of 10,000 yuan (US$1,400) if a driver buys an EV priced at 200,000 yuan.
Tesla
and its Chinese rivals – Nio, Li Auto and Xpeng – build and sell smart electric cars priced at more than 300,000 yuan, which feature preliminary autonomous driving technologies, sophisticated in-car entertainment systems and high-performance batteries.
In the first seven months of this year, the exemption saved Chinese EV buyers 40.7 billion yuan in tax payments, up 108.5 per cent from the same period of 2021, Xinhua news agency said in a report early this month.
"Industry regulators hope to sustain the strong momentum [of EV sales]," said Eric Han, a senior manager at Shanghai business advisory firm Suolei. "New-energy vehicles appear to be a bright spot in the national economy and it is important for the authorities to see it grow at a fast clip."
The
EV adoption rate
in China is likely to top 30 per cent in the coming months, compared to 25 per cent in August, said Paul Gong, a UBS analyst. Total deliveries could surpass 6 million units this year, more than double last year's total, he added.
The Swiss bank forecast last year that three out of every five new cars hitting mainland China's streets in 2030 would be powered by batteries.
China is now the world's largest automotive and electric car market. The carmaking industry provides one in every six jobs in the country's workforce of 800 million people, according to analysts' estimates.
In 2009, Beijing started to award EV buyers
cash subsidies
, a move which drove up sales in the subsequent years.
The state taxation authorities have gradually reduced the subsidies over the past three years, encouraging the leading EV makers to develop and build vehicles that are affordable to mainland consumers.
An electric vehicle with a ­driving range of more than 400 kilometres is currently eligible for a 12,600 yuan subsidy.
But EV buyers will not receive a single coin of cash subsidy from the government in 2023 as it is set to expire at the end of this year.