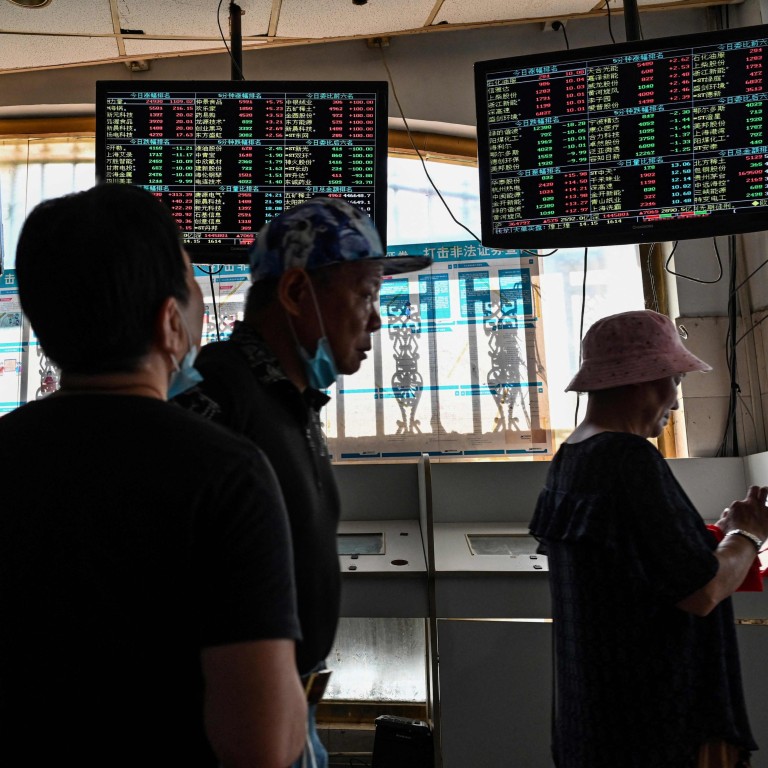 Hong Kong stocks struggle at 11-year low as traders eye market intervention amid currency slump, recession worries
Losses in Tencent, Alibaba and CNOOC narrowed, but failed to lift the Hang Seng Index out from the lowest since November 2011
The dollar's prowess, on the back of aggressive Fed hikes, has stoked major depreciation pressure on currencies, including the Chinese yuan
Hong Kong
stocks
erased losses as some traders deemed the slump to an 11-year low was too much too fast. Chinese equities advanced amid speculation about state intervention to shore up prices and local currencies.
The Hang Seng Index recovered from a 1.2 per cent decline during the day to end little changed at 17,860.31 on Tuesday. A relative-strength index showed the selling over the past week was overdone. The Tech Index added 0.6 per cent, while the Shanghai Composite Index jumped 1.4 per cent on expectations
the "national team"
will spring into action to shore up prices.
Hotpot restaurant operator Haidilao jumped 6.4 per cent to HK$16.54 and Orient Overseas rallied 5.8 per cent to HK$140.40. HSBC added 0.5 per cent to HK$42.45, recouping some 7.6 per cent setback a day earlier.
Losses in other index heavyweights narrowed. Tencent retreated 0.9 per cent to HK$280.80 while Alibaba Group lost 1 per cent to HK$77.90. Budweiser APAC tumbled 1.6 per cent to HK$21.40 while CNOOC slipped 0.7 per cent to HK$9.58 as crude prices fell below US$80 per barrel on demand outlook.
Stocks took a turn for the better as Reuters reported that Chinese authorities asked money managers and brokers to refrain from big selling ahead of the Communist Party's congress next month. Local media in mainland China have recently tried to talk up the market.
That came after US stocks sank overnight to the lowest level since December 2020 on heightened recession fears. The yuan has lost 11 per cent on its way down to the weakest in 14 years, while Hong Kong has intervened to stop its currency from breaking the peg band. The pound has depreciated 20 per cent to a level not seen since 1985. HSBC is one of the biggest lenders in the three markets.
"The big risk of leaning against dollar strength is a recession that spreads from Europe, the UK, and China and becomes global," strategists at BCA Research said in a report. "The dollar tends to do well during recessions, even after a prolonged bout of strength."
UK money manager Abrdn expects a recession of the US economy induced by the Federal Reserve's policy tightening and sees terminal policy rates rising to 5 per cent.
Hong Kong's economy shrank by 1.3 per cent in the second quarter, in addition to a 3.9 per cent contraction in the preceding three months. Industrial profits for Chinese companies fell 2.1 per cent from a year ago in the first eight months, accelerating from a 1.1 per cent decline in the January-to-July period, the statistics bureau said on Tuesday.
Three companies started trading on the mainland's bourses. SBT Ultrasonic Technology surged 72 per cent to 122.56 in Shanghai, and Jadard Technology, which makes chips for smartphones and cars, sank 1.8 per cent to 21.29 yuan. Henan Tianma New Material, which makes alumina powder materials, was unchanged at 21.38 yuan in Beijing.
Other major markets in the region all rose. Japan's Nikkei 225 rose 0.5 per cent, Australia's key stock index added 0.4 per cent, while South Korea's Kospi edged up 0.1 per cent.