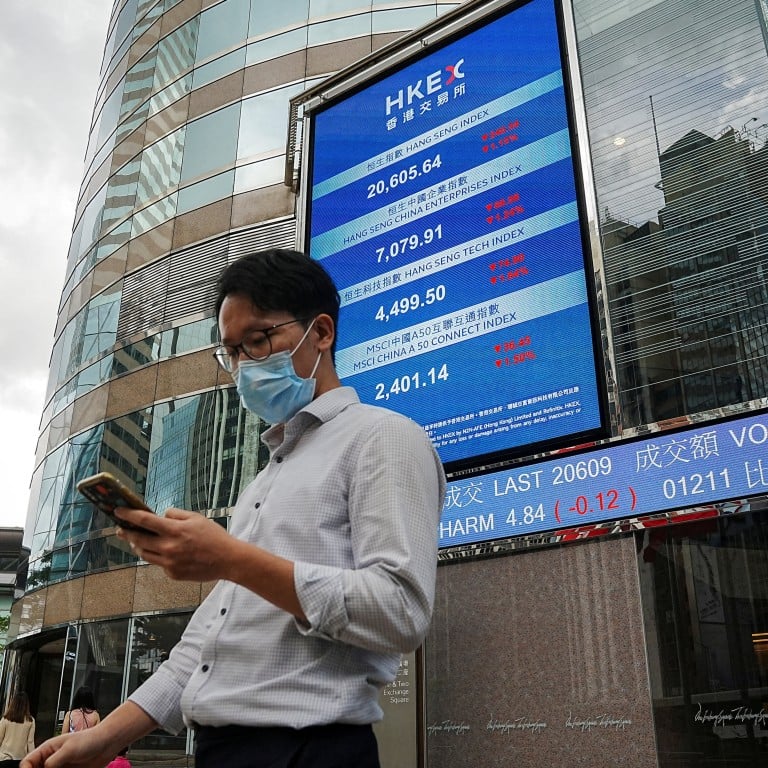 Hong Kong stocks extend losses as Alibaba, Tencent, HSBC retreat, currency slump adds to sell-off pressure
The Hang Seng Index slips further to the lowest level since October 2011 as currency slump hits nerves
Aggressive rate increases and dimming outlook for China's economy are sapping demand for riskier assets globally
Hong Kong
stocks
tumbled as Chinese technology firms dragged the benchmark index to more than a decade low. Losses deepened as investors shunned riskier assets amid a slump in local currencies, after a series of interest-rate hikes fuelled recession fears.
The Hang Seng Index sank 3.4 per cent to 17,250.88 at the close, the lowest level since October 2011, as 71 out of the 73 index members fell. The Tech Index shed 3.9 per cent while the Shanghai Composite Index slid 1.6 per cent as bets on market intervention waned.
Alibaba Group Holding lost 4.1 per cent to HK$74.70 and JD.com slumped 5.6 per cent to HK$201 while Tencent slipped 2.4 per cent to HK$274. HSBC sank 5.8 per cent to HK$40 as the British pound tanked. Property developer Country Garden plunged 13 per cent to HK$1.89 and its property-management unit Country Garden Services plummeted 12 per cent to HK$12.52.
Key Asian markets also slumped. Japan's Nikkei 225 and South Korea's Kospi dropped at least 1.5 per cent and Australia's S&P/ASX 200 dropped 0.5 per cent.
"The market has yet to fully price in the scenario of a global recession that will put China's exports under pressure," said Wu Kan, an investment manager at Soochow Securities in Shanghai. "China has monetary tools to bolster the economy, but so far we've seen policymakers being pretty cautious in loosening. That's also unnerving the market."
Traders remained on edge after the offshore yuan weakened to an all-time low after
breaking the 7 per dollar level
this month, and the onshore yuan slid to the lowest level since 2008. The offshore currency recently traded at 7.2533 per dollar. Hong Kong intervened in the market for the first time since August as the local dollar traded at the weaker end of its trading band.
The Federal Reserve's aggressive rate increases and China's dimming economic outlook have fanned capital outflows from the local bond market. A government report due on Friday may show Chinese manufacturing contracted for a third straight month in September, according to consensus among economists tracked by Bloomberg.
The Hang Seng Index has plunged 21 per cent this quarter alone, heading for the worst performance for the three-month period since September 2011. The broader Hong Kong stock market has lost US$874.3 billion in value in the span, bringing the erosion this year to US$1.3 trillion.
Stocks on mainland Chinese bourses weakened after the state-run China Securities Journal said local authorities did not step into the market ahead of the one-week national holiday from October 1, dismissing a Reuters report about verbal intervention to support prices.
Hong Ri Da Technology, which makes connectors for headphones and batteries, surged 49 per cent to 21.70 yuan on its first day of trading in Shenzhen, while electronic components maker Ganzhou Yihao New Materials lost 7.9 per cent to 22 yuan. Chemical company Henan Silane Technology Development jumped 149 per cent to 14.09 yuan in Beijing.