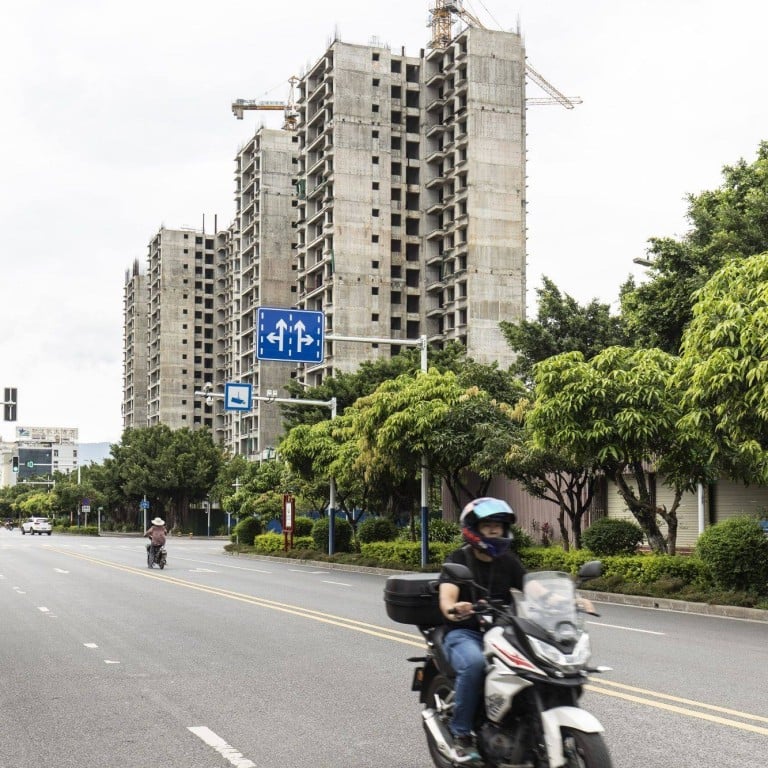 Chinese homeowners in a rush to clear mortgages early as consumers turn pessimistic over economic outlook
Chinese borrowers are in a hurry to clear their mortgages early in a bid to reduce leverage, and this comes against the backdrop of an economic slowdown and falling stock market investments
Figures from the central bank show that growth in household debt has slowed by over 50 per cent from January to August compared with a year earlier
Aki Wang made a resolution on her 35th birthday in June. She vowed to pay off her 25-year mortgage before she turns 40, which will save her close to 1 million yuan (US$140,535) in interest payments.
"I pay 5.1 per cent interest on my mortgage," said the ear, nose and throat (ENT) specialist, who bought a two-bedroom flat in Hangzhou, the capital of southeastern Zhejiang province, with a loan of 2 million yuan in 2018. "What kind of wealth management product or stock investment gives you such returns?" she asked rhetorically, referring to the slumping equity markets that has eroded investment returns.
The medical practitioner has already repaid 700,000 yuan since 2018, including 150,000 yuan in one go in March.
She is among thousands of Chinese borrowers who are in a hurry to clear their mortgages early amid waning consumer confidence over the country's economy that has been buffeted by headwinds. It also comes as returns from stock market investments have taken a hit, with the benchmark CSI 300 index down more than 20 per cent this year.
"Such a trend is a result of people lacking confidence in the macro economy who would rather cut debt when they have the ability," said Harry Hu, a senior director at S&P Global Ratings.
Figures disclosed by some banks offer a peek into the trend.
Industrial and Commercial Bank of China recorded 260 billion yuan of prepayment of individual mortgages in the first half of this year, 13 per cent higher compared with a year earlier, vice-president Zheng Guoyu said at the bank's earnings briefing in September.
A similar trend was observed at Agricultural Bank of China. "A small proportion of our clients choose to repay their mortgage early due to their personal financial planning and drop in financial investment returns at this stage," vice-president Lin Li said last month at a press conference to discuss the bank's results. The bank did not provide numbers.
Net new- medium and long-term loans to households - which are a proxy for mortgages - fell 54 per cent to 1.97 trillion yuan during the first eight months of 2022, compared with a year earlier, according to data from the People's Bank of China (PBOC).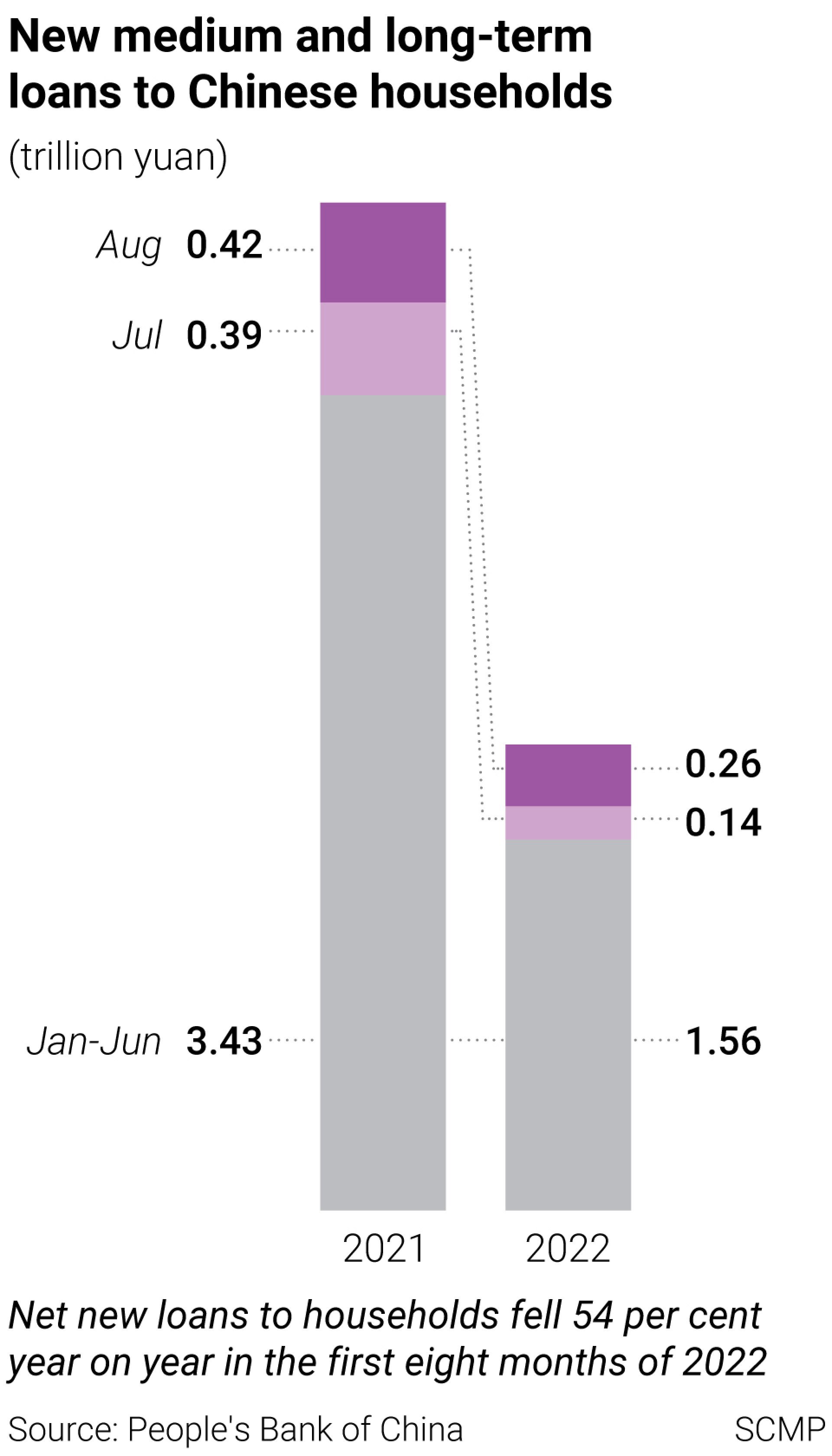 "Two reasons that could have led to a shrinking of newly issued mortgages are declining new home sales and growing mortgage prepayments," said Ma Xiangyun, a banking analyst with Changjiang Securities. "The drop in new mortgages is much larger than the drop in new home sales, which means a significant number of borrowers have repaid their mortgages early."
Residential home sales in China fell 30 per cent between January and August, according to the National Bureau of Statistics of China.
A Bank of China branch manager in Tianjin told the Post that inquiries about settling mortgages early had jumped at least 20 per cent over the past quarter from a year earlier.
"The government is encouraging banks to scale up credit, but the demand is soft," said S&P's Hu. "As hopes of better job prospects and salaries dim, people choose to cut consumption, investments and credit, which in turn will further weigh on a slowing economy."
China's economy grew by 0.4 per cent in the second quarter, compared with a year earlier, as the economy struggled to shake off the impact of lockdowns to contain the spread of Covid-19.
Along with the fallout from Beijing's strict zero-Covid policies, the slowdown in the mainland's property sector has been a major factor in banks such as Nomura, Morgan Stanley and UBS cutting the country's growth forecasts to less than 3 per cent for 2022 – much lower than the official target of 5.5 per cent.
Meanwhile, "early payment of mortgage" has been trending on Xiaohongshu, China's Instagram-like social media platform. Users had posted more than 16,000 comments as of October 5, discussing mortgage payments.
The topic continues to trend online even after the central bank revised the mortgage rate to boost homebuying sentiment two months ago. In August, the PBOC slashed the five-year loan prime rate (LPR), a reference rate for mortgages, by 15 basis points to 4.3 per cent, for the third time this year.
The average interest rate for first-time buyers in more than 100 cities monitored by Beike Research Institute, a property think, had fallen to 4.19 per cent in September, from 5.74 per cent a year ago.
Most homeowners who bought in the past couple of years when the housing market was red-hot were set higher floating rates based on the LPR. As their rate is adjusted once every 12 months, borrowers can enjoy slightly cheaper loans from next year.
But many borrowers are determined to clear their mortgages.
"Cost-savings are important during such difficult times," said Emily Yang, a fashion designer in Chengdu. "It is not safe to carry debt and undertake investments now."
Earlier this year Yang cleared a 350,000 yuan mortgage that was due to be fully repaid in 2030, saving 100,000 yuan in the process. She plans to use the year-end bonus to partially pay the mortgage on another home on which she owes 2 million yuan.
To curb prepayments from reluctant borrowers like Yang and Wang, some banks are creating hurdles.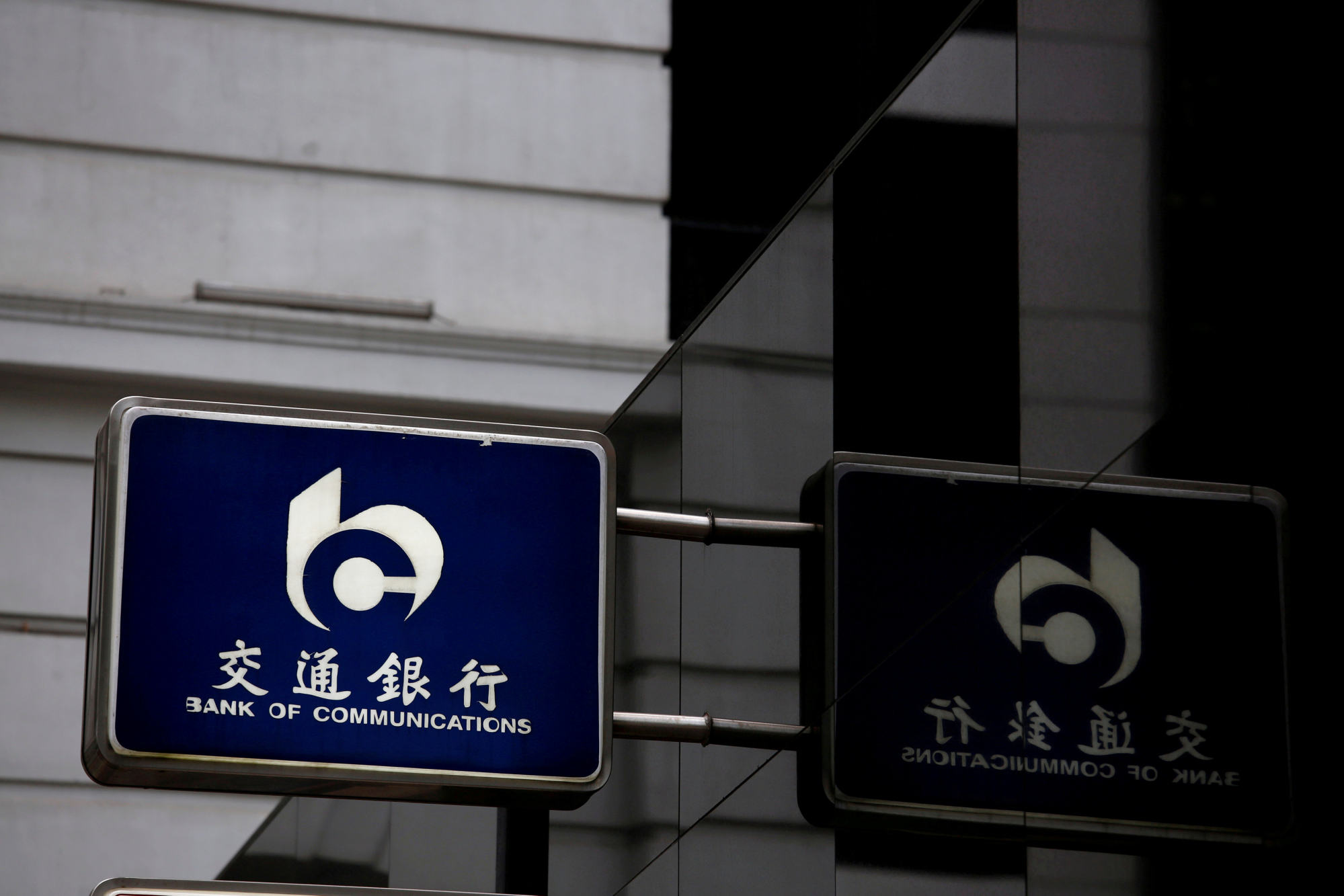 Bank of Communications, which has the fifth largest exposure to mortgages in China, said in August that it would charge a penalty of 1 per cent on the principal amount for those seeking to repay their mortgages early. The bank scrapped the decision soon after it sparked a wave of complaints online.
Four out of the five banks that have the highest mortgage exposure in China disabled the prepayment function on their mobile apps between July and September. China Construction Bank's app showed that the online early repayment option was not available due to a systems upgrade.
ENT specialist Wang had encountered such difficulties in September, when she wanted to make an early payment. That did not stop her, as she took a day off from work and went down to the bank and cleared off another 50,000 yuan from her outstanding mortgage.
And although she is aware that her mortgage rate will be revised down at the start of next year, she plans to prepay another 50,000 yuan by the end of October.
"The banks are trying to make it difficult for us," Wang said. "But I'm determined to make the effort and save money for a rainy day."