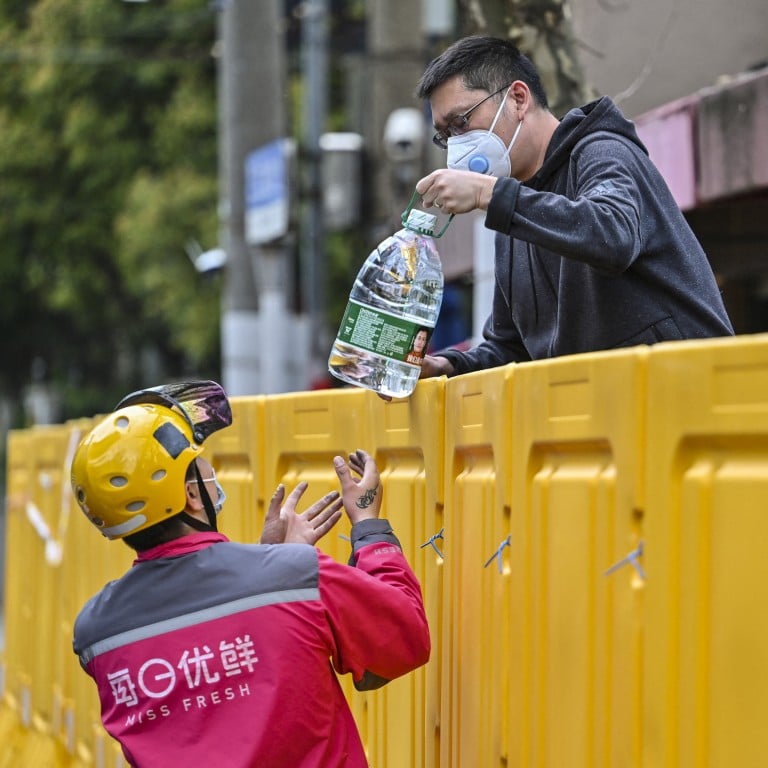 Panic-stricken Shanghai residents race to buy bottled water as taps run dry in 10 areas, after lockdown leaves psychological scar
Alarmed shoppers stripped shelves bare of water in shops across the city after authorities warned pipe cleaning would disrupt supply on Wednesday
Public anxiety and a widespread loss of trust in the authorities after lockdown seems to have left a psychological scar on residents
Panic buying of
bottled water
has gripped mainland China's commercial capital, Shanghai, after the local authorities warned the supply from taps would be cut off in several areas on Wednesday.
Alarmed shoppers – particularly the elderly – stripped shelves bare of water in supermarkets and grocery stores across the city on Tuesday night and Wednesday morning, eagerly stocking up in case of a crisis.
"Bottled water became the bestselling items [at our outlet], and our stock of bottled water has been cleared in less than 24 hours," Zeng Yanwen, a shop assistant at a Lianhua supermarket in Pudong, said on Wednesday. "It was obviously an irrational buying euphoria because many people were not even aware of why others were buying it. They just followed others to buy some water too."
The current frenzy follows an announcement that tap water in 10 residential areas would be temporarily cut on October 12 while some of the pipes connecting the tap water stations are cleaned up. Speculation about a water supply crisis in the city of 25 million people spiked immediately after the Shanghai Water Authority's statement was published.
"The Covid-19 lockdown sparked surging suspicion about the local government's credibility and integrity," said Bao Lihua, a retired worker in Shanghai, as she loaded a small shopping trolley with bottled water at a shop in Xuhui district. "It is not wrong to stock up with some water just in case a crisis becomes a reality."
The city said on September 24 that it had been striving to secure water supply at two reservoirs, Qingcaosha and Chenhang at the mouth of the Yangzte River, after witnessing an increase in saltwater inflows earlier in the month.
Quincy Yu, a young Shanghai resident, said he would buy 10 cartons of bottled water for his parents to soothe their concerns about a possible water shortage.
In late March, millions of Shanghai residents stripped shelves bare of food and essentials in a chaotic buying spree after the municipality made an
unexpected U-turn
on what had been a relatively liberal approach in containing the Covid-19 outbreak.
Earlier that month, Gu Honghui, a deputy secretary general of the Shanghai municipal government, had told a media briefing that the city would not be locked down.
But a surge of cases in the two weeks that followed prompted Shanghai officials to implement an eight-day, two-phase lockdown of the city, which eventually evolved into a two-month shutdown of the metropolis in which more than 600,000 infections were discovered.
"It is not a good sign that society turns out to be
so vulnerable to hearsay
," said Eric Han, a senior manager at Suolei, a business advisory firm. "The buying craze is of little help to consumer brands, and indeed it could affect their logistics arrangements."
The authorities said late on Tuesday evening that Shanghai's major utility firms that provide tap water have stepped up their monitoring of water quality, and have carried out scientific analysis to ensure a normal supply of water that is up to standard.
Shanghai is located at the mouth of the Yangtze River, and its fresh water supply is prone to inflows of saltwater from the East China Sea.
An official with the water authorities who asked not to be identified said that the saltwater inflows were "controllable" and normal tap water supply could be guaranteed.
Saltwater intrusion is the movement of saline water into freshwater aquifers, which cab cause groundwater quality degradation.