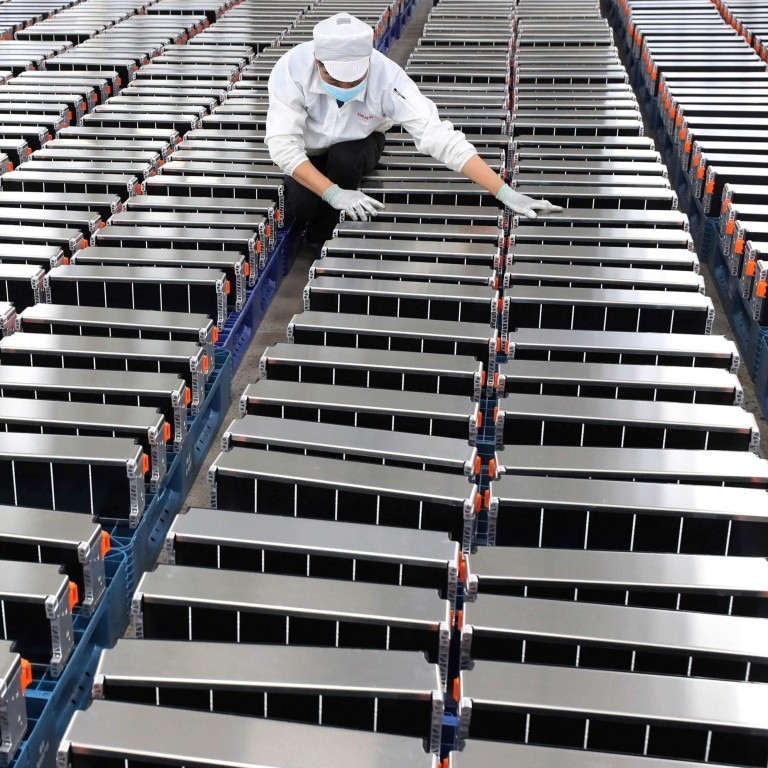 China's CATL to supply batteries to 'record-breaking' solar storage project near Las Vegas, US
CATL has agreed with renewables developer Primergy to provide the batteries for the enormous Gemini facility
CATL, which supplies electric carmakers including Tesla, Nio, and Xpeng, is the world's largest EV battery maker
Contemporary Amperex Technology Limited (CATL), China's largest
electric-vehicle (EV) battery maker
, said it will supply batteries for one of the biggest solar energy storage facilities in the US.
Backed by a total investment of US$1.2 billion, the Gemini project outside Las Vegas, Nevada, will generate enough clean energy to power 400,000 homes during peak periods once complete, according to the website of Primergy Solar, which operates it.
Packing 1,416 megawatt-hours (MWh) of storage capability, it is described by
CATL
as a "record-breaking" solar project.
CATL has reached an agreement with renewables developer Primergy to exclusively provide the batteries, it announced on Tuesday.
"The future of our country's energy reliability and resiliency relies on the mass deployment of
battery storage capacity
that can supply consistent power back into the grid when it's needed most," said Ty Daul, chief executive officer at Primergy in a statement on Tuesday.
"Together with CATL, we are building a market-leading and highly sophisticated battery storage system that can capture surplus solar power during the day and store it for use in the early evening after the sunsets in Nevada."
CATL will supply Primergy with its "EnerOne" product, an outdoor, liquid-cooled battery storage system. It uses advanced lithium phosphate chemistry and has a lifetime of up to 10,000 cycles, which will make the operation of the Gemini project safer and more reliable, CATL said.
Primergy designed the direct current-coupled system for the Gemini project, which is said will integrate with the solar array in the CATL storage system to maximise efficiency.
"We believe our cooperation on the Gemini solar project will set a great example for large-scale electrochemical energy storage applications, thus promoting the global drive towards carbon neutrality," said Tan Libin, vice-president of CATL, in a statement.
The latest deal with Primergy is Ningde-headquartered CATL's second supply agreement with a US company within a month as the battery maker shrugs off intensifying geopolitical tensions between Beijing and Washington.
In late September, CATL entered a partnership with US-based energy storage technology provider FlexGen to supply the latter with 10,000 MWh of its EnerC energy storage product over a three-year period, the Chinese company announced on its official account on Chinese social platform WeChat.
CATL, which provides battery products to
carmakers including Tesla
, Nio, and Xpeng, is the world's largest EV battery supplier. It commanded almost a 35 per cent share of the total installed global EV battery capacity of 203,400 MWh in the first half of 2022, according to an analysis by Seoul-based SNE Research in August.
The battery maker has been venturing overseas as the world accelerates its transition to low-carbon alternatives in the power and transport sectors under the Paris Agreement goal of keeping global warming below 1.5 degrees of pre-industrial levels.
It recently announced it would invest US$7.6 billion in building Europe's largest battery plant in Hungary, which founder Robin Zeng Yuqun considers "a giant leap in CATL's global expansion".
In Mexico, CATL is contemplating an investment of as much as US$5 billion in building a battery manufacturing plant to potentially supply Tesla and Ford Motor.