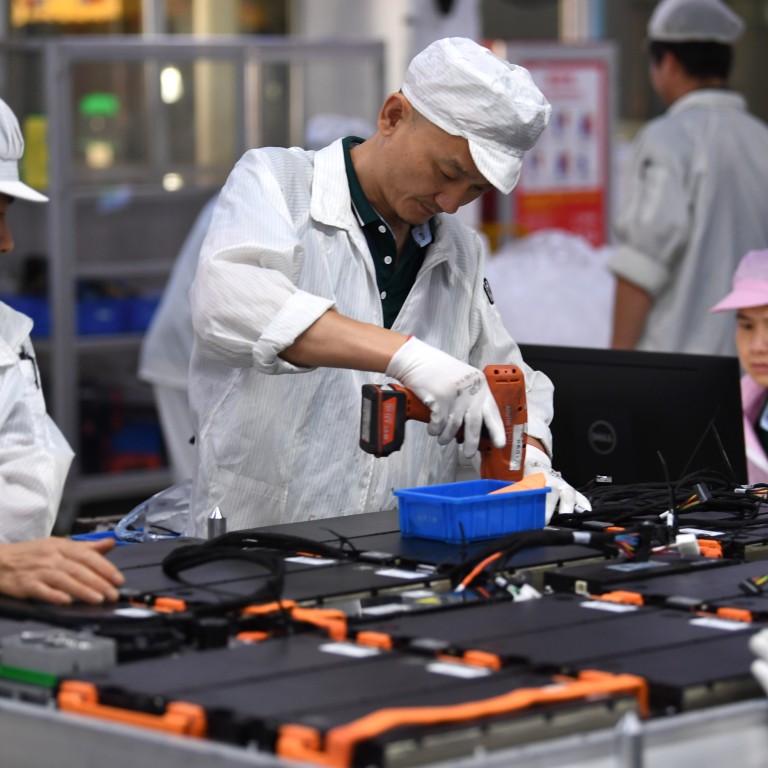 BMW increases bet on China's EV sector with fresh US$1.4bn investment to expand Shenyang battery factory: report
The fresh funds will be used to upgrade the battery production base in Shenyang, capital of northeastern Liaoning province
High voltage systems allow a lower current to be used when charging an EV battery, reducing overheating and allowing better power retention
BMW is looking to expand the capacity of its high-voltage battery plant in China with an additional investment of 10 billion yuan (US$1.38 billion), revving up efforts to tap the mainland's fast-growing electric vehicle (EV) market.
The fresh funds will be used to upgrade the battery production base in Shenyang, capital of northeastern Liaoning province, according to a report by the state-owned tabloid Global Times, which cited an unidentified BMW official. The report did not state when the new phase of construction would start.
The German carmaker declined to comment on Wednesday.
"BMW's new investment and production plans in China show that it is very bullish about consumer demand for EVs here," said Gao Shen, an independent analyst in Shanghai. "The complete automotive supply chain in the world's largest EV market also prompted it to move its production facilities to China."
High voltage systems allow a lower current to be used when charging an EV battery, reducing overheating and allowing better power retention. The reported expansion of the battery factory in Shenyang comes four days after BMW said it was relocating some production of electric Mini cars from Oxford in the UK to Zhangjiagang, eastern Jiangsu province, next year.
Spotlight Automotive
, a 50-50 venture between BMW and its Chinese partner, Great Wall Motor, will begin assembling two electric Mini models in 2023, which will eventually benefit Chinese customers due to lower local production costs.
The iconic Mini has been manufactured in Oxford since 1913, with BMW acquiring the marque in 1994 when it bought Rover Group. BMW said the Oxford factory would continue to build petrol-powered Mini Coopers in three-door and five-door hatchback models.
Last year, sales of electric Minis in China rose by 5.2 per cent year on year to 30,546 units. BMW, along with Audi and Mercedes-Benz, have to date taken the lion's share of China's premium car segment.
However, the share the three premium brands have in the China market is slipping. Their combined market share of about 80 per cent in 2010 shrank to 57.8 per cent in the first half of this year, according to data from the China Association of Automobile Manufacturers.
Tesla's Model 3 and Model Y vehicles as well as smart electric cars assembled by Chinese start-ups Nio, Xpeng and Li Auto that feature preliminary autonomous driving technology and sophisticated in-car entertainment system, have attracted the buying interest of wealthy consumers.
Sales of battery-powered vehicles are expected to more than double to 6 million units this year, according to UBS analyst Paul Gong. By 2030, three out of every five new vehicles sold in China will be powered by batteries, the Swiss Bank predicted in 2021.
BMW started operations at the Shenyang power plant in January 2017 before putting second-phase facilities to work three years later. BMW said the plant in Shenyang is its first production base for high-voltage batteries outside Germany.